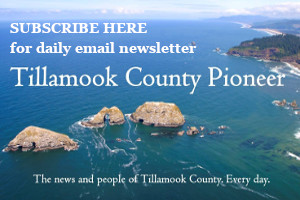 By Gordon McCraw, Tillamook County Emergency Manager
Monday, July 26
, 2021, 09:30am
Weather – Satellite photo from yesterday 7/25/21 – showing most of state, accept our little upper left corner with smoky skies.
We continue to be stuck in the same weather pattern with small variations here and there.  An upper level ridge to the southeast and an upper level low pressure to our northwest is keeping us in a southwesterly flow aloft, occasionally swinging more southerly. This does push the wildfire more northward at times and we are seeing moisture riding in the flow also, moving northward then northeastward through central and eastern Oregon where there are some showers and an occasional thunderstorm. The rain is good for the fires, the lightening not so much.
With this pattern and the valley heating up to near 90, we are seeing a westerly flow here at the surface.  This pushes in the marine clouds at night that burn back late morning leaving mostly sunny skies, the afternoon winds becoming westerly 14-18 gusting to near 30, the afternoon highs up around 71. The clouds return tonight, the winds die down, the low near 53.
Tomorrow looks to be pretty much a repeat, breezy in the afternoon though maybe not quite as breezy as today with highs near 70. The ridge to our southeast starts to build into our area tomorrow night so we stay partly cloudy, light winds, lows near 54.
Wednesday, we start with another warmup, highs here near 75 but over in the valley they push up over 90, then Thursday we again see 75 but the valley get up around 95.  Friday will not be much better, 73 here while the valley heats up into the mid 90s again.
The weekend, still not much if any change, mostly sunny days with highs in the low 70s, partly cloudy nights, lows near 53.  As for the valley area, 90-95 still.
Hwy 6 Closure
A little before 8am this morning there was a multi-vehicle crash near the top of the summit of Hwy 6, MP33.  As a result, Hwy 6 was closed for over three hours for reconstruction.
Game Hog Creek Fire
The last significant shift on the fire was the end of last week. The size was determined to be 182 acres. ODF will have smaller crews up there this week to continue with mop-up operations.
ODOT: Area 1 Construction Update
U.S. 101: Young's Bay (New Youngs Bay) Bridge Repair Project
Project Description: This project includes raising the lift span tower bracing above the high route FAFAFA protection and replacing compression joint seals.
Traffic Impacts: There are no anticipated Traffic Impacts at this time.
Project Website: https://www.oregon.gov/odot/projects/pages/project-details.aspx?project=…
U.S. 30: Millard & Bennett Roads (St. Helens) Section 
Project Description: This project will improve the safety of U.S. 30 by adding a traffic signal at the intersection of U.S. 30 and Millard Road, restricting left turns onto U.S. 30 from Bennett Road, increasing the turn radius for the right turn at U.S. 30 and Bennett Road, updating rail crossings at both Millard and Bennett Roads, and uFApdating other intersection infrastructure for pedestrians, bicyclists, and vehicular traffic.
Traffic Impacts: Expect delays and lane closures. Traffic on U.S. 30 will not be detoured. The intersections of U.S. 30 and Millard Road and/or U.S. 30 and Bennett Road will be impacted at various times during construction.
Project Website: https://www.oregon.gov/odot/projects/pages/project-details.aspx?project=…
U.S. 26: Necanicum Jct. – Nehalem River Bridge Section
Project Description: This is a roadway surface preservation project which will remove the surface of the asphalt and replace it with a new wearing surface. Side roads and approaches will also be repaved. In addition, new guardrail and signs will be installed throughout the project corridor. ADA ramps will also be installed at the end of bridge pedestrian facilities.
Traffic Impacts: Most of the work in two lane segments impacting travel lanes will be done at night with single-lane closures between 8:00 p.m. and 8:00 a.m. In the four lane sections, work may occur during either daytime or nighttime hours while maintaining one travel lane in each direction. Paving is anticipated to begin on June 20th, 2021, Expect delays.
Also of note – there is chip-seal being put down on Hwy. 22 – expect delays, and rough, gravel road conditions.