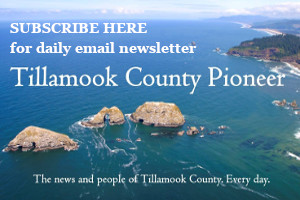 By Gordon McCraw, Tillamook County Emergency Manager
Thursday, July 15, 2021, 11:30am
Weather
Not much changes from yesterday's weather. We continue to be influenced by a large low pressure area spinning well west of British Columbia that has us stuck in a cooler westerly flow. We do have occasional disturbances riding the flow that thicken the marine layer at night and gives us a slight chance of early morning light drizzle. So, for today, we will see mostly sunny skies with the afternoon breezy westerly winds returning, 10-15 gusting to 25, the afternoon high near 65. The clouds will return tonight along with the chance of light drizzle late, the winds diminish, lows near 54.
With a thicker marine layer tomorrow morning the marine layer will not clear up as fast, or as much and in some areas, will not clear at all. So, we look to stay mostly cloudy tomorrow, highs near 65, lows near 55.
A ridge of high pressure builds in from the southeast early Saturday and gives us a mostly sunny weekend with high likely to push up near 70 by Sunday, still a little on the breezy side Saturday afternoon, then mostly clear nights, lows near 52.
It looks like next week will be fair, dry and mild still with the mostly sunny days continuing through midweek, highs around 66, partly cloudy nights, lows near 52.
Tillamook State Forest – Game Hog Creek Fire – NOT impacting travel on Hwy. 6
I have had a few questions regarding the impact of the Game Hog Creek Fire on travel across Hwy 6. So far there have been no impacts and we are not expecting any as the fire is over a mile west of the highway. You can check this at tripcheck.com before you go to see if there have been any changes. Here's my report today to Oregon Emergency Management Office:
Game Hog Creek Fire, north of Hwy 6 Elk Creek area (Lead agency is ODF Forest Grove)
(7/15/21, 1300)
•Started on July 3rd and was contained but Tuesday 7/13/21 it looks like the increased winds caused it to jump the line.
•Yesterday (7/14) it was around 70 acres, today (7/15) about 132 acres.
•Forest Grove ODF says crews continue to work the "steep and nasty terrain". They have about 100 personnel from several partner agencies including Hampton and Stimson Lumber Companies, engaging the fire.
•They are using a helicopter, operating out of the new Banks Fire District 13 Station.
•No impacts to travel on Hwy 6 or 26.
•Tillamook County continues to monitor the situation.