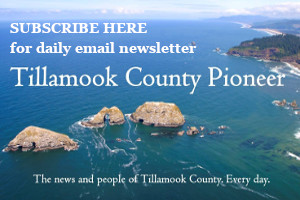 By Laura Swanson, Editor, Tillamook County Pioneer
Open, open, open! Tillamook County's Farmers Markets are readying for opening day, and there is a NEW Farmers Market at the Port of Garibaldi.
Friday June 8th – 5 pm – Manzanita Farmers Market opening. Located at 5th and Laneda in downtown Manzanita. This is one of the county's most popular markets with over 40 vendors, featuring live music and the unique evening hours. The Manzanita Farmers Market hours are from 5 to 8 pm, every Friday evening through August 31st, and then 4 to 7 pm for the final two Markets September 7th and 14th. For more information, go to www.manzanitafarmersmarket.com

NEW – Port of Garibaldi Sunday Market – at 10 am on Sunday June 10th, the newest farmers market in Tillamook County at be held at the Port of Garibaldi – with one of the best views of any market in the county. It will be located down at the end of the Port road near the Port office. Currently about 20 vendors are expected, and the Market is still accepting applications – print out the application here – GARIBALDI SUNDAY MARKET application: garibaldisundaymarketapplication
The Garibaldi Sunday Market will be held every Sunday from 10 am to 2 pm through October. For more information, contact Julie Jones at 541-285-5555 or like their Facebook page – Garibaldi Sunday Market.
The Tillamook Farmers Market will open NEXT weekend on Saturday June 16th at 9 am. The first and original Tillamook County farmers market, Tillamook Farmers Market will have over 50 vendors set up on Laurel Ave. in front of the Tillamook County courthouse. The market hours are from 9 am to 2 pm. More information is available at www.tillamookfarmersmarket.com
The Pacific City Farmers Market, held at the South County Library parking lot will also open NEXT weekend, on Sunday June 17th for Father's Day. Pacific City Farmers market hours are from 10 am to 2 pm.
The Neskowin Farmers Market – the most diminutive of the county's markets, less than 20 vendors, and also the Market with the earliest opening (in May) is OPEN on Saturdays from 9 am to 1 pm, located at the Neskowin State Wayside. For more information, go to www.neskowinfarmersmarket.com
ATTENTION SNAP program users: The "Double-Up Food Bucks" program is available again this year. If you have a SNAP card, you can receive up to $10/match for your purchases of produce at Tillamook County Farmers Markets throughout the season. Go to the Market information booth for more information.