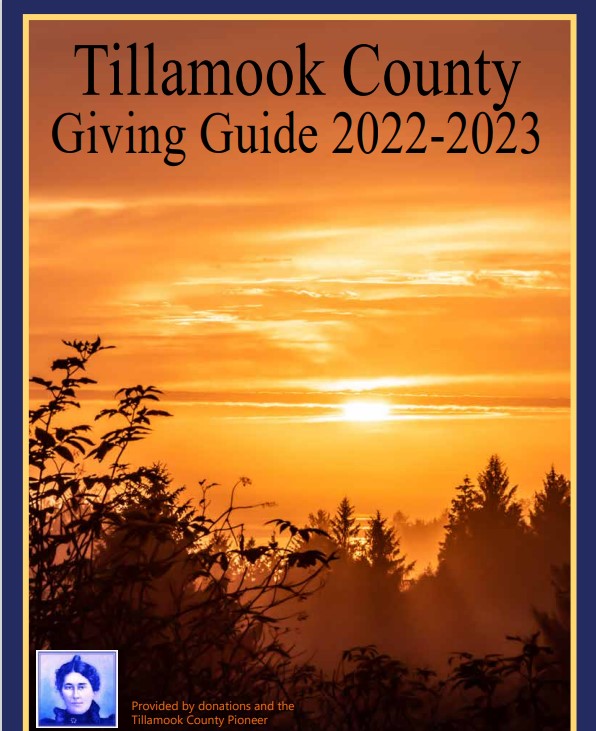 By Laura Swanson, Editor, Tillamook County Pioneer
'Tis the busy time of year, and much of the busy-ness is the attempt to find the "perfect" gift for family and friends. Many of us simply have too much stuff, which has you striving to find that gift that "keeps on giving."
How about a donation in the name of your family member of friend to a local nonprofit? Or a membership in one of the organizations that will give your gift recipient all kinds of benefits throughout the next year? The donation will benefit many in our community.
The first annual Tillamook County Giving Guide is arriving in Tillamook County mailboxes, and copies are available at all Tillamook County Library branches, as well as online here at the Pioneer. It provides overviews of 22 Tillamook County nonprofit organizations, and lists dozens more nonprofits in the County. Year-end donations help on your taxes, but the help that your giving provides to our local nonprofits is much greater.
The Tillamook County Giving Guide was produced in partnership with Fulcrum Community Resources, and here is the introduction from the publication.
Fulcrum Community Resources is excited to partner with Tillamook County Pioneer to produce this inaugural edition of the Tillamook County Giving Guide.
For 10 years, Fulcrum hosted the Alternative Gift Market started by Ginger Edwards. This market featured some of our local nonprofits and encouraged folks to give to them, or to international nonprofits, in lieu of buying gifts for their loved ones for the holidays. Fulcrum's answer to no longer hosting the Market is this Guide.
To provide guidance and encouragement to give to these organizations that fulfill important missions and weave the very fabric of our community's coat of many vibrant colors, one of the many wonders and the beauty that is Tillamook County.
We know the people who people our local nonprofits work hard to provide a wide variety of services, some of which are not offered elsewhere, that enhance our lives here in Tillamook County. Their missions cover all the sectors of our society: health and wellness, sustainability, environment, conservation, food security, women, children, animals, and arts and cultural.
There are over 150 nonprofits in Tillamook County (36 in the North County Directory.) Besides their various services, our local nonprofits add other value to our community by providing jobs, a trained and inclusive workforce, volunteer opportunities, internships and training, and places and events where we gather socially. And more subtly, but no less importantly, because they work together, they are helping to create a culture of collaboration, partnerships and communication.
Here is our opportunity to give back. Inside you will find information about the nonprofits who have been able to participate in this guide. We hope you will peruse these pages and give generously. Not every nonprofit had the budget or sponsor to pay for a page, (which paid for the printing and mailing) so we have also included a list of most of the nonprofits in the county. If you don't see your favorite nonprofit on a page, check the list, and if you don't see a local nonprofit please contact us to add it to the online list.
We thank you in advance for your support of our local nonprofits that enrich our lives and community!
Fulcrum Community Resources
Board of Directors
Barbara McLaughlin, President
Lane deMoll – Secretary
Lucy Brook – Treasurer
Tom Bender
Lianne Thompson
Fulcrum Community Resources (fulcrumresources.org) mission is to foster the transition of the Nehalem Bay community to a sustainable future. Our volunteer group initiates and coordinates local programs in north Tillamook County on the north Oregon Coast. We also sponsor others' projects that fit with our mission and goals. We see Fulcrum, not as a hub, but as an enabling node – one of many groups locally who are organizing and creating projects. Our guiding philosophy is that the most effective and innovative projects are initiated at the grassroots community level.