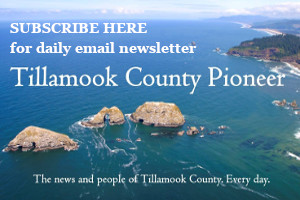 By Gordon McCraw
Friday, March 11, 2022, 1:30PM
Weather
The last day of high pressure bringing fair skies as it is now drifting eastward ahead of a shift in the weather pattern. The clear skies overnight did allow the temperatures to fall to around 30 degrees overnight. Today we see increasing high clouds ahead of the approaching front now in the eastern Pacific.  Our winds becoming westerly 5-10, the high near 56. More clouds move in tonight, the winds light from the south, lows near 38.
The front falls apart by overnight as a strong upper level trough and an associated low pressure area moves down from the north and will impact the weather tomorrow. The forecasting problem is determining exactly where the low moves inland. This will impact how strong the winds will get and where. The forecast Saturday is for rain with southerly winds 10-20 gusting to 30, the high near 53, more rain tomorrow night, winds southerly 15-25 gusting to 40, lows near 43.
Winds at the beaches Saturday ramp up to southerly 15-25 gusting to 55 during the day, and 40-45 gusting as high as 70 Saturday night.  Confidence on this is not real high as mentioned above as it is dependent on where the low comes ashore. As far as rain, the thoughts are that the systems will be moving along so the Coast Range may see around 2-3" of rain Saturday thru Sunday with 1- ¼" likely around the airport.
Sunday the rain eases some but not for long as a cold front will be pushing in more rain by Sunday night and with the increased southwesterly flow, it will not be moving very fast so we can expect another good shot of rain Monday into Tuesday. We can also expect to transition to scattered showers Tuesday night, then in comes another disturbance and more rain for Wednesday. Highs during this period running in the mid 50s, lows in the low 40s.
Hydrological concerns remain low for now.  The river forecasts do show increased flows but currently all rivers are forecasted to remain well below Action Stage but, it is always good to keep an eye on the forecast for any changes, good or bad!
Big Changes over the Weekend – Mask Mandate Ends; Spring Forward … 
The first significant change is in the mask mandate. Effective tonight at 11:59pm, Oregon will end the mask mandates for indoor public places and schools. These changes DO NOT change federal requirements which includes masking on public transportation such as airlines and buses. It will also not affect the States requirements for masking in places like health care settings, local public transit, and other specialized settings.  Remember to, businesses can choose their own requirements, they can make the rules stricter, they just can't make them laxer.
The next big thing is…it is "Spring Forward" weekend. On Sunday, March 13th, at 2AM, Daylight Savings (DST) time takes effect, and we move the clock forward one hour, and unfortunately, we lose one hour of sleep. We remain on DST thru November 6th when we return to Standard Time.  Official "Spring" or the Spring Equinox does not happen until the next week, Sunday, March 20th at 11:33AM. This is when the length of day and night are about equal, then this hemisphere starts tilting more towards the sun!  More daylight equals warmer and more spring-like weather.