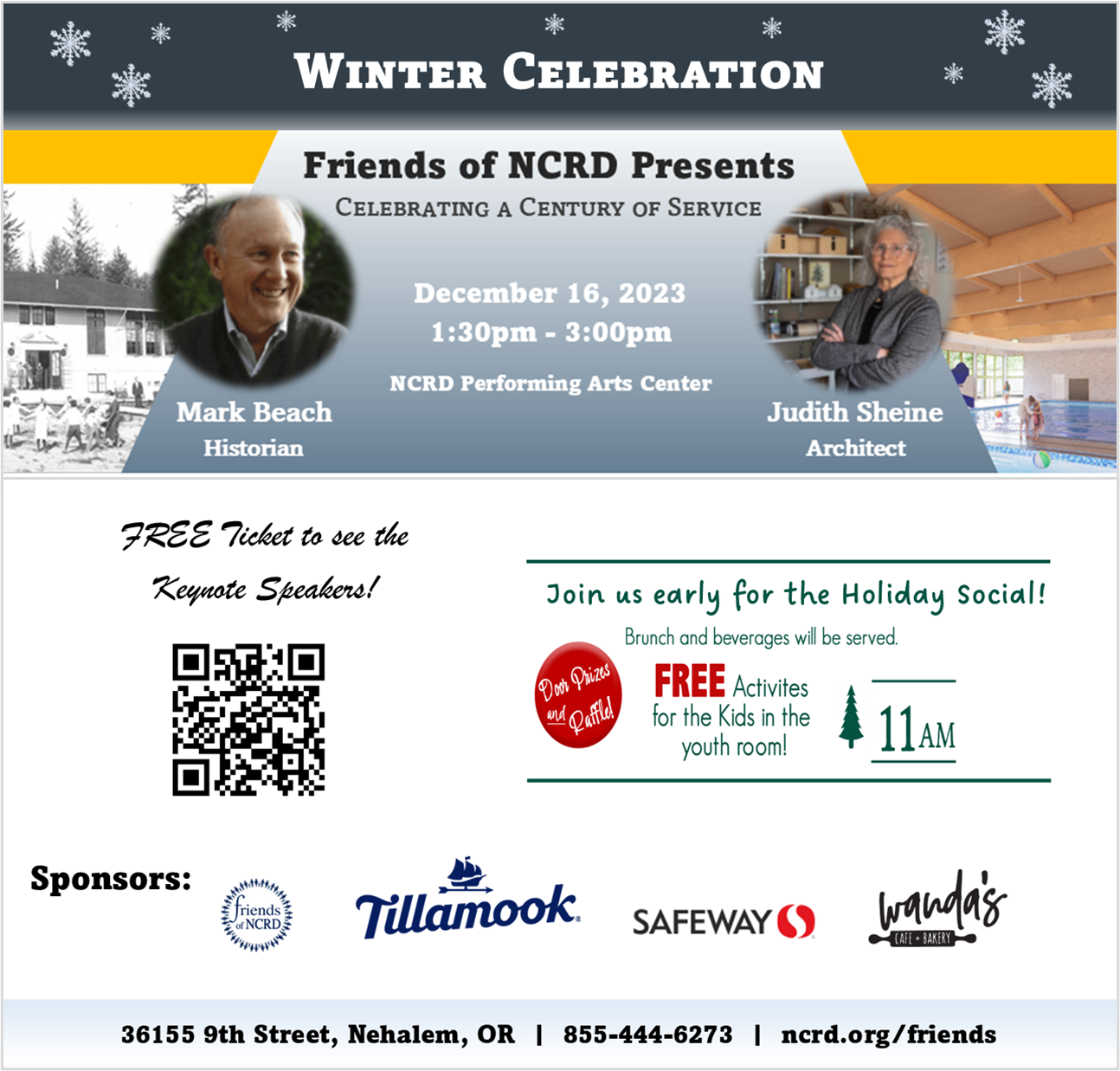 Article Written by Mallory Gruben
Rick Lofton never meant to stop into Richard Martin's blue house off Alderbrook Road — but it's exactly where God wanted him.
That's what both men believe after the miraculous coincidences that ended in a new roof for Martin's home, a compassionate friend for Lofton to lean on and a timely distribution of "use-it-or-lose-it" funding from Tillamook County Habitat for Humanity.
"I almost can't believe — but I do, because I've seen miracles happen through Habitat for Humanity," said Cami Aufdermauer, executive director of Tillamook Habitat.
A Catch 22
Almost stranger than fiction, the story starts in 2019, when Martin first noticed a leak in his roof. For the next three years, the retired Navy veteran tried everything he could to get the roof fixed.
He filed claims through his insurance company, which denied him three times in a row, citing a "good condition" appraisal on the books three years prior. He called dozens of roofing companies for quotes, only to find that the work would cost him upwards of $30,000 — an impossibly huge expense for a veteran on a fixed income. He asked the bank to refinance his home so he could get a loan to cover the repairs. The bank refused to refinance until the roof was fixed.
"He was in a Catch 22. The bank said, 'We'll give you the money for the equity on your home, but we won't give you the money until you replace the roof.' But that money was to replace the roof," Lofton said. "He was stuck."
Martin had all but given up hope. Then out of the blue, Lofton rang his doorbell.
"He said he was there to see the roof. I'd thought I was all done with quotes, but I let him up anyway," Martin said.
Lofton, owner of Rick Lofton Roofing in Tillamook, had mistook Martin's tarp-covered home as the location of another house he was supposed to work on. The roof was in such disrepair that this had to be the right place, Lofton thought.
By the time he realized he was at the wrong home, a miracle was already in the works. Lofton had completed the quote and learned more about Martin's situation. His brain was busy running through ways he might be able to help.
And then the idea struck him: Habitat for Humanity of Tillamook County. Lofton had partnered with Habitat on roofing projects in the past, and he knew the organization has programs specifically to help veterans. It seemed like it might be a good fit for Martin.
Lofton gave Martin a phone number for Aufdermauer and suggested he call. Martin did.
"I told her what was going on, and she said, 'No problem. I'll send you the form,' " Martin said, referencing an application and eligibility form Habitat requires before accepting a project. "Next thing I know, they are calling and saying, 'You're all approved.' "
A Prayer Answered
Little did Martin know that Aufdermauer had been waiting on a call like his. She needed a project that she could apply special grant funds to with the Home Depot Foundation Veteran Repair Corps.
"It's a $20,000 grant annually, but you have to spend it within a certain time or you lose it," Aufdermauer said. "We were about three weeks away from that deadline. It was a prayer on my heart that we could find someone to help."
"When Richard called me, it felt like an answer to a prayer, like Christmas Day," she added.
Usually it can take weeks, if not months, to complete a successful application and administer the grant. It requires a quote, coordination of donated materials and an available crew; Lofton said he's worked on projects that take six to 12 months to get started.
But in Martin's case, everything was already in place.
"The timing worked out amazingly," Aufdermauer said. "He already had the quote and a willing roofing crew, because Rick had accidentally stopped by. So the application ran smoothly and quickly. We jumped right on it."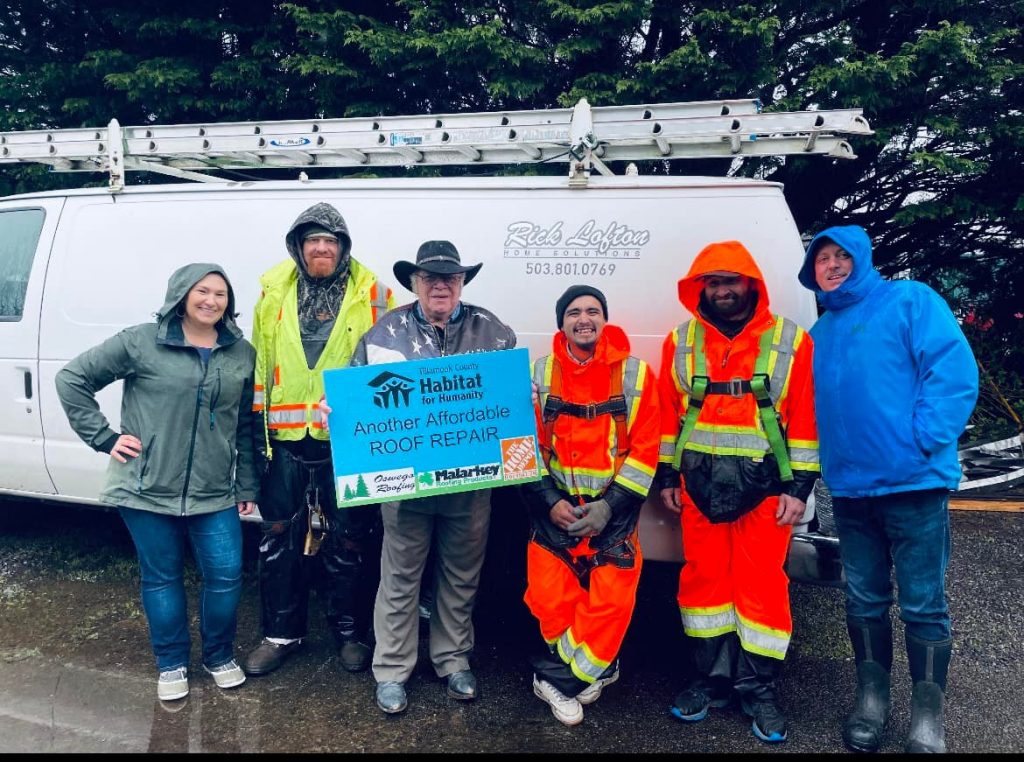 Lofton agreed to complete the work with his crew. Habitat also received materials donations from Home Depot, Haltiner Heating and Sheet Metal and Malarkey Roofing Products.
"It turned out they had the shingles available, and it was just one of these wonderful things that happened that way by accident," Lofton said. "The money was there just by chance. The timing was everything."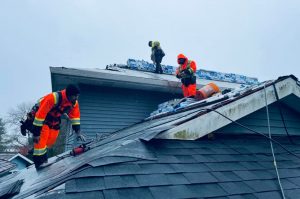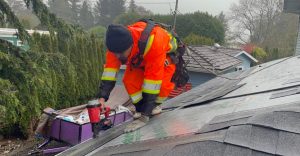 A Favor Returned
As Lofton and his crew worked on Martin's roof, the two men bonded. Martin often invited the workers in for lunch, and he and Lofton shared stories with one another.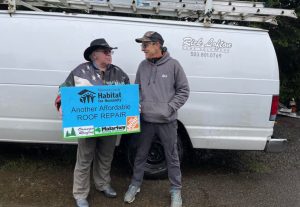 In one of the conversations, Martin shared that he was also looking for help with a mold problem in his living room. A contractor had once pointed out the gray coloration on his walls, and he was hoping to get it fixed, too.
"I started looking at it, and I got a hold of my mold abatement guy who gets a hold of Richard and says, 'It's not mold at all. It's soot coming from your fireplace,' " Lofton said. "He could just wipe it down and repaint. That saved him $7,000."
In another conversation, Lofton shared that he was struggling with a personal quandary: He was preparing to move his mother to an assisted living facility, and the change was putting a strain on some of his family relationships.
Martin, a long-time caretaker who had been in a similar situation of his own years ago, offered an understanding ear and sage advice.
"He helped me think of things to prepare for, and he helped me know what I was going through and feeling was OK," Lofton said. "He gave me a blessing, too, and he didn't even know he was doing it. Here I am doing my thing to help him, and Richard was able to give back already."
Aufdermauer called the two men's new friendship "heartwarming."
"Seeing him and Rick bond was amazing. It was a full circle of support," she said.
The idea of a full circle of support extends beyond Lofton's and Martin's friendship. Aufdermauer said that Habitat's work is only possible with the support of gracious community partners, volunteers and donors.
"When those pieces come together, the outcome will change a life," Aufdermauer said.
And Habitat includes another important supporter: God. The organization follows a faith-based mission that recognizes God in its work.
That's something Martin, a proud Christian, is happy to share widely and freely. He's certain that divine intervention played a role in his new roof — and all of the beautiful "coincidences" that happened as part of it.
"This is just a blessing. That's all I can say," Martin said. "I keep telling Rick, 'You didn't get here by mistake. God sent you here on purpose.' "
Video Produced and Edited by Cami Aufdermauer