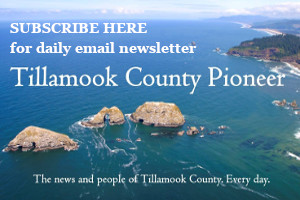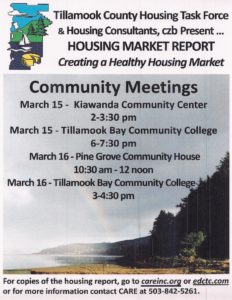 By Laura Swanson
Established in October of 2015, the Tillamook County Housing Task Force has completed its first major project – a housing assessment, with grants from Meyer Memorial Trust, and contributions from local employers Tillamook County Creamery Association, Adventist Health, Charter Communications and Columbia Bank.  The task force brings together stakeholders from all geographic areas, and economic sectors to participate in a process to create a long-term housing plan for Tillamook County and to look for short-term creative solutions to address the extreme housing crisis in Tillamook County. The task force efforts have been coordinated and facilitated by Erin Skaar, Executive Director of CARE, Melissa Carlson-Swanson, Branch Manager Oregon Food Bank Tillamook Services Center, and Commissioner Bill Baertlein.
The Task Force, with housing consultants czb, LLC, will present the report at community meetings throughout Tillamook County starting on Wednesday March 15 at Kiawanda Community Center in Pacific City from 2 to 3:30 pm and also on Wednesday March 15 at Tillamook Bay Community College in Tillamook from 6 pm to 7:30 pm; then Thursday March 16th at the Pine Grove Community House in Manzanita from 10:30 am to Noon, and the final public presentation will be Thursday, March 16 at Tillamook Bay Community College from 3 pm  to 4:30 pm.
At these community meetings, members of the Housing Task Force and the housing consultants, czb LLC, that prepared the report, will provide an overview of this 40-page detailed, long-term road map for Tillamook County's housing issues now and into the future.  The assessment includes demographic data, for example, the percentage of households paying more than 30% of income to rent or housing, and also surveys of employers, information from contractors and developers to assess the barriers and identify buildable lands.  "The purpose of the housing assessment is to analyze the need and its causes," explained Erin Skaar.  "And to  provide some recommendations for moving forward."
            Tillamook County faces unique challenges when it comes to housing development. According to Bryan Pohl, Tillamook County Community Development Director, "There is not a lot of available, buildable lands, and we have zoning restrictions within varied jurisdictions.  This is a much more difficult place to build.  My concern is about future generations, about trends in education and training being less accessible."  He continued, "It's always going to be difficult and expensive to live here, and the work we do now will be positioning for the next generation."  Doing this work brings up the conversation, "Where are we headed?" said Skaar.  "And, why is this so critical to plan and develop infrastructure, including capacity and the skilled labor for building. This is a model for Tillamook County's future." 
The Futures Council reports and a community vitality project assessment showed the absence of any projects or plans for housing.  "Ask anyone in the county what the most critical issues facing the county are, and housing will be in the top three," added Skaar.  Unscientific opinion polls last year showed that 80% of those answering the poll agreed – housing, especially affordable housing, is a serious problem in Tillamook County.  "What makes this such an important issue for Tillamook County is that it is not just low income housing that is not available, it is all types of housing," Skaar said. Employers are anxious to be a part of this effort as they are struggling to hire employees at all levels due to the housing shortage.  "All our major employers, the cheese factory, the hospital, the school districts have lost potential employees that tried to move here, but could not find affordable housing or even temporary rentals," Skaar said.
This report "Creating a Healthy Housing Market for Tillamook County" is a significant first step toward finding solutions to housing issues.  Join us at one of the community meetings on March 15 and 16 for more information or download the report available on CARE's website – http://careinc.org/tchtf.htm or on the Economic Development Council of Tillamook County's website – http://www.edctc.com/about-us/news-press/.  For more information, contact CARE at 503-842-5261.
                                                                        # # #