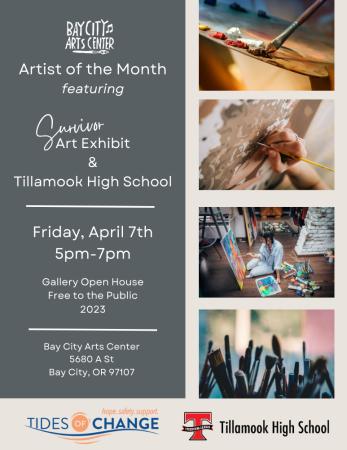 By Gordon McCraw, Tillamook County Emergency Manager & COVID-19 Incident Commander
At today's Commissioner's Meeting, it was reported that Tillamook County has had 381 positive and/or presumptive cases, and we are still monitoring 18 individuals.
The report from the Governor's Office is that the County appears, during this Warning Week (2-week period), is that we are projected to remain in the Lower Risk Category with only 13 reported cases the previous 2 weeks. The actual Level will be reviewed next week after pulling the new numbers next Monday. The numbers will be reviewed then the outcome will be announced next Tuesday. If a Level change were necessary, it would take affect next Friday. At current levels, we would likely remain at the Low Risk Level for an additional two weeks.
A report on vaccinations in Tillamook County, as of yesterday, there had been 1371 Primary and Booster shots administered with another 390 expected by the end of the week. We continue to work on completing Groups 1-4 of Phase 1a, with Educators and Staff K-12 beginning at the end of the week and hoping to finish these by the end of next week. If you fall within one of the Phase 1a Groups, call 503-842-3914 ASAP to get on the schedule at a vaccine event. You must be eligible and scheduled to attend. See the chart below for more details: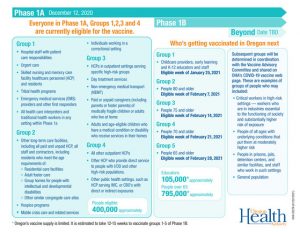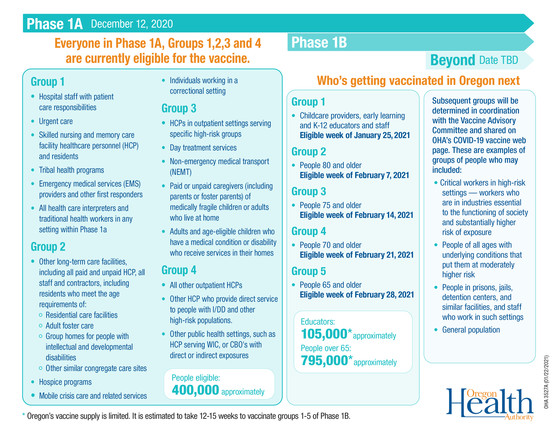 If you are an Educator K-12, check with your Superintendent for your school's event.
While the Governor announced when individuals 65 and older are eligible for the vaccine, we currently do not have any events scheduled for that group as vaccine delivery amounts to the county remains low and we currently only have enough delivered to complete the groups mentioned in the previous paragraph. We are doing the planning so that should we get the vaccine amounts necessary to conduct these events, we are ready! Once we do start to get the vaccine for that next Group, it is estimated it will take 12 weeks to work through the 65 and older group. The Governor's Office also estimated it would be mid-May before we are able to vaccinate front line workers and people under 65 with health risks.