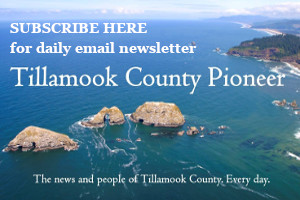 By Cammy Hickman, Tillamook County Master Gardener
There is hope – you still have ample time to plant your garden this year! According to my garden journal, I am at least a month or 7 weeks later than last year. It has been such a soggy spring, that I couldn't even clean out the weeds without taking up more soil than weed. Sheesh!
I was able to sneak in my onion sets on the second of the two dry days in May along with strawberry plants, a squash, cucumber and three tomatoes purchased at the Master Gardener Plant Sale. Had to be quick about it though! However – two of the tomatoes contracted blight, the deer snagged my squash and cucumber. Fortunately, I was able to cover the strawberries and they are now blooming with pale pink berries peeking out from under the leaves.
So yes – you can still plant your garden this year. The soil will be warmer resulting in perfect germination temps for the seeds. Transplants from the garden center will take root easier and the risk of blights, fungus and rusts will be minimized. Be sure to water early in the mornings now.
I wanted to share some recent photos taken of 'Harvest' at the Tillamook County Master Gardeners Learning Garden at the Fairgrounds. Proof positive of a good growing season! Produce from the Learning Garden is donated to the local food banks and organizations supporting the needs of citizens in the community.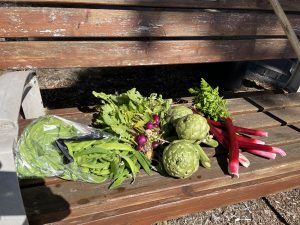 In other news:
Master Gardeners will now be staffing their Plant Clinic Tuesday mornings from 9am – noon and Thursday afternoons from 1pm – 4pm at the Tillamook Extension Office located at 4506 Third Street. You may also stop by during Extension Office hours and leave your questions and samples with the Extension Office Staff.
Master Gardeners will also be at the Garibaldi Night Market on Thursday, June 30, and the Pacific City Market on Sunday, July 3. Stop by and chat with us!
You can also follow Tillamook County Master Gardeners on Facebook or check out their website www.tillamookmastergardeners.com