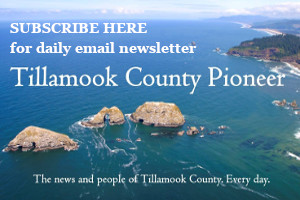 View the new maps, and receive information about cost-savings programs on July 12th from 6 to 8 pm at the Partners for Rural Innovation building, 4506 Third St. Tillamook.
Upcoming changes to flood maps will trigger spikes in the hazard insurance premiums in Tillamook County. The rate increases can be mitigated thanks to special FEMA programs. Now is the time to pay attention because rates will skyrocket if property owners don't apply prior to the deadlines.
Why are flood insurance rates changing? With today's technology, a new Flood Insurance Rate Map (FIRM) has been developed by FEMA and will take effect on September 28, 2018 for Tillamook County.
The good news is, the previous map from 1978 will be replaced by ones that are easy to read and locate your property.
The bad news is, new technology identifies higher-risk areas more accurately which effects insurance rates for some folks, and those rates will rise significantly if they don't utilize some nifty loopholes within the timeline allowed.
What you need to know? It was explained that some homes and businesses – approx. 2,600 throughout the county – will be identified as high-risk as of September 28th, 2018. Those property's premium rates will be changing and if the property owner isn't well informed of their options, it could mean the difference of $8,000 or more in annual premium rates.
Join us at the Tillamook County FEMA Forum on July 12, 2018. Learn about critical deadlines for flood insurance programs and protect clients from rate increases that could cost thousands of dollars.