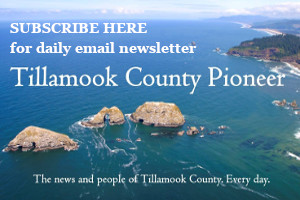 This year's Pioneer of the Year is from a several Pioneer families. Her great grandfather on her dad's side (Fred Thomlinson) operated a ferry across the Tillamook River. Her grandmother on her dad's side (Daisy Thomlinson Vermilyea) was born in Tillamook County in 1894. She was married (to Joseph Vermilyea) in 1914 and they had a farm on Hathaway Road. Both of her parents (Fritz Vermilyea and Viola Mapes Vermilyea) were born in Tillamook County in 1916. A few years after they were married her father took over her grandfather's farm. She grew up on the farm along with her 5 sisters and 1 brother.
She graduated from THS in 1957. After graduation she attended Pacific Business School in Portland and then worked for an insurance company.
She was married in 1960 (to John Hill) and returned to Tillamook. In 1966 she was hired as a bookkeeper at Tillamook Cheese. In 1976 she was given the opportunity at Tillamook Cheese to develop a Visitor Center, which today has grown beyond her wildest imagination. During her years with Tillamook Cheese she served on The Oregon Dairy Council, the Oregon Coast Assn., The Tillamook Chamber of Commerce, Tillamook School Board, and was a member of the Tillamook Rotary Club, Ladies of the Elks, a 4-H club leader, and Tillamook County Pioneer Association.
After retiring in 2011 she did some traveling the first year, lived in Tigard for 6 years helping a friend with her business, before returning to Tillamook full time. While traveling in Ecuador she fell on a hike and broke her ankle.
For the last 3 years she has been doing volunteer work for the Tillamook Pioneer Association, first as a board member, a bookkeeper, filling in at the front desk in the Museum, and lastly updating the membership list of the Pioneer Association.
Congratulations to Judith Irene Vermilyea Hill as our 2022 Pioneer of the Year. Watch for Judy in the Dairy Parade!