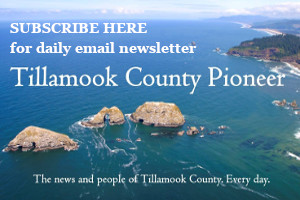 (Gordon's Update – brought to you by the Tillamook County Pioneer)
Friday, July 1, 2022, 08:00am
Weather
And, welcome to the first day of July! It looks like another typical summer day at the coast, low stratus marine clouds and cool temperatures with light winds.  The afternoon will look typical also with clearing skies, winds becoming westerly 8-12 gusting to 20, the afternoon's high up near 67.  The clouds will return tonight, the light winds return also, the low near 51.
Things start to change tomorrow as an upper level low pressure area starts to drift closer to the coast which enhances the onshore flow, giving us more clouds and a another breezy afternoon, the high near 67, still cloudy tomorrow night with decreasing winds, lows near 53.
It looks like Sunday the low will give us a slight chance of a light shower or two with the mostly cloudy skies, winds becoming westerly 4-8, the high near 64, lows near 52.  The low likely drifts over the area on Independence Day (Monday) so we continue to see mostly cloudy skies with a slight chance of those light showers, the high near 65, lows near 50.
Tuesday the low moves off to the north towards Canada bringing an end to the shower threat and the mostly sunny skies return but there is a hint in the models that a trough of low pressure rests off the coast and so there is a slight chance of an afternoon light showers Wednesday and Thursday with highs up near 69, lows near 53.
July 4th Safety
The 4th of July is a fun holiday with BBQs and fireworks, but it does have some dangers with it also. The recent years have seen an increase in fireworks related injuries. The best and safest way to enjoy fireworks is to watch the professional displays offered in many locations.  If you do choose to fire them off yourself, here are some safety tips offered by the Consumer Product Safety Commission:
Never allow young children to play with or ignite fireworks, including sparklers. Sparklers burn at temperatures of about 2,000 degrees Fahrenheit—hot enough to melt some metals
Keep a bucket of water or a garden hose handy, in case of fire or other mishaps
Light fireworks one at a time, then move quickly away from the fireworks device
Never try to relight or handle malfunctioning fireworks. Soak them with water and throw them away.
Never place any part of your body directly over a fireworks device when lighting the fuse. Move to a safe distance immediately after lighting fireworks
Never point or throw fireworks (including sparklers) at anyone
After fireworks complete their burning, to prevent a trash fire, douse the spent device with plenty of water from a bucket or hose before discarding the device
Make sure fireworks are legal in your area, and only purchase and set off fireworks that are labeled for consumer (not professional) use
Never use fireworks while impaired by alcohol or drugs