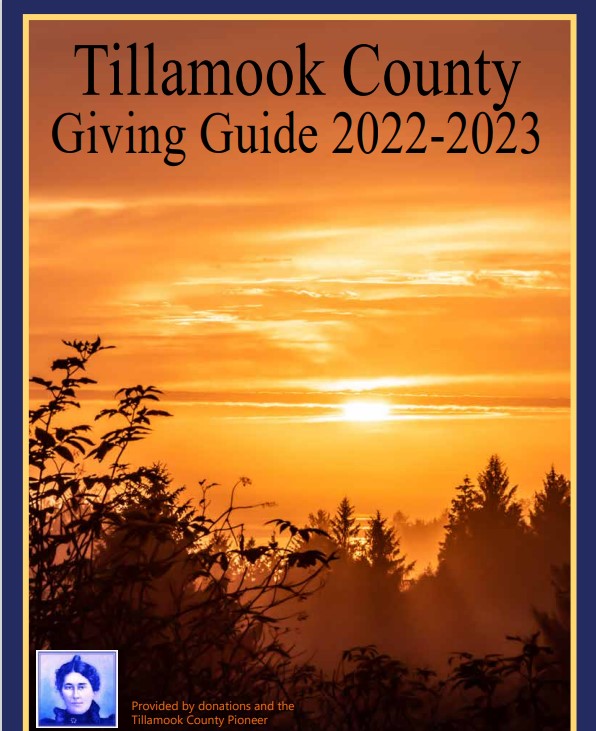 The Tillamook County Pioneer sent all the candidates (in contested and statewide positions) a request for a candidate's statement and a couple questions. The Pioneer provides this opportunity for candidates to tell voters about themselves and the position they are seeking.
Tillamook County Pioneer CANDIDATE'S STATEMENT – 5 minute "why we should vote for you" pitch; include information about why you are running for the position and your TOP 3 most-important-issues facing the board/organization you wish to serve on; solutions to those issues; identify the community's core values; and address the divisiveness in our world today.
Please do your research. Review the candidate's statements, even if you might have already decided who you are voting for – look at some of the letters to the editor supporting candidates, levys/bonds or ordinances. It's important to make an informed voting choice, and to exercise your right to vote in every election. VOTE! And be sure to return your ballots before May 17th. If you are going to mail your ballot, it must be postmarked by May 17th. There are ballot drop boxes available throughout the county, the list is HERE.
Tillamook County Commissioner Position #3

Mary Faith Bell (incumbent)
Give us your 60 second "elevator speech" – why should we vote for you? (150 words or less please)
(MFB) As an incumbent county commissioner, I bring invaluable experience and the benefit of strong working relationships I have built over the past three and a half years in office. I am respected in the community and known for having a fair and balanced approach to leadership. As county commissioner I am liaison to public works, the parks department, the library, the fair, the district attorney's office, circuit court, justice court, human resources, the clerk's office, tax and assessment, the farm bureau, and Tillamook County Wellness. I serve on multiple boards including Tillamook Bay Community College. I am well informed on issues vital to our county, and work to solve problems collaboratively and advocate for solutions. I am a good listener, a quick thinker, I care about the integrity of government, and I genuinely care about people.
Identify the top 3 concerns that you think are most important to the community right now.
(MFB) Lack of housing, homelessness and broadband access are among our top concerns.
What actions or solutions would you take to address these needs?
(MFB) When I was running for county commissioner in 2018, lack of affordable housing, workforce housing, and market rate housing was at the top of the list of local concerns. I am pleased to report that there is real momentum and movement in this area. Tillamook County has established a housing commission and hired a housing coordinator to work exclusively on housing issues, to be a hub of information, connecting people, resources, and ideas. There is a lot of investment and building activity going on currently and scheduled to begin soon, including multi-unit projects that will house multiple families. There are local investors building single family homes priced for working class families. Good people are doing the work of visioning creative and innovative solutions to housing, and they have told me that it feels different now, as if ideas that have been simmering for years are about to come to fruition.
While we are making significant progress, there is still a long way to go. In the meantime, homelessness has increased exponentially. In the past few years, homelessness in Tillamook County has become a problem we can all see, and it has become a top concern. There is now a group of community leaders working on ideas to address the very complicated issues of homelessness.
The county is working hard in cooperation with Tillamook Lightwave, which is made up of representatives from Tillamook County, Tillamook People's Utility District, and the Port of Tillamook Bay to bring broadband to households where it is not yet available. Fortunately, the federal government considers this a priority, and broadband funding sources are becoming available. Tillamook County is perfectly situated to be able to take advantage of this opportunity. We hope that within the next four years, affordable highspeed internet to every home will become a reality.
What are the community's core values?
(MFB) Tillamook County has old fashioned barn raising values. We come together to help one another in extraordinary ways, from paddling through floodwaters to check on isolated neighbors to raising $200,000 a year for Tillamook High School Charity Drive, to investing in the YMCA, NCRD and the Tillamook County Library, because we care about our children, and want them to have access to great services and facilities. Working together to make our community better is a high value and it is evident all over the county in volunteer fire departments, emergency preparedness groups, the search and rescue team, community soup kitchens, beach clean up efforts and animal shelters run by volunteers. We care about education because we want every child and adult in our community to have the opportunity to learn and achieve and thrive. At our best, we embody the value of loving our neighbors as ourselves.
There are many divisive issues facing our communities. What are the main issues that are dividing our communities? And, how do you resolve these conflicts?
Hyper partisanship has hurt our community, generated anger, and distrust, and perpetuated an 'us vs them' scenario in our minds, at times pitting neighbor against neighbor. The truth is that Tillamook County is a purple community, one thirds each red, blue, and unaffiliated. We all benefit when we focus on what we have in common, rather than what separates us. In particular, the many values we have in common. As a community most of us care about children, senior citizens, farming, fisheries, jobs, the economy, education, safety, roads, clean water, livability, healthcare, housing, and forests, both as a resource and for their natural beauty. We care about the Tillamook County Fair. We care about kindness and being stewards of this beautiful place we are privileged to call home. In my second term in office, I look forward to bringing people together to listen to one another, to work on projects and solve problems that we all care about, and to celebrate each other and our successes.
Tillamook County Commissioner Position #3
Graydon Hallock
Who is Graydon Hallock? Gradyon Hallock is running against Mary Faith Bell for Tillamook County Commissioner. As a long time county resident and multiple business owner, Graydon has a lot of experience working with the citizens of Tillamook County. Here Graydon introduces himself, his reasons for running, his view of governance and more. On his past experience . . . I think my experiences as a businessman, a dairy farmer, a landlord, and a friend to many of those I've met is beneficial in understanding the struggles of our community. I have personal experience fixing, building, and flipping houses to meet the housing needs of our community. I personally took a neighborhood on Seventh Street from rundown and crime stricken to a safe neighborhood for families. My experience makes me humbly ask questions to understand how other people are impacted by societal problems. As a county resident that has dirty boots, punched a time card and wrote paychecks, I think I can relate to many people of Tillamook County.
On his reasons for running for Tillamook County Commissioner. . . When I look around Tillamook I see all the opportunities there are for our families to grow and thrive, and I get excited. As a businessman and a family man I've faced many obstacles to try to improve outcomes for my family and my community. Tillamook County's current administration is not making life easier by helping our businesses grow or capitalize on opportunities, in fact our current county commissioners have done just the opposite. I want to change the way things are so that we can prosper together. There are too many families that are struggling in Tillamook County. I want to get our government working for us again. On the role of government. . . It's our government's job to provide safe roads, ensure buildings are constructed in manner that meets safety standards, and listen to its constituents on their wants and needs. It is the government's job to act quickly and respond to people in such areas as the planning and building departments. For the most part, I think it's government's job to stay out of most aspects of people's lives other than the safety issues and infrastructure.
On the role of elected officials. . . As a county commissioner I think it is important to return phone calls, emails, handshakes or "Hey what's going on?" on the street. Elected officials are to represent other people. That cannot be done without hearing the opinions, voices and concerns of others. You cannot do the job without being involved and getting feedback from the people that you represent. All three current county commissioners are out of touch with the needs of the working class people of Tillamook County. Someone with roots in the community needs to represent our people and find solutions to the problems from the bottom up. The planning and building departments are hurting the people of Tillamook County by not having the personnel and the talent that it needs to help. They are costing the tax payers extra money by the lack of communication from the department.
On the COVID-19 Tillamook County Commissioner response. . . My position is clear, we are not in a state of emergency, as the commissioners voted to place us in until June 2022. We do not need to be controlled from outside government forces by money with strings attached to it. I would do my best to make sure that I didn't impose any restrictions on people or businesses that were not under my legal authority as a county commissioner. I would not entertain the idea of shutting down places of business, that is outside of the commissioners' authority for which they lack enforcement mechanisms. I would simply state that it is a voluntary shut down if necessary and leave it at that. All three county commissioners actually went above their authority during the so-called pandemic. They should have stuck to solving county problems and not hurting the citizens or businesses of Tillamook County. I understand being cautious to start in the beginning, but their decisions were about funding not health.
On urgent local issues. . . The top two issues facing the county are our county roads/bridges and our lack of housing for families. I feel that the county is behind in looking for development of usable land and thinking outside of the box to come up with new areas of development and infrastructure. Our master plan for the county growth is tourism and sustainable economic viability. We need to look and see which directions concerning these issues are most desirable for all involved.
On budgeting. . . Fiscal responsibility is important to me. Before making budget cuts I'd have to analyze departments and review their efficiency models. I'd like to trim them and ensure that our county employees are assets to our county. I'd like to reward good employees with incentives to do their job quickly and efficiently, as in the private sector.
On the proposed Second Amendment Sanctuary for Tillamook County. . . I believe the Constitution states that all of America should be a sanctuary for the Second Amendment. Too many times our judicial system takes peoples gun rights away (even temporarily) as an abuse of power. If you're not convicted in a court of law I don't think that anyone should tell you to turn over your firearms, including our current DA, Sheriff's office or a judge.
Other County Positions – Uncontested:
Tillamook County Treasurer: Shawn Blanchard (incumbent)
NONPARTISAN STATE DISTRICT ATTORNEY Tillamook County – Aubry Olson
NOTE:  In the Democrat primary, both the State Senator and State Representative are running unopposed; on the Republican side, State Senator is unopposed, and there are two candidates for State Representative
STATE OF OREGON, STATE SENATOR, 16TH DISTRICT – Democrat
Melissa Busch
Give us your 60 second "elevator speech" – why should we vote for you? (150 words or less please)
I am a nurse who serves Columbia County and surrounding rural areas of Senate District 16, visiting elderly and disabled community members in their homes and long-term care settings to provide essential health care services. I am also a mother of school-aged children in our public schools, and I understand the challenges working families are facing in these unprecedented times.  The work I do as a nurse, and my experiences as a working parent, give me a comprehensive understanding of both the challenges our rural and coastal districts face, as well as the opportunities we have to create the healthy, thriving communities we want to live in.  I've been preparing to run for the Oregon legislature for the past five years, because I believe we need more working people, particularly mothers, in the legislature advocating for solutions to the issues impacting families, our young people, workers, and vulnerable communities.
Identify the top 3 concerns that you think are most important to the community right now.
(MB)
1) AFFORDABLE AND WORKFORCE HOUSING: Everyone should have a place to call home, from working people priced out of the market, to our elderly neighbors on fixed incomes, to folks impacted by houselessness, mental illness, and substance use. As a nurse, I see the impacts of inadequate housing on our communities. I know that in order to have people work and participate in our communities they must have a place to live. This issue directly impacts our local businesses and our economy. I would like to see legislative efforts that draw on public-private partnerships to build more workforce-housing with potential for on-site wraparound services and workforce development.
2) HEALTHCARE: Everyone deserves the ability to see a nurse or doctor to promote health, to treat illness, and to get affordable prescription medications, so that they are not forced into impossible choices like taking insulin or paying their water bill. The 2023 session will be a big year for healthcare legislation and it's critical that we have a nurse's voice at the table. I will support legislative efforts to ensure health care for all Oregonians, address rising costs of prescription medications, and remove barriers to care in underserved rural and coastal communities.
3) CHILDCARE AND ELDERCARE: The childcare and eldercare crisis is impacting working families. I believe the legislature needs to be looking at the rates of Medicaid reimbursement for care facilities and in-home care providers that are tasked with meeting the needs of our elderly and disabled populations, and directing more financial resources to these critical needs. I also know that we need more quality, affordable childcare options for working families across the state, particularly in our more rural communities. We need to ensure that both childcare and eldercare providers are able to stay open to meet the needs of our communities, and also that they are able to pay these essential workers adequately.
What actions or solutions would you take to address these needs?
(MB) My expertise as a health care provider and my unwavering values will help guide my decision making in the legislature. I will be a champion for the issues that are impacting working families and our most vulnerable community members, and will work collaboratively with other legislators, state and federal agencies, community leaders, as well as our counties and cities in the district.
I have already begun work with the Senate Housing Committee to advocate for housing solutions specific to our district, as well as the funding support we need from the state to address the demands of growth and tourism our district is experiencing. This is a complex issue and will require a multifaceted approach, taking into account all the issues that are interconnected around housing supply, demand, and affordability.
I will support the ongoing work of the Legislative Task Force on healthcare, where real policy solutions are being built to move us forward when it comes to high-quality, comprehensive healthcare for every Oregonian. Of course, I will also be a vocal supporter of the HOPE Amendment which will be on the ballot in November.
As I mentioned, I will advocate for long-overdue Medicaid reimbursement rates for facilities and individuals providing eldercare as well as policies that ensure those reimbursements are being spent directly on the elderly and disabled folks needing care, including increasing wages for the frontline workers providing the care.
I will build on the recent groundbreaking Child Care for Oregon legislation, which allocated funds and resources to bolster childcare access and affordability in our communities, but will require ongoing efforts for equitable implementation and continued work to meet the current child care needs in our district.
What are the community's core values?
(MB)
Looking out for each other: we show up to take care of the community, banding together to care for one another in times of need.

Hard work and dedication: we roll up our sleeves to do what needs to be done for the betterment of our community.

Perseverance: we have a can-do attitude and don't give up even in the face of challenges.

Reverence: we value the work, history and cultures of the generations that came before us and the place we call home.
There are many divisive issues facing our communities. What are the main issues that are dividing our communities? And, how do you resolve these conflicts?
(MB) There are many issues that can highlight divisions in our communities, and Senate District 16 has folks with varying viewpoints, experiences, and challenges. While I don't minimize our differences or dismiss the divisions, I do like to focus on our common goals, shared interests, and the fundamental human needs that bring us together. As a nurse that travels our district, I see folks from all walks of life. I have driven up many driveways to houses with flags flying, pledging allegiance to a wide range of political and social interests, and yet I walk in, sit down at the kitchen table, and care for each of those patients and their families the same — no matter their viewpoints or politics. I show up. I listen to our community members, I share their concerns, and I genuinely want to find solutions to the problems they face. When elected, this is the perspective I will bring to the legislature. We have so much more in common than the issues that divide us. I will seek to bring people together to have tough conversations, and to find common ground. As I travel throughout the district, I am hearing that people are looking for a Senator with the leadership abilities to bring diverse stakeholders to the table to have productive dialogue, work towards solutions to the problems that face our communities, and to turn our challenges into opportunities for a better future. I am that leader.
STATE OF OREGON, STATE SENATE, 16TH DISTRICT – Republican
Suzanne Weber
Give us your 60 second "elevator speech" – why should we vote for you? (150 words or less please)
(SW) One word: Experience. I have been in our community for 50 years. I have served as a city councilor for 10 years, Mayor of Tillamook for 10 years and now as State Representative. I have been an educator, a union leader, a small business owner and a community advocate. We have been ably represented in the Oregon Senate by Betsy Johnson for over a decade. Her attitude toward service in the legislature has been the same as mine: Focus on what's important to our communities. Don't get caught up in national issues over which we have no control. Focus on making sure rural Northwest Oregon is invested in and making sure our common sense voices are heard. That's why I worked so hard to bring more of our taxpayer dollars back to our communities instead of letting them be sent elsewhere in the state. I'll do the same in the Senate. 
Identify the top 3 concerns that you think are most important to the community right now.
(SW)
Making sure our communities are liveable.
Ensuring as much local control as possible.
Protect our natural resource industries while encouraging new and small businesses to flourish.
What actions or solutions would you take to address these needs?
(SW)
We've lived off the budget scraps for too long, while major investment was made in Portland, Salem, and other parts of the state. At the same time as hundreds of thousands of people stream to our beaches, our forests and our towns to visit, our infrastructure has continued to suffer from lack of investment. That's why the day that I came to the Oregon House, I went to work securing investment into our infrastructure. I fought to bring unprecedented amounts of our tax dollars back into our communities for infrastructure investment. I was able to secure funding to upgrade water systems, continue work to ensure our communities are ready for emergencies such as earthquakes and tsunamis, upgrade technology for our public works departments saving taxpayers thousands of dollars, and major innovation in ship repair that will bring dozens of family wage jobs to our communities. Unlike the larger cities in Oregon, we don't get investment in our part of Oregon unless we fight for it. Every single dollar that comes to rural Northwest Oregon requires a champion. I've proven that I will be that champion in the House and I look forward to being that champion in the Senate.
As a city councilor and a mayor, there was nothing that got my blood boiling more than when the state would order us to do things and do them their way without even consulting us. Of course, that often came with a price tag, but rarely came with funding to carry out their mandates. I always knew that I knew my community and community knows the best way to achieve what needs to be done. Nowhere can this be seen more than in the realm of housing. Like many communities across the state and really across the country, we have a housing crisis in rural Northwest Oregon. However, the statewide requirements and mandates make it more difficult and more expensive to develop housing that is affordable in our unique part of the state. We need both a strong voice for our communities in the legislature, as well as to give cities, counties and special districts as much authority as possible to solve problems the way that works best for them.
There's a continuous drumbeat to shut down large swathes of our natural resource economy without a concrete plan of how to ensure the families that make a living in that economy will have a way to make a living. Farming, Forests and Fishing are what made our community what they are. We need to continue to ensure our farms, forests and waterways are kept healthy for generations to come so they can continue to provide jobs for those in our community as well as a place of recreation for our community members and visitors. No one believes that we need to keep our farms, forests and waterways healthy more than those who make a living in them! Instead of being adversarial with those community members who make a living in our natural resource economy, we must work with them to make sure they can continue to thrive and grow.
What are the community's core values?
(SW) Care & Common Sense – We care for each other. When a community member comes on hard times, our community rallies around them, providing meals, funds, support, labor, prayer, and so much more. One of the things that makes me so proud to have been in this community for more than 50 years is how deeply we all care for each other.
I talk about common sense a lot and it isn't just a campaign slogan. Sometimes politicians in positions of power get lost in theories and ideologies and forget that there are real people with real issues. They shove political ideologies through without considering what those ideological policies will actually do in practice. As a city councilor, as mayor and now as state representative, I've worked to interject common sense into policy decisions. I'll do the same as a state senator.
There are many divisive issues facing our communities. What are the main issues that are dividing our communities? And, how do you resolve these conflicts?
(SW) Unfortunately, so many of the issues dividing our communities come from the nationalization of all politics. I can't tell you the number of emails I get as a state representative expressing frustration about what is happening at the federal level. I write back and let those constituents know that those issues must be addressed by Congress and the President, not by the legislature. Unfortunately, the vast majority of angry emails and calls I receive have to do with issues at the federal level. The old saying used to be "all politics is local". Unfortunately, the inverse seems to be true now. I've found that we can overcome those divisions by returning our focus on the issues that affect us most acutely. Making sure our infrastructure is being updated, making sure cities, counties and small districts have the authority to do what they can to make the lives of their constituents better. Making sure our schools are both funded and using funds appropriately. If we focus on those issues, which are the issues that will both affect us the most and unite us, we can overcome so many of our divisions.
STATE OF OREGON, STATE REPRESENTATIVE, 32ND DISTRICT – Democrat
Logan C Laity
Give us your 60 second "elevator speech" – why should we vote for you? (150 words or less please)
(LL) I am a small business owner from Tillamook and community advocate in this county. I have a track record of diving-in and doing the work for our community. We are in the midst of a housing crisis, folks are leaving our communities to find education and jobs elsewhere, and the vast majority of our community cannot afford healthcare. I will fight for funding and reform that addresses each of these crises.
I will work to fund child and eldercare, fight to protect the Oregon Health Plan, expand the Student Success Act to invest in career and technical education, and work on housing ordinance reform to start building homes we can afford.
I am Logan Laity, and I am the sole candidate for this office who has years of experience fighting for these issues, locally and in Salem. Thank you for your vote.
Identify the top 3 concerns that you think are most important to the community right now.
(LL) Accessible Education – I understand the importance of quality, affordable education having worked my way through Tillamook Bay Community College here on the coast. I saw first-hand how our lack of funding for Pre-K education prevents young parents from breaking the cycle of poverty; how quality educators too often leave our community for higher pay; and how our lack of investment in career and technical education prevents us from growing our own workers.
Comprehensive Healthcare – As a patient coordinator, I saw patients defer treatment because of insurance gaps. I was one of these patients. Healthcare touches our community in many ways, and with a growing retirement population we have a need for fully-funded assisted living facilities. Our lack of childcare and eldercare impacts our ability to live on the coast. Across the board, our health and that of our family is not equally funded among urban and rural counties.
Stable Housing – I know the hardship to find and keep a home on the North Coast. When my family moved we struggled to find an affordable home to rent or to buy. This inspired me to dive in and advocate for workforce housing. Our families are being priced out due to skyrocketing costs, and too many become houseless. Our houseless are unable to fill the workforce needs of our community. We lose teachers, caregivers, and retail workers. We lose our neighbors and friends. Our communities lose public servants.
What actions or solutions would you take to address these needs?
(LL) Accessible Education – As president of the student union I lobbied Salem for education funding, and as your next representative I will continue to fight for the next generation. For example, I will work to fully-fund Pre-K education by investing in teacher training; expand the Oregon Promise, so community college is accessible to everyone; and protect the Student Success Act that reduced class sizes and leveled the playing field with the metro counties.
Comprehensive Healthcare – After work as a patient coordinator, I advocated to protect the Oregon Health Plan that I didn't belong to, but my patients did. As a state legislator, I will continue to work on solutions that prioritize preventative care in our OHP, Medicare, and Medicaid programs; cover eye exams; and expand insurance networks. I will address the nursing shortage through Career and Technical Education because the best caregivers are our neighbors. I will reform home care because Oregon's lack of providers strikes us the hardest. Childcare and Eldercare is healthcare. I will work tirelessly to protect the Oregon Health Plan, because comprehensive healthcare is a human right.
Stable Housing – I will use the networks and knowledge gained from my housing advocacy as your next representative. I will work in the state legislature for funding that both promotes tourism and funds affordable housing development. Building codes and zoning for all communities to develop affordable housing, especially multi-family homes, is a priority of mine. I will work with local governments to advocate their positions on short-term rentals. I will work to expand rental and mortgage assistance programs because shelter is not only a right, it is a necessity for a thriving community.
What are the community's core values?
(LL) Having gone to school, worked, and advocated here, I know that what makes us unique is our values. We are resilient, we consistently come together after natural disasters– most recently the Idaville Pike Fire and the Neskowin Flood. We are forward-looking, continuing to invest in our community college and ensure that our children can afford to live and work on the coast that is our home. We work together, our communities support one another by sharing firefighters, library services, and tourism management. I believe in these values and the solutions we have created on the coast; that is why I am running to be your representative.
There are many divisive issues facing our communities. What are the main issues that are dividing our communities? And, how do you resolve these conflicts?
(LL) From housing to natural resources, issues that divide us have always existed on the North Coast and in Oregon. We have resource extraction and climate change; housing development and affordability; and tourism and service delivery. These are not either/or's. By working together in the county commissions, cities, citizen boards, and neighborhood groups we are addressing these issues, and I will have the honor to continue this bridge-building legacy as your next state representative. I will build community coalitions to advocate for stable housing; develop natural resource partnerships; and fund the community infrastructure we need to support tourism.
STATE OF OREGON, STATE REPRESENTATIVE, 32ND DISTRICT – Republican
Cyrus Javadi
Give us your 60 second "elevator speech" – why should we vote for you? (150 words or less please)
 (CJ) The north coast which includes Tillamook and Clatsop Counties is a special place.  We need someone who has lived here, who has raised their children here, and who has an investment in the community to represent us in Salem.  Our area is full of all sorts of people from different walks of life–we aren't a homogenous group of one political party.  Whether someone is a Democrat or Republican, an Independent or unaffiliated, should not matter because we all face the same problems and we all really just want what is best for ourselves, our neighbors and our community.  If I'm elected, the only way to be successful will be to stay in sync with the people in our district, and to make sure we are solving our problems in a way that makes sense for the area we live in rather than the way that people along the I-5 corridor think we should.
Identify the top 3 concerns that you think are most important to the community right now.
(CJ) This one is easy.  The housing crisis, the workforce shortage, and the homelessness/drug crisis.
What actions or solutions would you take to address these needs?
(CJ) Housing–we need to take a serious look at the land use laws that were passed in the 1970s.  They don't make sense anymore.  They are causing a shortage of housing, as well as, home prices that are unreachable for most middle-income families.
Workforce Shortage–we need to develop programs and then fund them to train people how to do the jobs our community needs.  Healthcare, manufacturing, home construction, and the service industry needs skilled and trained workforce.  If we can't offer that training, good members of our community will move away, get the training they need somewhere else and leave us with even more of a shortage than we have now.  My plan is to direct funding towards more training programs and then encourage people who take advantage of those programs to stay local and provide the services we need in our areas.
Homelessness–the big cities are putting homeless people on buses and sending them to our coastal cities.  When they get here, we don't have the resources in terms of money, people, and infrastructure to manage the problems caused.  Problems like littering, vandalism, drug use, theft, and other strains on the system.  Our police departments and public works departments do not have the support they need to address the crisis.  Our state needs to toughen up on drug abuse and crimes, to recreate/reauthorize State mental health hospitals and facilities, and provide adequate funding to support local efforts to manage the problem.
What are the community's core values?
 (CJ) Are communities were built on the backs of people who worked and still work from before the sun rises and until it sets everyday.  People on the North Coast value hard work, kindness, thrift, and togetherness.  We want the place where we live to continue to be a home to our families for generations to come.  Let's not squander the benefits provided to us by the generations who worked so hard before us.
There are many divisive issues facing our communities. What are the main issues that are dividing our communities? And, how do you resolve these conflicts?
The most divisive issue facing our communities is an unwillingness to have reasonable conversations about how to fix our problems.  We have divided ourselves into political camps, and only discuss solutions that benefit our own team.  Whether it's education, housing, inflation, infrastructure, workforce, etc, we need to start discussing solutions that benefit people who live in our district regardless of which political party benefits the most.  I believe, when we do this, we start to have the better tomorrow that we all want.
STATE OF OREGON, STATE REPRESENTATIVE, 32ND DISTRICT – Republican
Glenn Gaither
My apologies, I was diagnosed with lymphoma at the first of February, have had pancreatic cancer, metastasized for two years, 2016 2018. Last three weeks I am trying to still run, have had to limit some corresponding and rally, figure out why the fatigue hits on and off. I will be around for the race, it will be a bit more difficult but I will has this new cancer treated fully before summers end. A major inconvenience.  I will look for future opportunities, thank you for your time and efforts.
AAUW Candidates Forum 4/20/22
Pacific City Nestucca Valley Spring Candidates Forum 4/7/22