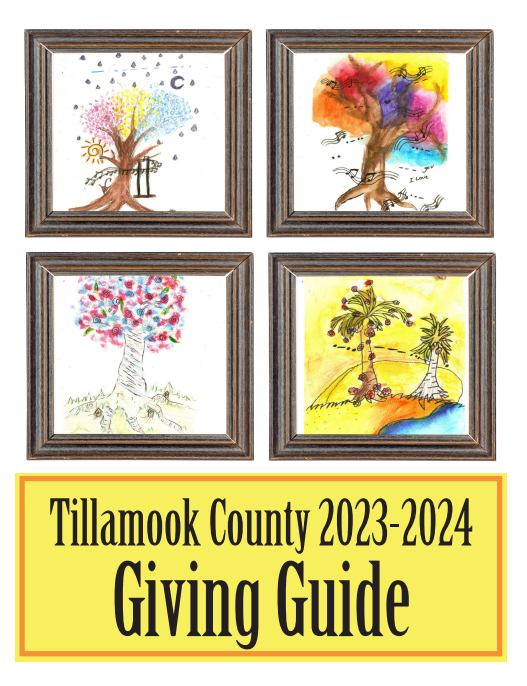 It's election time – and in Tillamook County there has been an increase in participation in our government process with many races having multiple choices. The Pioneer is proud to provide this opportunity for our community to make informed voting choices and learn about the candidates. Tillamook County Pioneer's Questions for the Candidates – November 2022. We will post the candidate's answers (that we received) in all the national, state and local races, including those from candidates in uncontested races. These questions were gathered from a diverse array of Tillamook County citizens, and provides an opportunity for constituents to compare candidates answers directly.
AAUW & Pioneer Host State Senator, State Rep Virtual Candidates Forum on Zoom Oct. 20th
The American Association of University Women – Tillamook, in partnership with the Tillamook County Pioneer, is hosting a Candidates Forum for the State Senate District 16 and State Representative District 32 races.  All four candidates will be present:  Representative Suzanne Weber and Melissa Busch (Senate race) and Logan Laity and Cyrus Javadi (Representative race).  The forum will be held on Thursday, October 20th starting at 6:00pm.  The meeting will be held via Zoom:  https://us02web.zoom.us/j/9618460049?pwd=S3FDT1lBdlhFcHdvVlNNQWVWSGVMQT09
Questions can be submitted via email (in advance) to lisaphipps08@gmail.com or can be submitted during the forum in the chat box.  Questions will be read by the moderator.  This is an exciting opportunity to meet the candidates who play a valuable role in ensuring the success of our county.  This is a chance to hear directly from the candidates about their vision, experience, and goals and how they will help Tillamook County.
Here are the candidates for State Senator, 16th District – Melissa Busch and Suzanne Weber and State Representative, 32nd District – Cyrus Javadi and Logan Laity.
Melissa Busch- Democrat/Independent – Candidate for State Senator District 16
What is your vision of a thriving community?
My vision of a thriving community is one where every person has equal access to quality healthcare, stable housing, fully-funded public education, affordable childcare and eldercare, and fair economic opportunities, regardless of their zip code.
If elected, what would you do within your position to advance this vision?
As your next State Senator, I would work alongside fellow legislators to create policy and ensure we are spending state resources in a way that prioritizes these values. I would take feedback from our county and city officials, and all the constituents, to advocate in Salem for the unique needs of the district. I would work with our business leaders, advocacy groups, and labor partners to work towards collaborative solutions to the challenges we face. I would lead with the same care, compassion, and thoughtfulness that I bring to my patients every day as a nurse.
Please provide a SWOT analysis of your municipality/district:
Strengths – The district has an incredible sense of community and willingness to come together to take care of friends and neighbors in times of need. We are a district with folks that aren't afraid to roll up their sleeves and do hard work. We show up for each other and get the job done.
Weaknesses – The needs of our communities too often aren't heard by Salem politicians. There has been a tremendous amount of change and growth in recent years. This has resulted in growing pains that have put a strain on resources and can also lend to divisions in communities across the district.
Opportunities – I see the opportunities as endless. For every challenge we face, there is a corresponding opportunity to create innovative solutions that will benefit the district and the state. We have opportunities to cultivate truly healthy communities by rethinking housing solutions, making meaningful investments in our schools and educators, ensuring families have the caregiving resources they need to meet the needs of their children as well as aging and disabled family members, grow our economies with investments in fair-wage jobs, small businesses, and family farms, and protect our natural resources so we can continue to enjoy the innumerable beautiful, resource-rich places throughout the district.
Threats – The seeds of division that have been sowed and nourished are the biggest threat I see to our district. We share common human needs, no matter our politics, and I believe that is where we need to focus our energy.
Let's focus on the positive things going on. Tell our readers about what you will do, if elected to make positive contributions to the community.
I love our district and I will fight for our communities day-in and day-out, like I do in my work as a home health care nurse. I will focus on advocating for state and federal funds to support the many county and local needs that continue to go unfunded. I will work to increase local investment in housing, education, childcare and eldercare, and to ensure that every single Oregonian has quality, affordable, comprehensive healthcare, including the full range of reproductive freedom.
There are many challenges facing our community. What are the issues you think are NOT being adequately addressed?
In my daily work as a nurse, I have seen so many senior citizens falling through the cracks, and with the recent closures of Kilchis House and the Nehalem Bay House assisted living facilities, the need to take care of our aging and disabled population has never been clearer. This will be a priority for me and is one of the key things that motivated me to run for office.
I see budgets as moral documents. If the people we elect to represent us truly care about working-class folks, small business owners, front-line workers, veterans, farmers, educators, and laborers who create the infrastructure we rely on, then our budgets should reflect that. We need investment in the things that matter most in our communities – housing, education, childcare and eldercare, and healthcare for every Oregonian.
If elected, how would you work to address these issues?
I will fight to bring much-needed dollars back to our district. I plan to be appointed to the committees that are tasked with working on these issues –
Healthcare, Housing, and Education. These are areas where I bring professional and personal experience that will help shape policies that address the needs of our communities. It is essential that we bring together diverse stakeholders to these conversations, so all voices are heard and we can create collaborative policy that serves all aspects of our community.
What is your experience in municipal government service?
I come from a deep background of public service as a community-based nurse, but not as a politician or as a government employee. I am not a career politician.
While I value the work of long-serving elected officials and those in government service, I also see value in fresh, new perspectives based upon the experiences of regular, everyday Oregonians in our district. That is what I will bring to Salem.
Suzanne Weber – Republican, Candidate for State Senator District 16
What is your vision of a thriving community?
A thriving community is one where an individual or family can build a life. Where they can find stable employment that will provide them with means to purchase a home, support themselves and their families.
If elected, what would you do within your position to advance this vision?: To keep Rural Northwest Oregon a thriving community, I'll continue to ensure that we have the resources to support the initiative and drive of our community members. We cannot build additional housing if we don't have the basic infrastructure to support it. We cannot grow our small businesses if are constantly imposing new taxes, fees and regulations that hurt them and grow state agencies. We cannot have a thriving community unless we are able to govern them without unnecessary intervention by state government. I'll lean on the relationships I've built in Salem and in our community to ensure that local decision makers truly make the decisions, and that they have the resources to continue to build strong, thriving communities.
Please provide a SWOT analysis of your municipality/district:
Strengths – The greatest strength of Rural Northwest Oregon is its people. As a teacher in Tillamook for 30 years, mayor of Tillamook for 10 years and now as State Representative, I have watched as our communities have rallied around those in need. They've gone out of their way to support small businesses during the COVID-19 pandemic. They are reliable and enthusiastic community volunteers. Over my 50 years in this community, I've never ceased to be amazed at the incredible people who call Rural Northwest Oregon home.
Weaknesses – While millions of dollars have been put into infrastructure and other projects in the metro areas, many of those dollars are just beginning to come to rural areas. I was proud to fight for the tens of millions of dollars we received over the last two legislative sessions to replace water lines, sewer lines, maritime infrastructure and utility modernization, those dollars are just now beginning to come. We're decades behind urban areas in updating our basic infrastructure, without which we cannot increase housing supply and support community growth. We'll get there, but decades of lack of investment in rural infrastructure is causing us to lag behind.
Opportunities – With the chance of more balance in the Oregon Legislature this coming year, we have the opportunity to continue to build on the improvements in our communities. To continue to improve our basic infrastructure and increase the funding that comes to Rural Northwest Oregon. Advocating to bring our tax dollars back to our communities rather than shipping them off to Portland, Salem and Eugene will require strong relationships, the ability to work across the aisle and the experience to get the job done. I've worked to develop all of these and  my experience as a City Councilor, Mayor and State Representative have allowed me to continue to deepen those relationships.
Threats –  We continue to see a threat our way of life from those who only see our community as a playground for Portland. While we certainly welcome those who wish to visit and enjoy this place that we call home, I have watched first hand as representatives from metro areas make decisions that impose their values on the entire state. Without a doubt, we share things in common across the state, but those of us who have chosen a rural lifestyle, to support our families with our historic natural resources economy often have to remind our friends from urban areas that the way they choose to live cannot be imposed on the entirety of the state. That there is, indeed, an Oregon outside of Portland.
Let's focus on the positive things going on. Tell our readers about what you will do, if elected to make positive contributions to the community.
As I mentioned, I'll continue to ensure that Rural Northwest Oregon has the resources to make important infrastructure upgrades. Over the last two years, I have been able to bring more of our tax dollars back to our communities than ever before. I secured funding for new water lines in Tillamook, new wells in Bay City, water lines in Nehalem, new water meters in Garibaldi, earthquake and tsunami resiliency in Cannon Beach, maritime infrastructure in Astoria, water resiliency in Arch Cape and more. These are dollars that, without my advocacy, undoubtedly would have been sent out to pet projects in other parts of the state. Instead, our tax dollars came back here to address long-neglected issues that are central to our livability. If elected to the Senate, I'll continue to use my relationships in Salem and at home to continue to build the livability of our communities.
There are many challenges facing our community. What are the issues you think are NOT being adequately addressed?
If elected, how would you work to address these issues?
While this issue is not specifically in our community, it most certainly affects our community. We need to hold state bureaucrats accountable. In just the last few years, we saw those who were promised unemployment insurance wait days, weeks, and months longer than should ever have to wait to receive their benefits because of the inept leadership of the Employment Department. We've seen housing providers receive no payment for over a year when the state promised them funding if they didn't evict their tenants for non-payment. We've seen local communities receive no funding to deal with rampant drug use after the decriminalization of hard drugs. Yet, with one or two exceptions, no one has been held accountable for their gross incompetence. Some of have even gotten promotions. This is unacceptable. One of the jobs of the Senate is to confirm the Governor's appointments to lead agencies. A more politically balanced Senate will keep a closer check on the Governor, no matter who she is. I intend to closely scrutinize each of the Governor's appointments and if their failure causes harm to my constituents and their way of life, I will demand their immediate resignation.
What is your experience in municipal government service?
I served on the City of Tillamook budget committee for several years, served as Tillamook City Councilor for 10 years and as Mayor of Tillamook for 10 years.
Cyrus Javadi – Republican, Candidate for State Representative District 32
What is your vision of a thriving community?
A community where individuals feel safe to live, to raise a family, to pursue their dreams, to meet their needs, to have meaningful job opportunities, to retire, to recreate, to have access to a good education and to other public amenities.
If elected, what would you do within your position to advance this vision?
I'll make, develop and cultivate relationships with business and industry leaders, educators, health care organizations, farmers, loggers, fisherman, chamber of commerce leaders, economic advisors, and city, county and state leaders to work towards common sense solutions to our unique coastal needs.
Please provide a SWOT analysis of your municipality/district:
Strengths –
 Natural resources
 Lower crime
 Lower homelessness
 Tourism industry
 Forestry industry
 Farming industry
 Fishing industry
 High-quality air and water supply
 Stable population base
 Variety of employment opportunities
Weaknesses –
 Below average conditions of primary and secondary schools
 Inadequate primary and secondary education standards
 Lack of adequate post-secondary training programs (healthcare, technology, etc.)
 Difficulty recruiting and retaining educators
 Difficulty recruiting and retaining skilled workers for health care, manufacturing, construction, and other industries
 Insufficient supply of workforce housing
 Inadequate law enforcement resources
 Poor road conditions
 Poor tourism infrastructure to meet the needs of the millions of visitors each year
Opportunities
 Improve infrastructure like roads, parking, housing, utilities (such as internet)
 Reprioritize spending to make sure services like local police are well-funded
 Improve education standards to make sure our students have access to the best education available
 Reduce taxes to ease the burdens put on employers, employees, and retirees
 Reduce regulations that slow or prevent adequate housing development
 Improve the condition of funding for public spaces like parks and beaches so that we and tourists can
enjoy these resources with greater ease and comfort
Threats –
 Rising housing prices and development charges
 Rent controls and limits on landlords that reduce the supply of housing
 Limited and declining law enforcement resources and the same time as a rise in drug-related crime and homelessness
 Environmental policies that burden our farming, fishing and forestry industries causing them to reduce jobs, move to other districts or out-of-state, or destroy their investments in multigenerational family businesses and farms
 Brain-drain of skilled and non-skilled workers as they seek education and employment out of the district
 Weakening of tourism due to insufficient investment in infrastructure to support the tourism industry
 Centralized state-policies that redirect resources from the district to other parts of the state
Let's focus on the positive things going on. Tell our readers about what you will do, if elected to make positive contributions to the community.
If elected, I will prioritize the needs of our district. I will work to keep tax dollars in our district so they can be used for things we need—education programs, law enforcement, and infrastructure. I'll protect our farming, forestry, and fishing industries by introducing legislation that reduces regulations, taxes and fees. I'll respond to and assist all the people of the district (Clatsop County, Tillamook County and Clatskanie) regardless of
political party affiliation. I'll continue to participate in local and regional events to stay connected to the culture and needs of our great communities.
There are many challenges facing our community. What are the issues you think are NOT being adequately addressed?
Inadequate housing and workforce are two huge issues that I hear from people who live and work in every quarter of our district. There simply isn't enough affordable workforce housing available. People who want to live and to work in Clatsop County, Tillamook County or Clatskanie can't find places to live. As a result, businesses, schools, and government can't fill their open positions. The local office of the Oregon State Police can't recruit officers because the officers can't find a place to live. Hospitals, schools, and other employers have the same problems—these good paying jobs are understaffed, and our community needs them! Until we can solve this problem, people will look to other places of the state (or even out of state) to
work and live. And, businesses who can't find enough employees will struggle to operate and either relocate their operations out the district or shut down business for good. Honestly, that is an unacceptable outcome because this is a problem that is solvable.
A second issue is the state of education in Oregon. We need better primary and secondary education standards. We need more post-secondary training programs. And we need to support parents who want alternative education options to public education. And, for our adult students, there is a lack of programs and degrees to help them advance their education and their careers.
If elected, how would you work to address these issues?
For housing, it starts with changing the nearly 50-year-old land-use laws that limit the supply of available land, and reducing system development charges that make it too expensive to build. Let's empower local communities to identify available land, to reduce system development charges, and to work with the landlords on the rental markets.
For education, our primary and secondary students need a greater emphasis placed on writing, reading and math—the fundamentals for all other educational and vocational pursuits. We need to ask more of and expect more from our students, and we need to give our teachers and parents access to and tools for an exceptional curriculum. And, for our adult students, we need to expand our training and degree options to match the needs of our community—like nursing, engineering, computer science, and business management.
And, we need to remove obstacles that prevent people from finishing their education or training programs– like unlocking non-traditional financial options to allow them pay for the training.
What is your experience in municipal government service?
I have served on the Tillamook School district budget committee, a Tillamook School Bond committee, and on the Port of Tillamook Bay Board.
Logan Laity – Democrat/Independent/Progressive/Working Families, Candidate for State Representative District 32
What is your vision of a thriving community? 
A thriving community is where every person is able to achieve their dreams without undue hardship and in the presence of a supportive community. It means that basic needs (food, water, healthcare, security, and housing) are stable, and that we have the community support to empower every individual to meet these needs. Our state legislature has an impact on many community supports, but especially: a strong system of public education; a variety of housing options; fully-funded public safety agencies; a free and fair market; an environment friendly to human life; accountable, democratic government; strong public infrastructure; and access to healthcare that is affordable, accessible, and quality.
If elected, what would you do within your position to advance this vision? 
My effectiveness to promote legislation starts with being appointed to relevant committees in the state legislature. I will request committee membership in the areas that make our communities thrive: Housing, Education, Healthcare, and Environment and Natural Resources. In the legislature I will have an open door for community residents, coastal governments, and businesses to work with me in ensuring their concerns are addressed. I will reach across the aisle to work with both parties to support bipartisan legislation that directly addresses coastal concerns. I will fight to ensure the legislation we want is passed, and I will work to ensure the state legislature continues to do its job and provide oversight of state departments carrying out the legislative mandates. 
Please provide a SWOT analysis of your municipality/district:
Our district is the North Coast of Oregon, from Neskowin to Astoria and on to Clatskanie. One community will always fair better or worse in a particular area, but, from my own advocacy and from speaking with community members across the district, here is the general case:
Strengths
Growing Economic Demand.

Steady population growth and increased tourism promotes business innovation and opportunity.
Community Action

. We are very collaborative and very action-oriented. Our communities have a track record of "punching above our weight" in volunteerism, community-building, and working across business, nonprofit, and civic lines to get tangible results.
Weaknesses
Housing.

Shortage of affordable housing, shelters, and lack of long-term rentals.
Healthcare Access.

High costs, few behavioral health providers, minimal child, Pre-K, and eldercare options.
Opportunities
Higher & Later Education.

Our dual credit programs, community colleges, trade programs, and Small Business Development Centers are well-tested and ready to reach more people.
K-12 Education.

Our communities are highly invested in the success of our public schools to provide an education that enables students to enter a diverse workforce. We are committed to educator retention and 'grow-our-own' teacher programs.
Healthcare Infrastructure.

Both Clatsop and Tillamook counties recognize that our lack of healthcare providers, especially nurses and behavioral health specialists, is a community issue that requires immediate attention. CCCC is expanding their nurse program, TBCC is building a healthcare education building, and our clinics and hospitals are innovating with grants, worker retention policies, and are looking for state collaboration.
Threats
Public Safety and Infrastructure

: Population growth is straining our public safety agencies and our public infrastructure. Growing tourism fluctuations overstretch services designed for a population ⅓ of the size. Recent increase in natural disasters and severe weather further tax local resources.

Community Identity:

We have difficulty maintaining our independent identity. This makes us vulnerable to 'one-size fits all' public policy, and, in some cases, even stereotyping based on national media trends. 
Let's focus on the positive things going on. Tell our readers about what you will do, if elected to make positive contributions to the community.
Growing Economic Demand.

Support

Business Oregon

and other state agencies actively engaged in the research, support, and innovation of small business activity in our communities. Support community development programs, especially for internet access and libraries, to provide core services to more people.

Community Action.

I love that so many people on our coast have sound solutions to community issues that I can facilitate at the state level. We work best when our communities have ownership of the ideas our leaders advance. My job is to help these solutions become a reality, to be honest when a proposal has unintended consequences, and to literally (testimony) and metaphorically (votes on bills) bring your voices into our state capitol. I will have an open-door policy: you, my friend and community member, are welcome in my office because it is

your office

.
There are many challenges facing our community. What are the issues you think are NOT being adequately addressed? 
Housing

Education

Healthcare

Public safety: Local communities from the counties to small towns in HD32 
If elected, how would you work to address these issues?
Policymaking is only one role of a legislator, and our job extends to providing oversight of the executive branch, coordinating with local communities, addressing individual community member's concerns, and being a great spokesperson for our local culture and economy. Below are some of the policy areas I am focused on this legislative session:
Stabilize costs.

Build middle-housing and limit foreign investment.

Fix loopholes.

Accountability for developer subsidies.

Provide incentives

for multi-family homes.
Career education, apprenticeships, business training.

"Grow-our-own" daycare, caregiver, nursing programs.

Expand Oregon Promise to

every student.
Comprehensive Healthcare.
Protect reproductive freedom.

Allow

any Oregon

to buy-into the Oregon Health Plan.

Expand access to dental/vision services.

Invest in drug rehabilitation.

Lower medication costs through multistate partnerships.
Protect clean air and water by subsidizing EPA-certified toxin monitors.

Address homelessness' root causes.

Invest in community shelters and behavioral response.

Support public safety workers, increase retention.
What is your experience in municipal government service?
I have worked for nonprofits, small businesses, and for myself as a consultant. I am also, in my heart and in my lived experience, a public servant. My recent experiences serving our communities include:
Tillamook Urban Renewal Agency: Director; Budget Committee President.

We invest public funds in our downtown infrastructure, streetscapes, and provide targeted grants and loans for new

and

existing businesses in our area. We work with the local development community, mom and pop business owners, and the city to create a downtown that works for everyone.
Associated Students of Tillamook Bay Community College; President.

My goal was to expand the economic opportunities of my peers, and to reduce the cost of their education: from those straight out of school to the many career-to-career professionals that support our communities. I worked with our elected Board of Education to maintain a robust grant program, help address food scarcity, to provide a voice for all of our diverse body, and, most important to this election,

lobbied in our state legislature to fully invest in public education– especially Career and Technical opportunities.
Emergency Volunteer Corps of Nehalem Bay, Volunteer Program Manager (EVCNB).

I actively work with the EVCNB to promote a culture of emergency preparedness and resiliency in the area. I recruit and sustain volunteers, and I help plan and implement events. Our organization works with the Oregon Department of Human Services Office of Emergency Management; Oregon Health Authority; Tillamook County; Tillamook County Health Department; Nehalem Bay Fire & Rescue; Cities of Manzanita, Nehalem, and Wheeler; Nehalem Bay Health Center & Pharmacy (formerly Rinehart Clinic); and Adventist Health.
Additional Local Advocacy:

I have a track record of fighting for what matters to our North Communities through voter outreach, from a county-wide ballot initiative to fund workforce housing (2017), protecting the Oregon Health Plan and improve healthcare access (2018), city facilities and local races for effective government (2019), legislative and commissioner races (2020), local school and transit boards (2021), and this year, helping with testimony for a Hwy 6 safety bill, commissioner races, against the SASO ballot measure, and, today, running to be your representative, to bring our values and experiences to our state capitol.
Community advocacy and local service is necessary to sustain our democracy, to turn hope into action. Service trains us to listen and find common ground; We develop a problem-solving toolkit that can be applied to any crisis. Leaders come from this culture.