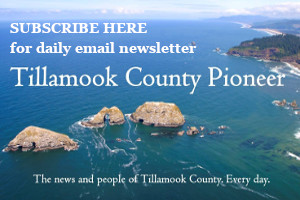 By Melissa Paulissen, MD
Tillamook County Community Health Center Medical Doctor and Public Health Officer
TILLAMOOK, Ore. — Tillamook County Public Health, along with healthcare providers and health authorities across the state, urge you to wear a mask when in crowded indoor places (such as in the grocery store) and to stay up to date with vaccinations. As the holidays continue to approach, consider changing or postponing gatherings if your family includes young children, older adults, or individuals with underlying conditions.
If you are feeling ill with flu-like symptoms, stay home and contact your healthcare provider to see about potential testing options. If you test positive for COVID-19, isolate for 5 days followed by an additional by 5 days of mask wearing when around others.
Continue to practice frequent handwashing and disinfecting of high touch surfaces to prevent the spread of infectious respiratory droplets.
Cases of respiratory illnesses including COVID-19, influenza, and respiratory syncytial virus (RSV), are surging in Oregon, forcing several hospitals in the Portland area (OHSU, Legacy, and Kaiser) into crisis mode as they struggle to manage heavy demand for adult and pediatric hospital beds. Dean Sidelinger, Oregon State Epidemiologist, in the December 8th news briefing, announced there has been an almost five-fold increase in RSV associated hospitalizations, mostly in children and a 10-fold increase in flu associated hospitalizations, mostly in older adults. In addition, community transmission of COVID-19 remains high in Tillamook County, with a test positivity rate of 22.54% measured over the past week per the CDC Data Tracker.
Local hospitalizations in Tillamook County remain low but given the crisis mode of the Portland area hospitals, it is important that we act now as a community to slow the spread of respiratory illnesses to ensure there are beds available when or if you, I, or anyone else needs them. A lack of hospital beds affects all types of care (not just respiratory care) from accidents requiring emergency care, to early labor, to complications from chronic conditions.
It's not too late to get your flu shot or COVID-19 booster to protect yourself and others. Flu and COVID-19 vaccines remain available by appointment at many health care facilities and pharmacies in Tillamook County, including our main health center location.
To make an appointment for a vaccine with Tillamook County Community Health Center call 503-842-3900. For resources and support with isolation or finding a vaccine, you can call 211 or Tillamook County Public Health at 503-842-3940. You can also check out our website at tillamookchc.org.
We understand how difficult this may be and how tired we all are of respiratory viruses that make us sick. Please know that your actions can impact the lives of many, and we thank you for everything you do to keep yourself and your community safe and healthy.


About Tillamook County Community Health Centers
TCCHC has been a Federally Qualified Health Center since 1994, providing medical, dental, behavioral and public health services. Please visit our website at https://tillamookchc.org/ or on Facebook at TillamookCHC.