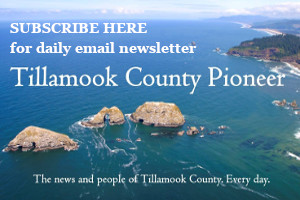 EDITOR'S NOTE:  Oregon Health Authority reported 2 new cases in Tillamook County on Monday August 3rd.  The Pioneer verifies cases/information with Tillamook County's COVID-19 Incident Commander Gordon McCraw, and he indicated that Tillamook County only had ONE (1) new case reported on August 3rd.  The additional positive case was for a person not a resident of Tillamook County, but was tested here, and OHA will update/correct that information today August 4th.  Therefore, Tillamook County currently has 29 total cases.  The 4 cases reported on Sunday August 2nd are related, a family unit; the case reported yesterday August 3rd is not connected to that outbreak.
Oregon reports 272 new confirmed and presumptive COVID-19 cases, 2 new deaths
COVID-19 has claimed two more lives in Oregon, raising the state's death toll to 328, the Oregon Health Authority reported Monday August 3rd.
Oregon Health Authority reported 272 new confirmed and presumptive cases of COVID-19 , bringing the state total to 19,366.
The new cases are in the following counties: Baker (3), Benton (2), Clackamas (21), Clatsop (2), Coos (1), Deschutes (3), Douglas (2), Jackson (9), Jefferson (1), Josephine (2), Klamath (2), Lane (5), Lincoln (4), Linn (6), Malheur (3), Marion (27), Morrow (1), Multnomah (49), Polk (7), Sherman (1), Tillamook (1)*, Umatilla (64), Wasco (9), Washington (19), and Yamhill (27).
*NOTE:  See Editor's Note above – The Pioneer has updated OHA information to accurately reflect Tillamook County cases.
OHA Releases Weekly Testing Summary
On Monday August 3rd, OHA released its Weekly Testing Summary, showing 35,424 test results were reported during the week of July 26 – Aug. 1.  Of those test results 2,174 were positive, indicating a test positivity of 6.1 percent, one of the highest rates observed since the early pandemic.
The most recent weekly in-state theoretical testing capacity estimate is 48,000 tests for the week of July 22 based on supply, reagent and staff availability. This does not include capacity at out-of-state commercial laboratories.
OHA continues to receive widespread reports of extended turnaround time from commercial laboratories; in some cases, results are being reported up to two weeks following specimen collection.
Eviction ban extended through Oct. 1
During this pandemic, many Oregonians are having trouble paying rent. As it's the beginning of a new month, we want to remind you that the legislature and Gov. Kate Brown extended the eviction ban through Oct. 1. They also extended the deadline to pay back rent to March 31, 2021.
You can't be evicted for not paying rent, fees or utilities that are due between April 1and Sept. 30, 2020.
Tell your landlord in writing as soon as you know you are unable to pay. You will still have to pay your past due rent, but you have until March 31, 2021, to do so.
To see if you qualify for rent and utility assistance, call 211 or go to 211info.org.
How to keep safe at work
Keeping workplaces healthy and safe
Oregon OSHA is responsible for ensuring that Oregon businesses follow state and federal workplace health and safety guidelines. This includes ensuring:
Adequate physical distancing, including at in-person meetings.
Good hand hygiene, with access to soap, water and hand sanitizer.
Employees and contractors wear masks, face shields or face coverings if required for their specific line of business, with accommodations to comply with applicable laws.
Compliance with the Statewide Mask, Face Shield, Face Covering Guidance. This includes informing customers and visitors about the requirement.
Limited gathering in shared spaces such as conference rooms and break rooms.
All employees are trained in safety requirements and expectations at physical worksites.
To view all employer workplace health and safety guidance related to COVID-19, visit the Oregon OSHA website. If you feel your workplace is not meeting these requirements, you can submit a workplace complaint with Oregon OSHA.
Ensuring discrimination-free workplaces
Oregon's Bureau of Labor and Industries (BOLI) is responsible for protecting your civil rights in Oregon workplaces.
If your workplace requires employees to wear a face covering, and you have a disability or medical condition that prevents you from wearing one, you have a right to receive reasonable accommodations to keep doing your job.
BOLI also responds to reports of businesses or organizations that will not offer reasonable, alternative means to access services for people with disabilities or medical conditions that prevent them from safely wearing a mask, face shield or face covering.
For examples of reasonable accommodations and what to do if you are refused reasonable accommodations, visit the BOLI website.
COVID-19 videos available in multiple languages
Navigating all the information coming out about COVID-19 can be challenging. It is even more challenging to find the information that you need when you speak a language other than English.
It's important for everyone to access helpful information in the language they speak. To support our neighbors who speak a language other than English, we've created aspecial video playlist that features COVID-19 information in multiple languages.
Please help us share this great resource.
Other multi-lingual resources:
Visit OHA's Safe + Strong website, available in 12 languages.
Follow OHA's Spanish Facebook page, OHA en Español.