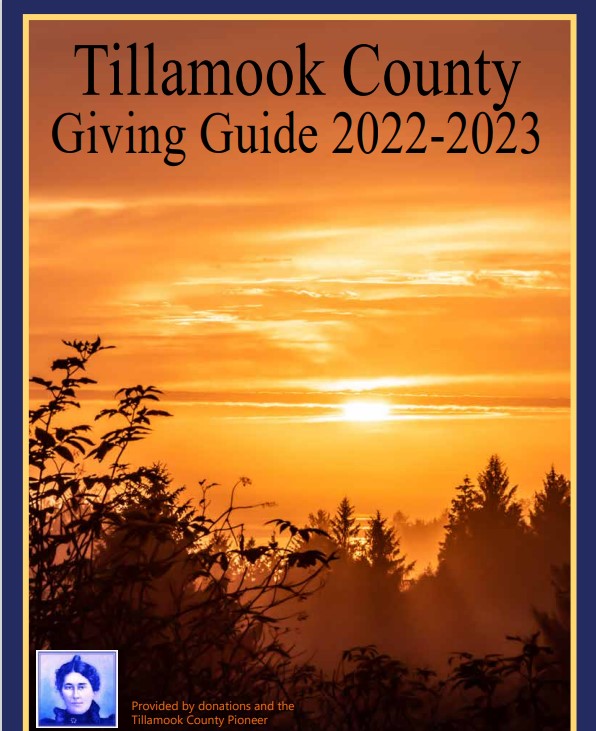 (From Tillamook County Sheriff's Office Facebook page)
While many of us (including this writer) stayed clear of the ice storm that raged this weekend (Friday Feb. 13 through Sunday Feb. 15) in the hills east of Tillamook County, several of your TCSO Deputies were out there in the cold and wet, assisting those in need.
On Saturday, Deputies Tom Mayne and Billy Cloud, along with US Forest Service (USFS) Forest Protection Officer (FPO) Travis Sisco, beginning at 10:30 am, spent the day cutting their way through hundreds of downed trees on the USFS 8533 Road in south Tillamook County. The mission? Reach stranded motorists who were stuck behind miles of downed trees. Thankfully, there was cell phone coverage.
The rescuers hiked up the snow-covered road, cutting and removing trees in their way, then drove their trucks up behind them. Deputy Cloud's 16-year-old son, Brody, was riding-along with his dad, and was also put to work. "Billy and Travis are cutting machines, so me and Brody cleared the trees and logs from the road after they were cut free," said Deputy Mayne. "There were hundreds of trees down."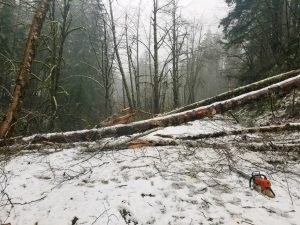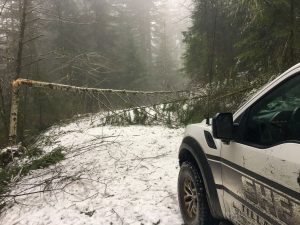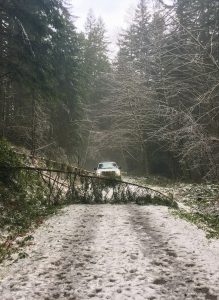 As darkness fell, the road got steeper. Deputies had been in touch with the motorists throughout the day. One of stranded motorists had been camping and had several days worth of food, supplies and fire-start remaining. They told deputies they were fine spending another night where they were. After hours of carving their way nine miles in, it was decided to return in the morning, fresh and ready to resume cutting.
Sunday morning came, and Deputies Mayne, Griffith, Awe and Greiner were determined to push their way through to the motorists. After several hours and as many miles on the USFS 1400 Rd, they reached the stranded folks at South Lake. The two men in the pick-up truck were from Hillsboro, and in addition to the barricade of fallen trees, their 4WD system had failed, making a self-extraction impossible. The other motorist was from Texas and had been camping. He had plenty of supplies, but apparently no chain saw and a branch had fallen through the rear hatch of his parked Jeep. The mission ended with everyone and all vehicles safely back on the pavement.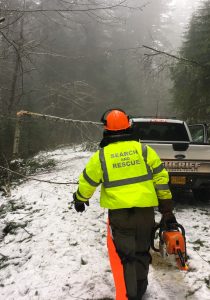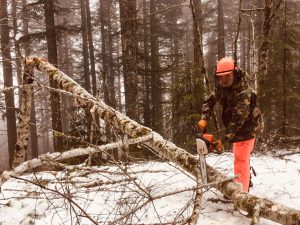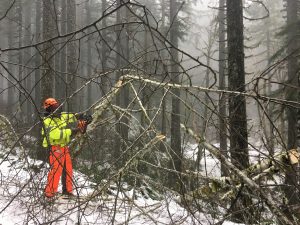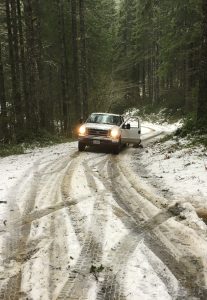 "Had there been any injuries, or lack of shelter, supplies or loss of contact, our tactics would have been much different. But based on all of that, and freezing rain, darkness, and the danger of cutting at night, we felt it was the best decision to return the next day," said Mayne. "It's hard to describe the amount of trees down, it was insane."
And if that wasn't enough excitement in the woods, later on Sunday, Forest Deputies Cloud and Griffith responded to the Jordan Creek area of the Tillamook State Forest and had to cut their way several miles in to assist another trapped motorist. The man had gotten stranded behind a seemingly endless wall of downed trees. "Luckily, Blake Miller, a timber faller friend of mine – and a wizard with a chainsaw – was there to assist us. We had to cut about 50-60 trees off of Jordan Creek Rd," said Cloud. "The man was camping and said that with the number of trees falling, it sounded like a (military) firefight." The man's vehicle was also damaged by falling trees. After a few hours, the motorist was successfully returned to the pavement.
TCSO reminds you before venturing off into the forest, especially in winter, prepare for the unexpected and plan accordingly.