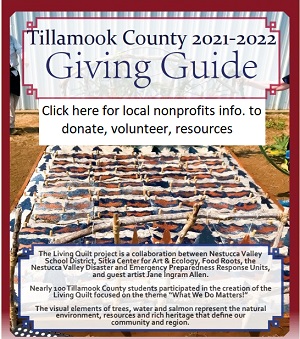 From the Desk of Sheriff Joshua Brown
I receive many messages regarding the increase in homeless camps within Tillamook County and I often hear, 'Why aren't you doing anything about it.' I believe that many citizens are unaware that recent legislation and court rulings now restrict any law enforcement response to these encampments, especially when it occurs on public land. I want to take a moment to help explain what has occurred.
In a 2018 decision (Martin v. Boise) the US Court of Appeals for the Ninth Circuit ruled that cities cannot enforce anti-camping ordinances if they do not have enough homeless shelter beds available for their homeless population. The decision was based on the Eighth Amendment to the US Constitution's prohibition on cruel and unusual punishment.
While this ruling alone did not necessarily mean a city cannot enforce any restriction on camping on public property, the 2021 long session Oregon Legislators passed House Bill (HB) 3115 and codified Martin v. Boise into local laws regulating the acts of sitting, lying, sleeping, or keeping warm and dry in outdoor public places with regards to persons experiencing homelessness. HB3115 further prohibits Oregon cities and counties from creating ordinances that are more strict and not objectively reasonable as to time, place, and manner with regards to persons experiencing homelessness.
That said, being homeless does not mean one can ignore all of the laws that make a community safe and livable. Defecating in public, offensive littering, abandoned vehicles, polluting local waterways, theft of property, criminal mischief and interfering with other members of the community accessing public land, parks, and other spaces cannot be condoned. One only has to look at what has happened in many Pacific Northwest cities that have allowed encampments on public lands to flourish with apparently no enforcement of sanitation or littering laws. However, due to recent legislation and court rulings, a community's hands are essentially tied in many respects.
Further, if we do have an area that we can send persons experiencing homelessness another House Bill (HB) provides rules for this process as well. HB3124, from the same 2021 long session, was passed by Oregon Legislators and it requires Oregon law enforcement to post a 72-hour notice prior to removal. At time of removal, we are required to notify the agency that provides services to the homeless population as well as retrieve and store any items that reasonably appear to have value. These items must be hauled to a safe and secure location and kept for 30 days and make available to have them reclaimed. All costs associated with this are paid for by the county and this is only applicable if there is a homeless shelter.
What this means in short, is that we as law enforcement in the State of Oregon, are not allowed to remove persons experiencing homelessness from public property unless we have an available space to send them. Tillamook County does not have a homeless shelter or a homeless camping area. As many know, this is a problem across the entire state of Oregon and the reason why there has been such an influx of visible homeless encampments along our roadways and in our neighborhoods. Additionally, if we had an area and were able to remove them from public property, we must give them 72-hour notice first and then safely haul and store any left behind items.
I am empathetic to people experiencing homelessness – it is something that no one should have to go through – and I support the efforts of organizations that are tasked with assisting these citizens. It is my hope that entities like CARE and Tillamook Family Counseling Center, will continue and increase their efforts to assist this segment of the county's population.
In an effort to discourage the establishment of future encampments, and help clean-up those that currently exist, TCSO and Tillamook County Public Works have been installing new signage at large roadway pullouts and public areas throughout the county. These signs will help educate and remind the public that these areas are limited to 8-hour parking and are enforceable as emergency stopping areas only. While we are not legally allowed to remove homeless encampments from public property, we are entrusted to enforce laws that adversely affect the livability of all county residents; such as littering, theft, parking enforcement and damage to property.
TCSO Deputies have given many warnings and written multiple citations for Offensive Littering and we will continue to try and enforce these laws to the best of our ability. Short-staffing and high summertime call volume has had an effect on this, but we will continue to move forward. I understand that issuing tickets to those experiencing a difficult time is not the ideal answer or final solution, but it is a law enforcement function, and along with giving warnings first, can be effective in convincing people to take personal responsibility for their illegal actions. Homelessness itself is not a crime, and as a society we must find long-term solutions to this issue, but experiencing homelessness should not put anyone above the laws that other citizens must follow in regards to littering, theft and damage to property.
Camping or squatting on private property without the permission of the owner is trespassing and is enforceable. It is not affected by the recent legislation and court rulings discussed here.