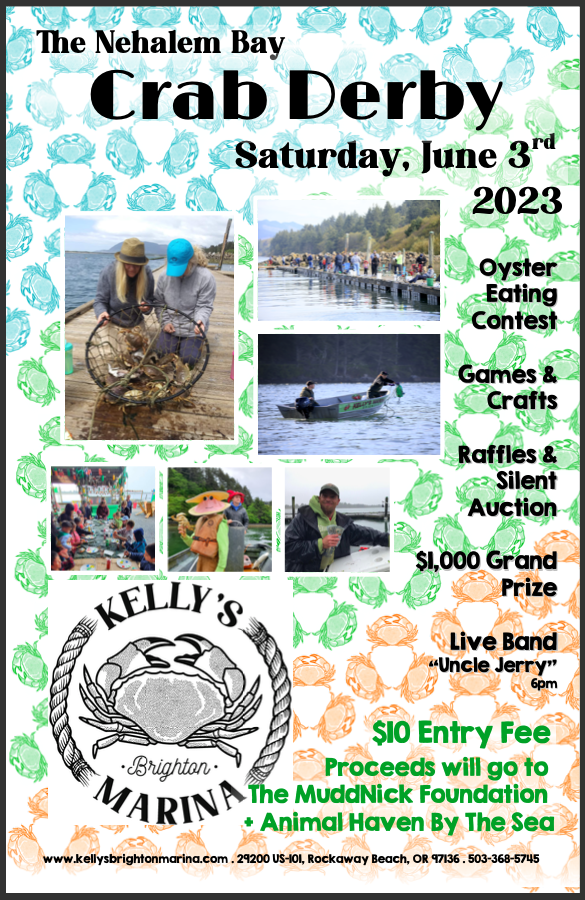 UPDATE: 9/10/20 – 6:30 am – As of now, conditions are the same for fire status, evacuation levels and road conditions. We will have a more detailed report after daylight when fire crews can evaluate the fire.
Tillamook, OR – On Monday September 7, 2020, Labor Day, the Pike Fire, in south Bay City, started at approximately 10:50 PM in the Pike Rd / Doughty Rd area and at this time, Wednesday September 9th at 8 pm, has grown to approximately 175 acres. ODF (Oregon Dept. of Forestry) is reporting minimal containment currently. There are over 100 ODF personnel in addition to 4 South Fork Prison Camp Fire Crews and all our local resources. The fire's speed has been unpredictable due to changing wind speeds and directions, but it has been moving southeasterly direction and away from State Forest and residences. Crews have been battling winds and rough terrain and are focusing on structural protection as they prepare for the night. At this time, there has been a garage that was lost, but no known residences. Winds are forecast to diminish becoming northeasterly 5 – 10 MPH with gusts to 15 MPH overnight. Currently Oregon Department of Forestry, Tillamook Fire District, Nestucca Rural Fire District, Bay City Fire, Garibaldi Fire, Nehalem Bay Fire, Netarts Oceanside Fire, the Sheriff's Office, Tillamook County Public Works, Tillamook City Public Works, Bay City Public Works, Tillamook City PD, Oregon State Police, South Fork Inmate crews, and many private heavy equipment operators and logging companies are currently battling the fires.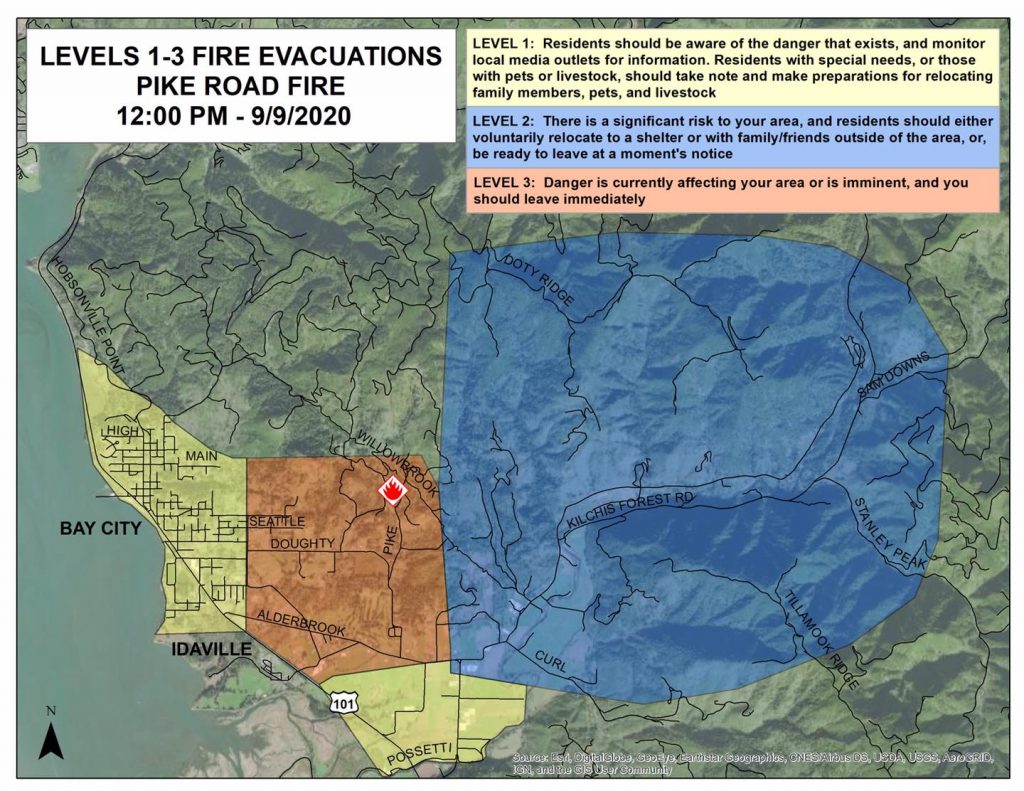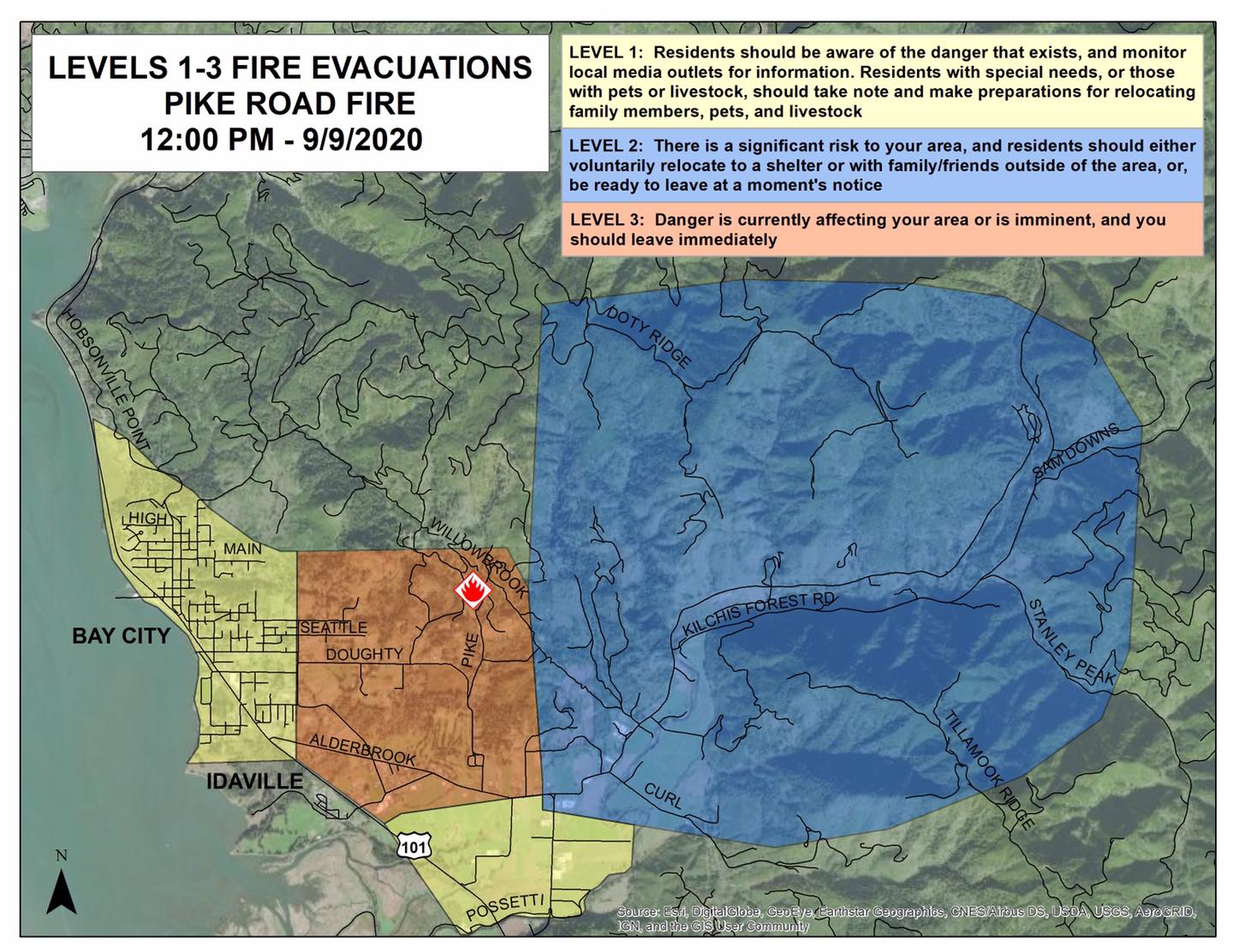 Evacuations were instituted for residents in the following areas –
Level 3 – Leave Immediately
Waltz Hill Rd to Baseline Rd
Baseline Rd to Bewley Rd
Bewley Rd to Vaughn Rd
Vaughn Rd to Aldebrook Rd
This incudes Willowbrook Dr, Timberline Rd, Salmonberry Rd, Seattle Rd east of Bewley Rd, western Nobel Springs, and Pike Rd.
We are also evacuating Kilchis Park.
Parts of Kilchis Rd are expected to go level 3 soon.
Surrounding areas are Level 2
A shelter has been established at the County Fairgrounds. They are accepting not only residents, but also horses, other livestock, and domestic pets.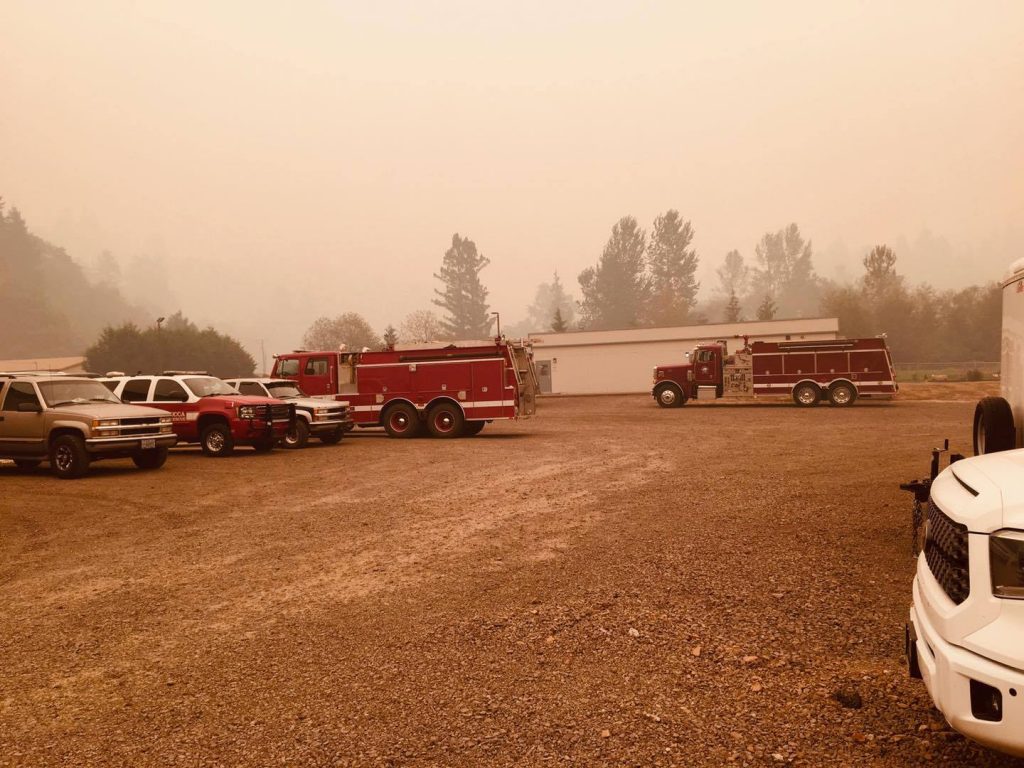 Also, we have sent several fire resources to assist North Lincoln Fire with the Otis Fire, and the north side of Lincoln City has been evacuated and we are seeing some of their residents seeking refuge in Tillamook in our shelter and other locations.
Again, please remain out of the area for your safety and that of the firefighters. Please do not call 911 or the nonemergency line for Tillamook 911 for updates on evacuations or fire information. The information will be put out as available.