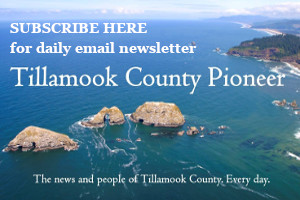 EDITOR'S NOTE: I was going to post the Sheriff's Office social media request for citizens to identify the suspects in this early morning boat theft from the Port of Garibaldi, and then see that it's been updated. Social media can be a helpful tool and in this situation helped TCSO and the Port recover the boat in less than four hours. Remember, when you do see something that's not right, illegal or concerning – say something, "report it" by calling the non-emergency number (503-815-1911 in Tillamook County) or 911 if it's an emergency. Don't just post it on social media. Thanks to the sharped-eyed citizens that noticed the boat and reported it.
****UPDATE – March 5, 12:50 pm *****
Thanks to you, our followers on Facebook, the stolen boat has been quickly recovered and two male suspects were arrested and taken into custody.
"Somebody saw the truck and trailer going down the road in the Woodburn area, and they recognized it from our Facebook post," said TCSO Deputy Chris Rondeau, lead investigator for this case. "They called 911, coordinated with local police and they were stopped. There were two suspects in the vehicle, both had warrants and both were arrested. This happened all because of Facebook."
The truck they were driving is not currently entered as stolen, but that investigation is continuing. Arrangements have been made and Port of Garibaldi staff will be retrieving the undamaged boat and trailer. Suspect information will be released as soon as we received it.
(ORIGINAL POST) March 5, 2023 – 9:30 am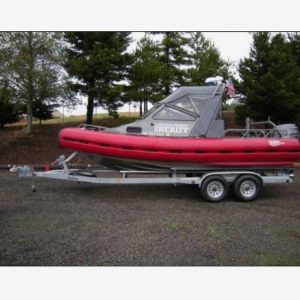 TCSO needs your assistance this morning in identifying suspect(s), and with locating a boat/trailer/motor that was stolen from in front of the Port of Garibaldi workshop early this morning.
The boat should be an easy one to spot, it is a bright red SAFE brand boat with a black Mercury Verado 250 HP motor mounted on it. The boat is currently owned by the Port of Garibaldi, but was a former police patrol boat. The boat has Lincoln County Sheriff graphics on one side, Klamath County Sheriff graphics on the other.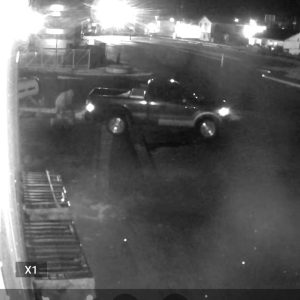 Surveillance video shows a dark pick-up with a silver tool box in the bed and some some light colored accents on the fender and door hooking up to the trailer. The theft occurred at 3:30 am on March 5, 2023.
If you see the suspect vehicle or boat/trailer moving on the road, immediately call 911 and report its location. If you have suspect information, or know the possible whereabouts of the stolen boat/trailer/motor, please call Deputy Chris Rondeau at 503-812-8525.
Please share this post to help us get the word out as quickly as possible and to the widest audience. More details are being gathered about the boat, this post will be updated when possible.