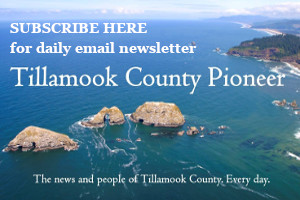 On Saturday, December 10, 2022,TCSO Forest Deputy Scott Griffith responded to a report of a person trapped in a vehicle in deep snow in the Tillamook State Forest.
"We got a call that a 33-year-old male went up into the woods off of Highway 26 in a Volvo station wagon," said Deputy Griffith. "Apparently, he had been up there since the day before. But we got the call at 11:00 am on Saturday."
Deputy Griffith made his way to the stranded vehicle's location but snow depth made it impossible for him to reach the man. Deputy Griffith called Deputy Billy Cloud and requested he respond with TCSO's side-by-side UTV, which is equipped with snow tracks.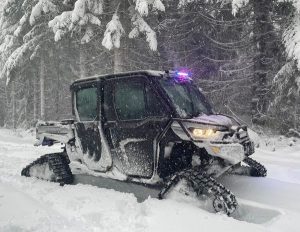 Deputies Griffith and Cloud headed up the steep forest road in the UTV and were able to rescue the man. "Luckily he did have blankets and food in the car, but that vehicle had no business being up there in that deep of snow."
TCSO wants to remind you, that although it's fun to head into our beautiful forests and play in the snow, fun times can turn tragic very quickly if you are not properly prepared. Here are some things to remember before venturing up in the snow: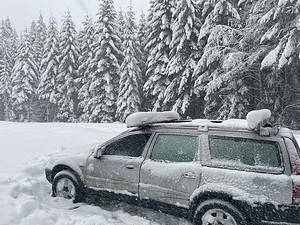 – Know the abilities and limitations of your vehicle and the driver. Having Four-Wheel-Drive and All-Wheel Drive doesn't mean you won't get stuck in snow – it usually means you'll just get further into the forest before you get stuck. The man in the story above was driving an AWD wagon.
– Let people know your itinerary (where you are going, who is with you, and your estimated return time) before you head out.
– Be sure the vehicle is in good repair and has a full tank of fuel and your cell phone is fully charged.
– Always carry an emergency kit, which should include blankets, water, food, flashlight and a means of starting a fire.
– Consider carrying tire chains, gloves and a shovel
– More and more people that enjoy outdoor adventures are carrying satellite messaging/locators or personal locator beacons. In fact, one of these devices most likely saved an injured hunter in the Tillamook Forest earlier this year.
Tillamook County is beautiful place to explore, and we encourage you to get out and enjoy it. But, TCSO asks that you be properly prepared for that adventure. Search and Rescue operations can cost thousands of dollars, and hundreds of volunteer/deputy hours. At a time when personnel is already stretched thin, every rescue that can be averted due to preparing properly, helps to ensure that first responders will be available to respond to actual emergencies.
TCSO and our Tillamook County Search and Rescue Team are looking for people who seek the adventure and satisfaction of serving their community. Please visit tillamooksheriff.com to apply for a Deputy position or to be a search and rescue volunteer.
**To clarify for some readers: there is a small stretch of Highway 26 that is within Tillamook County. Also, our Forest Deputies patrol the entirety of the Tillamook State Forest, regardless of county, under our contract with the Oregon Department of Forestry.