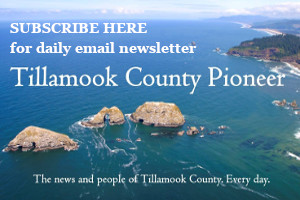 ROCKit will help community identify & implement solutions  for rapid, easy access to shelter and supportive services
 Tillamook, Oregon: October 21, 2021: Tillamook County announced that it has begun a collaborative process with the Community ROCKit program (the Resource Organizer for Communities Kit) to address the rising population of unsheltered individuals and families within Tillamook County.
This partnership comes during a critical time when COVID-19 has only deepened an already dangerous crisis. As of January 2020, Oregon had the third highest population of individuals experiencing chronic homelessness.* And as of September 2021, Tillamook County reported more than 84% of individuals currently experiencing homelessness were unsheltered and residing in a location deemed not safe for habitation.** This data reflects the broader population experiencing homelessness in Oregon, where before the effects of COVID, 64% of all individuals experiencing homelessness were unsheltered.*
"Shelter is one of the most basic human rights, and we have an obligation to ensure no one in our great county need live unsheltered," said Erin Skaar, County Commissioner, and co-leader of the ROCKit process in Tillamook County. "The Community ROCKit process plays to our strengths as problem solvers and creative thinkers, and I am proud that we're coming together to make Tillamook County a leader in ending homelessness."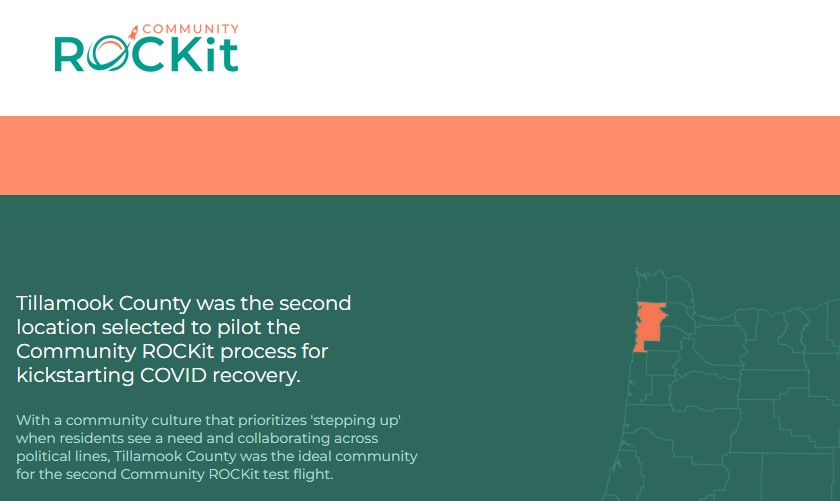 Community ROCKit (the Resource Organizer for Communities Kit) is a locally-powered problem solving model that uses a positive, asset-based method for mapping and organizing local resources in new ways to address problems created or exacerbated by COVID.
"People experiencing homelessness, particularly those who are unsheltered, are one of our most vulnerable populations," said Peter Starkey, Executive Director of Community Action Resource Enterprises (CARE), who is co-leading the ROCKit process for Tillamook County. "I look forward to working with this group to develop innovative solutions for increasing rapid access to shelter as a first step toward a broader movement to eliminate homelessness within Tillamook County and Oregon."
Following a kickoff of the Community ROCKit process earlier this month, county and community representatives will participate in facilitated work sessions over the next several months designed to identity existing community assets and create a capacity inventory. This information will be a springboard for enabling participants to identify new approaches and make action commitments, as individuals or on behalf of their organizations, to increase accessibility to shelter within Tillamook County.
The Community ROCKit meeting series is part of a grant-funded pilot program. It is a 90-day roadmap for asset mapping and community engagement designed to help communities rebuild from the pandemic. Tillamook County is the second location to be selected as a pilot site for Community ROCKit, following Umatilla County, Oregon who launched their first ROCKit mission addressing mental health crisis services in May 2021.
"Communities like Tillamook County have borne the brunt of a wide range of impacts from COVID," said Christine Bechtel, co-founder of X4 Health, the organization that coordinates the Community ROCKit program. "ROCKit is all about catalyzing the people, capacities, and assets that communities already have and using them in new ways to address those local challenges. We're excited to support Tillamook County in its goal to ensure no individual in the County is ever unsheltered."
Funded by the Morris-Singer Foundation, Community ROCKit is available at no cost to selected communities. Additional free resources to help communities take the guesswork out of recovery planning are available at: www.communityrockit.org
​
*Data from United States Interagency Council on Homelessness: https://www.usich.gov/homelessness-statistics/or/
** Data from Community Action Resources Enterprises (CARE): September 2021, courtesy of Peter Starkey
——
About Tillamook County: 
Tillamook County, Oregon is home to more than 27,000 individuals and was named after the Tillamook (or Killamook) Native American tribe. Dairy farming is the predominant industry, and Tillamook County is most famous for the cheese produced here. The county is also a vacation destination that offers deep-sea and stream fishing, charter boats, clamming, crabbing, beaches, and hiking.
For more information or to join the effort in Tillamook County: www.communityrockit.org/tillamookcounty
About Community ROCKit:
Community ROCKit (The Resource Organizer for Communities Kit) is a grant-funded program designed to help communities develop solutions to problems created or exacerbated by COVID. It is being piloted in 3 communities during 2021: Umatilla County, Tillamook County, and Morrow County, all located in Oregon.
ROCKit aims to empower community leaders to unite across sectors, using local relationships as rocket fuel for mapping out valuable resources on hand in the community, ensuring those resources are coordinated, and developing new solutions to local issues selected by the community. ROCKit is powered by X4 Health and funded by the Morris-Singer Foundation, a family foundation committed to health and a healthy democracy.
For more information about Community ROCKit: www.communityrockit.org