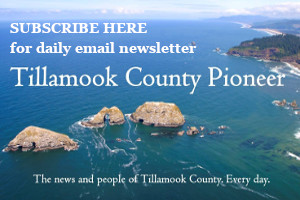 EDITOR'S NOTE:  The Pioneer reported on these projects in July as being included in the Federal spending package, and now the funding has been approved and the projects begin moving forward. Tillamook County will see nearly $9 million for funding multiple infrastructure projects. Tillamook County projects are in bold below.
(Washington, D.C.) – Oregon's U.S. Senators Jeff Merkley and Ron Wyden today announced they secured funding for essential community projects across Oregon in Congress's fiscal year 2023 omnibus appropriations package, which is expected to pass both chambers of Congress and be signed into law by President Biden this week.
With the support of members of Oregon's congressional delegation in the House of Representatives—Reps. Peter DeFazio, Earl Blumenauer, Suzanne Bonamici, and Kurt Schrader—a total of 145 community-initiated projects in Oregon were included in the package.
Once law, these essential projects will receive the support needed to help meet critical needs in every corner of the state, including investing in wildfire and drought resiliency, affordable housing, health care, education, manufacturing, and much more, all while creating essential services and good-paying jobs.
"No one knows the unique needs of communities across Oregon like the folks living and working in them," said Merkley, who helped drive inclusion of Oregon projects as the only Oregon member of Congress from either chamber to serve on the Appropriations Committee since Senator Mark Hatfield."I joined the Committee in 2013 to ensure Oregon has a strong voice in decisions about our nation's investments. Community-initiated projects are an incredible example of this, because these local and regional projects were generated at the ground level by folks who are working to make their communities better. I worked with Senator Wyden and members of Oregon's House delegation to secure funding for 145 of these important homegrown projects for Oregonians in every corner of our state, and these projects will have positive impacts across our state for years to come."

"These investments represent the best of the Oregon Way, namely that Oregonians in communities all across the state pulled together to determine their local quality-of-life solutions that will keep people safe and generate jobs that strengthen the economy," Wyden said. "I've heard during more than 1,000 town halls in each of our 36 counties how Oregonians want federal investments just like these that reflect their grass-roots priorities. And I'm glad to have teamed up with them and Senator Merkley to produce these tangible and significant results."
Both Senator Merkley and Senator Wyden hold a town hall in each Oregon county every year and work hard to ensure that local feedback informs every aspect of their work in Washington, D.C. This local feedback is directly reflected in the projects that were chosen for federal funding in this year's package.
Because of Senator Merkley's position on the powerful Appropriations Committee and key role pushing Oregon priorities in the drafting of the bills, and the collaborative way that Senator Merkley and Wyden work together to advocate for projects from Oregon, last year the two Senators were able to secure more projects for their home state than any other Senators besides Senate Majority Leader Chuck Schumer.
The 145 Oregon community-initiated projects were spread out among bills produced by the Appropriations subcommittees, including 20 projects in the Interior, Environment, and Related Agencies Subcommittee, of which Senator Merkley is Chair.
The funds and projects secured by Senators Merkley and Wyden, broken down by region, are as follows:
Oregon Coast:
$10.528 million for the U.S. Army Corps of Engineers for Port of Coos Bay Dredging
$4 million for the Oregon Department of Administrative Services for Shutter Creek Rehabilitation and Renovations
$4 million for the U.S. Army Corps of Engineers for Columbia River Channel Improvements
$3 million for Nehalem Bay Health District for its Health Center and Pharmacy
$3 million for Tillamook County for its Fiber Network, with Rep. Schrader
$2.8 million for Oregon Dept of Transportation for the US101 Sidewalk Infill, with Rep. Schrader
$2 million for Tillamook County for its Public Safety Radio Communication System, with Rep. Schrader
$2 million for the Lincoln County Sheriff's Office for a Lincoln County Radio System Upgrade
$1 million for Samaritan Pacific Communities Hospital for SUD Treatment Center facilities and equipment
$800,000 for Oregon State University for the Blue-Tech Professional Training Program
$750,000 for Columbia Memorial Hospital for Emergency Operations and Logistics Renovations
$750,000 for the Coquille Indian Tribe for Coquille River Salmon Conservation
$702,000 for the U.S. Army Corps of Engineers for the Umpqua River Project
$625,000 for the Tillamook Estuary Partnership for Climate Change Monitoring Instruments
$330,000 for the U.S. Army Corps of Engineers for the Tillamook Bay and Bar Project
$320,000 for the U.S. Army Corps of Engineers for the Coquille River
$50,000 for U.S. Army Corps of Engineers for the Skipanon Channel Project
To view the projects in all regions of the state, see the full list here – https://www.merkley.senate.gov/news/press-releases/merkley-wyden-secure-funding-for-critical-projects-across-oregon