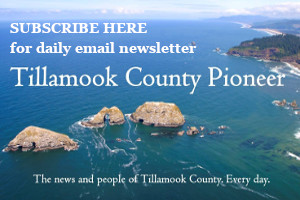 August 12, 2021, Tillamook, OR: The Tillamook County Transportation District will be experiencing service interruptions over the coming days, the extent of which is not currently known. Frequent updates will be posted on the District's website (www.tillamookbus.com).
A cluster of employees have tested positive for COVID-19. The District has activated it's COVID-19 emergency response protocols and has performed contact tracing amongst staff members to determine who may have been exposed. Because of this, a number of personnel are currently in quarantine. Anticipated impacts to each of the District's services are outlined below.
The WAVE Bus Services: The District is shifting all available drivers to The WAVE fixed route bus services, in an effort to provide the maximum service to as much of the county as possible. At this time, there are no anticipated impacts to bus routes, but riders should check the website at www.TillamookBus.com, or the Transit App, to ensure their bus is still operating on schedule. The PC Shuttle will be operating on a reduced schedule.
Dial-A-Ride Services: The District is doing everything possible to ensure rides for necessary medical appointments can be maintained. Essential lifeline services, such as rides to Dialysis or wound care appointments, can be called for and scheduled beginning Monday, August 23. Rides for all other purposes will be unable to be called for or scheduled until at least Monday, August 23. Customers with nonessential Dial-A-Ride trips scheduled beginning August 23 will likely be contacted to cancel or reschedule their trips.
NW Rides Services: Members of the Columbia-Pacific CCO who have NW Rides services scheduled in the upcoming weeks will be contacted directly if their rides need to be rescheduled or cancelled. This will predominantly apply to rides originating in Tillamook County. Rides for all NW Rides clients are still able to be scheduled at this time, as dispatch services have transitioned to partner agencies.
"The safety of our employees and our riders is our top priority," says Doug Pilant, General Manager for the District. "We have consulted with the health department and been following the CDC and FTA guidelines on our buses and on all District property. Unfortunately, the new strain of COVID-19 appears to more easily transmit between people. We are following the District's COVID-19 Emergency Response Protocols and will be closely monitoring the situation to ensure the safety of the public, while continuing to provide as many services as possible to community members in a safe, efficient manner."
All vehicles are being sanitized according to COVID-19 protocols, and social distancing measures are still in place. Masks are required to be worn by all individuals, regardless of vaccination status, on all public transit vehicles and in all transit centers per the FTA.
For the latest updates and service alerts, please visit the District website at www.TillamookBus.com. Please do not call into the District unless necessary, as resources to answer calls are extremely limited.
Tillamook County Transportation District began in 1997. The District operates the WAVE bus services, as well as Dial-A-Ride door-to-door demand response services and the NW Rides Brokerage for Columbia Pacific CCO members.