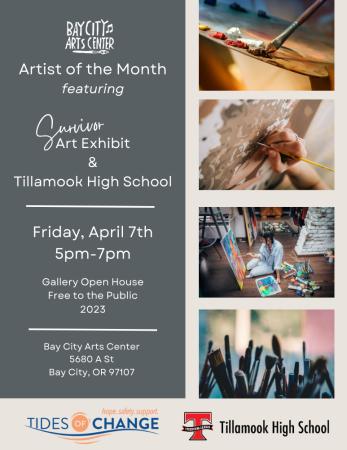 By Ariel Slifka, Tillamook County Wellness, Community Health Connection VISTA
The last 6 months have not been easy, and for local resident Julie Hurliman, the biggest concern has always been the impact on her 9-year-old son, Matteo. At the beginning of COVID-19, Julie found herself allowing Matteo more screen time than normal because it was the only way to interact with friends and other family. She worries about him feeling lonely or isolated as an only child during a time of social distancing. Luckily, Julie was eventually able to create what she calls a "germ circle" with another family who also offered childcare. The families have kept their interactions with the outside world to a minimum, allowing their children to then safely interact with each other normally. As school has started up this fall, this connection has developed into more of a "learning pod, " which has been increasingly helpful in navigating the challenges of online school.
Like many people, Julie is trying to do what is best for herself and her family in the world of COVID-19, although that in itself has been difficult to determine. With constant streams of conflicting information about COVID-19 in the media, Julie has felt torn: "Maybe I am overreacting to this? And then you see the other stories and effects of COVID and then think maybe you can't overreact; this is a big deal. It's really hard to feel sane in all of this." It has been difficult to feel confident about any decisions, especially with COVID-19 making planning for the future nearly impossible.
Within all of the uncertainty, Julie tries to focus on being kind – both to others and to herself. She points out that we never know what someone else is experiencing and it's safer to assume that we are all doing the best that we can. She has found that although it is difficult to carve out time for self-care, she tries to take advantage of the opportunities that do come along. This summer has involved hiking, camping, kayaking, and grilling on the back deck – and thanks to COVID-19, a new evening hobby of watching the birds. Her focus is still on her son: "The world feels like such a heavy place with so much going on right now, you can almost feel guilty if you're not consumed with worry," says Julie. She continues, "I don't ever want that to feel normal for him." Carving out time to do something fun together has become a priority, whether that involves board games or watching America's Funniest Videos as a family on Sunday nights. These moments have become highlights of normalcy and joy in the midst of the challenges and chaos that 2020 has brought us all.


For more local health and wellness information, visit www.tillamookcountywellness.org or follow Tillamook County Wellness on Facebook, Instagram and Twitter.