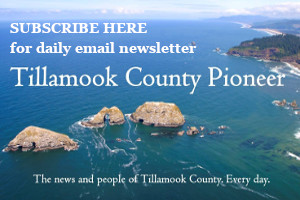 From Tillamook County Wellness
We've been sharing ways to cope well during stressful and uncertain times. For the next few weeks, our Wellness Wednesday tributes go out to partner organizations who provide vital services to those struggling to cope. It's important to reach out and get help even if a person doesn't think they are "that bad off," as we so often hear. Just like with other prevention measures, it is better to seek and get help early. This week's shout out goes to Tillamook County Community Health Centers (TCCHC) and their behavioral health providers who responded to our interview.
What are the more common issues for which people are seeking help right now?
We are noticing an increase in Depression, Anxiety, Mood disorders, PTSD, and Substance Use Disorders. There is also an increase in difficulty managing chronic conditions such as health conditions like hypertension and diabetes as well as insomnia and other sleep issues, fatigue, chronic pain, stress, migraines and headaches. People are also struggling with weight concerns and behavioral challenges for children which can include ADHD.
What are some common warning signs for these conditions and how common are they?
Warning signs can include insomnia and other sleep issues, emotional dysregulation, difficulty concentrating, increased disassociation, difficulty with organization, no or low motivation, lack of interest in pleasurable activities, irritability, increased risky behaviors, increased use of alcohol, drugs, gambling, food, etc.
Statistics cited by the National Institute for Mental Health for these conditions include:
Anxiety: 19.1% of the US adult population (23.4% are female, and 14.3% are male). 31.9% of the US adolescent population ages 13-18 (38.0% female, and 26.1% male)
Depression: 7.1% of the US adult population (8.7% female, 5.3% male). 13.3% of the US adolescent population ages 12-17 (20.0% female, 6.8% male).
Suicide: 10th leading cause of death overall in the US in 2018. 2nd leading cause of death among individuals ages 10-34, and 4th among individuals ages 35-54.
Post-Traumatic Stress Disorder (PTSD): 3.6% of the US adult population (5.2% female, 1.8% male), 5.3% in ages 45-59. 5.0% of the US adolescent population (8.0% female, 2.3% male), 7.0% for ages 17-18.
Substance use: (2018) 60.2% of the US population ages 12 and older (this includes alcohol, drugs, and tobacco). Highest use is 39% among ages 18-25.
(https://www.nimh.nih.gov/health/statistics/index.shtml)
During a study in June 2020, U.S. adults reported considerably elevated adverse mental health conditions associated with COVID-19. Younger adults, racial/ethnic minorities, essential workers, and unpaid adult caregivers reported having experienced disproportionately worse mental health outcomes, increased substance use, and elevated suicidal ideation. (CDC, https://www.cdc.gov/mmwr/volumes/69/wr/mm6932a1.htm)
Nearly half of Americans report the coronavirus crisis is harming their mental health, according to a Kaiser Family Foundation poll. A federal emergency hotline for people in emotional distress registered a more than 1,000 percent increase in April compared with the same time last year. Last month, roughly 20,000 people texted that hotline, run by the Substance Abuse and Mental Health Services Administration. (Washington Post, https://www.washingtonpost.com/health/2020/05/04/mental-health-coronavirus/)
Online therapy company Talkspace reported a 65 percent jump in clients since mid-February. Text messages and transcribed therapy sessions collected anonymously by the company show coronavirus-related anxiety dominating patients' concerns. (Washington Post, https://www.washingtonpost.com/health/2020/05/04/mental-health-coronavirus/)
What are some of the specific services your organization provides that help individuals with these concerns?
As behavioral health clinicians who are integrated into primary care our focus is to work with patients around improving health outcomes. Patients are referred to behavioral health via their primary care provider, and our sessions are generally 30 minutes in length with periodic follow ups as needed or recommended. We do refer patients to other services as needed; this can include linking with Tillamook Family Counseling Center or a private therapist. Behavioral health is intended to be a short-term consultative service, it is not intended to be long-term intensive psychotherapy.
We engage patients using motivational interviewing, cognitive behavioral therapy, focused acceptance and commitment therapy, behavior activation, and many other tools.
We have a medication assisted treatment (MAT) program for individuals with opioid use disorder; this means we have providers who can prescribe suboxone to treat opioid use disorder. Individuals must be a patient of the clinic or be willing to establish care, they must have an assessment by the behavioral health provider before they are determined eligible for the program. MAT participants are then seen by the prescribing provider and behavioral health clinician on a pre-determined schedule to monitor effectiveness, and address any challenges the individual may be experiencing, along with working on their individual goals.
Psychiatry services are available in our clinic; your primary care provider can consult with the psychiatrist, and if needed, the psychiatrist can provide direct services for patients (such as evaluation, follow up, medication starts or changes, and then facilitate return to your primary care provider for ongoing management). Currently this service is only available for patients of the Health Center.
What are common outcomes for people who receive these services?
We have seen improvements in diabetes management (reduction in a1c's), improvement in blood pressure control, medication adherence, improved nutrition, improve sleep, and improvements in depression, anxiety, weight management, and stress.
In our MAT program we have seen a reduction in use of opioids and other substances, increased education about overdose and the use of Narcan, and we have seen patients meet their goals, such as getting stable housing, stable employment, improved relationships, etc.
Are these services covered by insurance and/or do you offer a sliding scale for payment?
TCCHC accepts all forms of insurance, including Oregon Health Plan (OHP), private insurance, and self-payments. We have a sliding fee scale and will not refuse services based on the inability to pay.
What else should people know about your services?
We are a team-based clinic that will assist you in accessing needed resources and services. We can collaborate with other treatment facilities, and community agencies to help coordinate the care you need.
Individuals may contact us at 503-842-3900 or 800-528-2938. TTY at 800-735-2900.