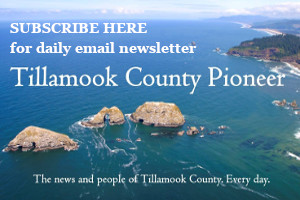 What is your role at the Tillamook Family Counseling Center and what drew you to this work?
My role at Tillamook Family Counseling Center is a Behavioral Health Clinician. I am a licensed clinical social worker, certified gambling addiction counselor and certified alcohol and drug counselor.  My role as the certified gambling addiction counselor includes treatment for the people with problem gambling and their concerned others, education to our staff, community partners, and our community members, and outreach to our community to increase the awareness that services are available for people struggling with problem gambling.
What is your favorite part of your role? What is most challenging?
My favorite part of my role is being able to see the moment when a client is ready for change, and they begin to establish their recovery.
I would say the most challenging part is when a client is not ready for change, having them remain engaged in services to explore that ambivalence in treatment. Many times, people think if they are going to attend treatment they will immediately have to stop gambling and that's not always true. It depends on the person. We can use harm reduction techniques to assist them with slowing down the gambling and deciding what's best for them for their treatment and recovery. I've worked with people who need to abstain from gambling, and I've worked with people who were able to successfully utilize money and time barriers, monthly financial snapshots, and other helpful tools learned in treatment where they are able to continue to gamble responsibly.
What exactly is problem gambling?
It might be best to start with what is gambling? "Gambling can be defined as placing something of value at risk in the hopes of gaining something of greater value" (Potenza 2006). When I was going through my training, I learned that there were forms of gambling that I didn't even realize were gambling, such as bingo, raffles, and gambling that can happen within the stock market. There is also gambling happening within video games.
The definition of problem gambling that I would like to share is from the National Council on Problem Gambling Website (https://www.ncpgambling.org). "Problem gambling–or gambling addiction–includes all gambling behavior patterns that compromise, disrupt or damage personal, family or vocational pursuits. The symptoms include increasing preoccupation with gambling, a need to bet more money more frequently, restlessness or irritability when attempting to stop, "chasing" losses, and loss of control manifested by continuation of the gambling behavior in spite of mounting, serious, negative consequences. In extreme cases, problem gambling can result in financial ruin, legal problems, loss of career and family, or even suicide".
How does problem gambling impact an individual and the people around them?
People are not only gambling with money. When we look deeper, they are gambling with their relationships, safety/security, job, housing, time, integrity, and ultimately their life. Gambling disorder is associated with poor general health. There are high comorbidity rates with gambling and substance abuse, as well as mental health. Sometimes treatment will need to incorporate all three areas (gambling, substance use, and mental health). Concerned others are able to enter treatment to learn healthy boundaries, assertive communication, and more about what gambling addiction is. They are able to learn ways to not continue to contribute to the other person's problem gambling.
Are there any misconceptions about problem gambling? What do you wish people knew?
Problem gambling is an addiction. You can experience withdrawal symptoms from gambling. It impacts some of the same areas of the brain as seen with substance use. Problem gambling treatment includes areas of focus such as financial barriers, creating a monthly financial snapshot, and wellness planning to address and expand upon the 8 dimensions of wellness.  I highly encourage family therapy and participation in Gambler's Anonymous.
How can community members find support or services for problem gambling?
If someone would like to access treatment, they can call TFCC at 503-842-8201 and request to schedule an appointment. They are also able to access services by calling 1-877-My-Limit (1-877-695-4648). It's important to remember that problem gambling treatment services are free for the person struggling with problem gambling as well as concerned others that are impacted by that person's problem gambling. The treatment services are paid for by the Oregon Lottery. We also have a local Gambler's Anonymous meeting that is held Tuesdays at 5:30pm at the Serenity Club. At times the GA meeting can be virtual so please call the Serenity Club to confirm if it is in-person or to obtain the virtual meeting link.
Is there anything else you would like to add?
There is a 70% success rate with treatment if the client is able to utilize financial barriers and tools, have engagement with family therapy, and attend self-help meetings such as Gambler's Anonymous.
Other wellness questions? Email us at info@tillamookcountywellness.org. For more local health and wellness information, visit www.tillamookcountywellness.org or follow Tillamook County Wellness on Facebook and Instagram.