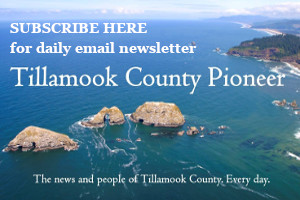 By Michelle Jenck, Tillamook County Wellness Coordinator
Juggling priorities of work, family life and kids' activities make it hard for people to have time for their own health needs. For Trina Vogel, the motivation to take care of herself was high and she had support from her family but her ability to sustain those efforts yo-yoed as other life commitments got in the way. Now that she is working in the healthcare field, she sees first-hand how important it is to be proactive and make preventive wellness a priority. "I don't want to have a huge list of medications or have to use a walker when I get older," said Trina. "I want to be active with my grandson and I want to feel good about myself," she explained.
Since October 2018, Vogel has lost 26 pounds. She attributes her success to eating healthier and just eating less. She also found an exercise program that fits her work schedule and family needs. In fact, she has combined the two — doing at-home workouts in the evenings with her daughter and her daughter's friend who lives with them. "The girls really like the workouts. They are short and we are seeing the results which keeps us motivated," she commented.
When asked what specific changes she has made and the lessons she has learned along the way, Vogel states, "The biggest thing with my eating changes has been figuring out which changes I will stick with, not just to lose weight but that will help me be healthier. I always keep cut up veggies on hand and we have cut out junk food. Even so, I think it is important to give ourselves grace to have a cheat meal or treat every once in a while."
Vogel also realized how important it was to have a routine in order to sustain her exercise practice. She struggled to maintain her workout regimen during the summer months when the family's schedule changed from day to day. Morning workouts did not always happen as planned. By switching to evenings and working out together, the routine has been easier to maintain.
Another factor in her success is that she joined an on-line workout community called "Street Parking." The subscription-based fitness app encourages people to make the time and space (in the garage, for example) for exercise by offering pre-planned, short workouts which can be done with minimal equipment. The workout options come with modifications for different fitness abilities and allow people to progress to more challenging workouts as they get in better shape. For Vogel, app-based challenges created added motivation and encouragement. "My body has changed a lot since I started doing the workouts, so I know it works," she added.
In addition to seeing positive physical changes, Vogel notices a change in the girls, "My daughter's grades have improved a lot. She's consistently getting all A's now. She doesn't get as tired as she used to either. In the past, she has struggled with depression and anxiety. Her Principal at school recently told me she is a totally different kid now."
Being creative and starting with small, doable habits has led to this family's success in making positive lifestyle changes. For more tips and inspiration, visit our website Tillamookcountyhealthmatters.org or like and follow us on our Tillamook County Wellness Facebook page.