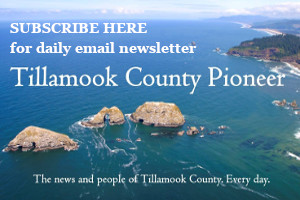 By Amy McVeety, AmeriCorps VISTA at Tillamook County Community Health Center               
Tillamook County offers an abundance of outdoor recreational opportunities, particularly in the water. Stand up paddleboarding, kayaking, and other paddle sports are a great way to enjoy the local scenery while getting some fresh air and a good workout. From complete beginners to those with extensive experience, Tillamook County has waterways that will appeal to every skill level and the resources to help make it a fun and safe experience.
Stand up paddleboarding (or SUP) has recently gained popularity, and for good reason. Besides being a relatively easy activity to pick up, it offers a fun and effective whole-body workout. It provides good aerobic exercise, and you will build core, arm, and leg strength while balancing and paddling. SUP is also low impact, making it ideal for people of all fitness levels, and you get to enjoy fresh air and beautiful scenery while you do it. An added benefit – you can grab a refresher by jumping into the water whenever you want!
However, before you run out to buy a paddleboard and hop in the water, it is important to have the proper equipment and training.  You'll find a brief overview below, but be sure to check out the Oregon State Marine Board's Boater Info for more extensive safety information: https://www.oregon.gov/osmb/boater-info/pages/non-motorized-boating-and-paddling.aspx.
Being prepared starts with having the right equipment. The Oregon State Marine Board requires that all boats (including SUPs) have an appropriately sized life jacket for each person on board, a sound-producing device (like a whistle), and a Waterway Access Permit (which can be purchased through the Marine Board's Boat Oregon Store: https://apps3.oregon.gov/). Also be sure to use an appropriate leash or tether to ensure you do not get separated from your SUP and always wear your life jacket. Be sure to dress in non-cotton clothes that are appropriate for the weather and water temperature.
Also make sure you are prepared with the correct training and information before you get out on the water. Do some research on your route ahead of time so you know what to expect in terms of water conditions and weather. Create a float plan and give it to a friend or family member before you leave, so they know when to expect you to return. Always go out with a group, and be aware of other boaters around you. Consider taking a paddle sports safety course before your first time out; the Oregon State Marine Board has a free introductory course, as well as plenty of other resources and safety tips on their website.
Not sure where to start with your aquatic adventures? Tillamook County offers some great resources to help you get started. If you're just looking to rent a paddleboard and get yourself out there, Wheeler Marina and Oceanside Surf and SUP both offer affordable rental options. If you need a good spot to float, the new Tillamook County Trails and Recreation Map includes information about water trails, boat launches, and beach and water access that you can use to plan your trip. The Tillamook County Water Trail Committee has established the Tillamook County Water Trail, approximately 200 miles of interconnected waterways. Free printable guidebooks for this trail, including information about public access points and typical water conditions, can be found on the TEP website, or you can obtain a printed waterproof guidebook at the TEP office or by mail for a suggested donation of $10.
If you are interested in lessons or guided SUP tours, SUP Manzanita offers lessons taught by local expert Janice Gaines-Ehlen. These lessons can accommodate all skill and fitness levels. Janice, an outdoor enthusiast, has been surfing since the age of 8 and has a passion for nature, adventure, fitness, and health. You can find more information about her lessons and guided adventures here: https://www.supmanzanita.com/. If kayaking is more your speed, you can find information about local kayaking spots and services here: https://tillamookcoast.com/what-to-do/kayaking/.
However you choose to do it, Tillamook County is a great place to enjoy the water. Take these tips to get out there, enjoy the warm summer weather, have some fun, and find a new adventure. For more ideas, and inspiration, visit our website: https://tillamookcountywellness.org/move-well/
For more local health and wellness information, visit www.tillamookcountywellness.org or follow Tillamook County Wellness on Facebook, Instagram and Twitter.