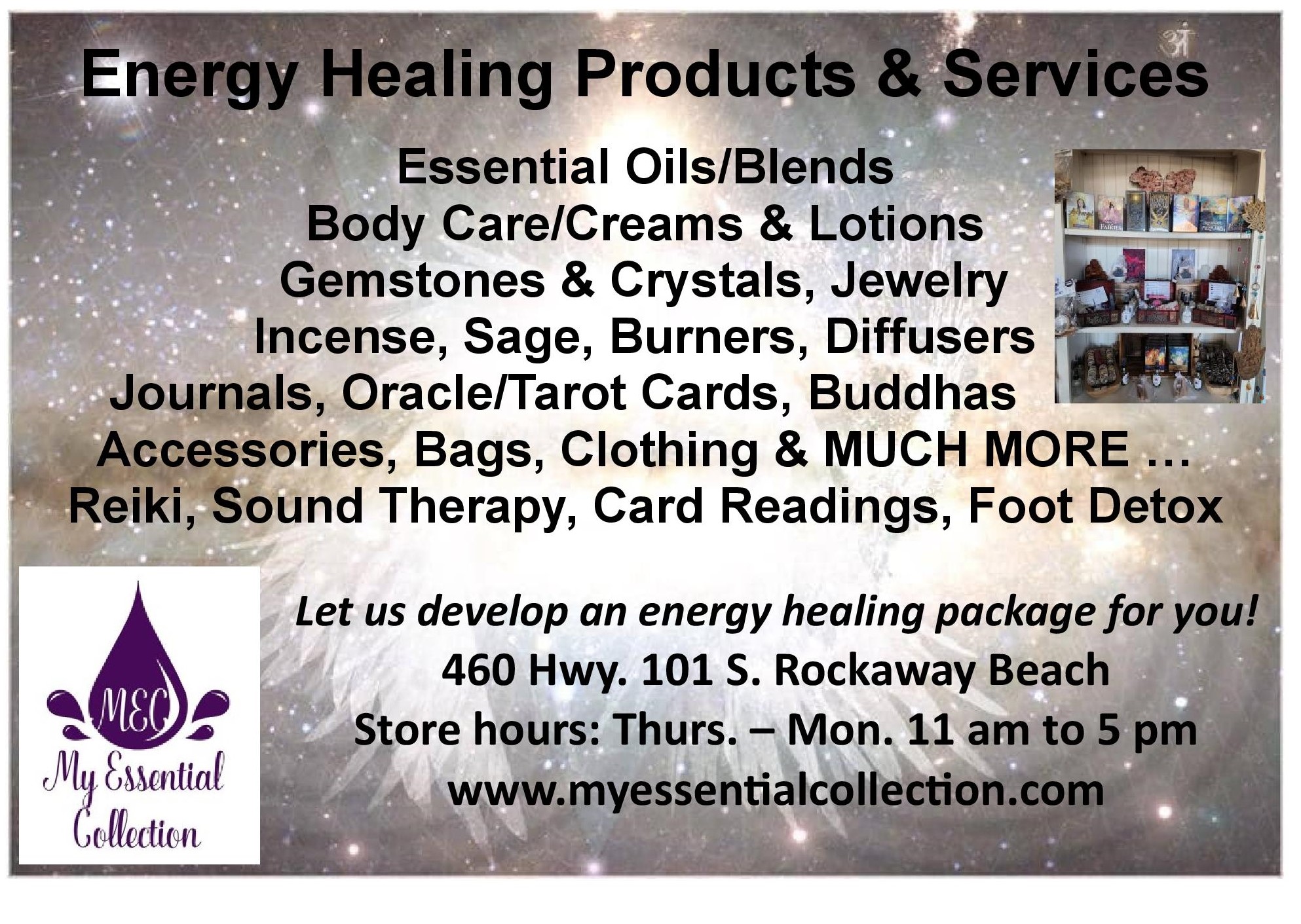 By Laura Swanson
Tuesdays at the North County Food Bank in Wheeler are busy – starting early to be ready to serve the folks that will begin arriving before noon. There is an efficient orderly process as the customers check in, take their number and wait patiently for their turn to receive boxes loaded with a variety of food for meals to feed their household for the coming week. Some also visit the pet food bank supplied by Animal Haven by the Sea, and then there are community members bringing in donations for the clothing bank located down the hall.
Local restaurant owner and chef Jake Burden from Offshore Grill in Rockaway Beach joined Tillamook County Wellness to showcase the amazing efforts of our local food banks to feed our community, and to provide ideas for creative meals. "Cooking is becoming a lost art," commented Jake. "And we know that many of the people in our community that are homeless or housing challenged, may not even have means, appliances, pots and pans to cook a meal."
Think "Iron Chef" mystery box meets food bank ingredients, and you'd have the challenge that Jake took on last week. North County Food Bank Board President Tom Ayres walked Jake through the process. "Our customers come in and we do an intake interview to determine household size, food needs, etc.," explained Tom. "We treat everyone with respect and dignity. We want people to know that there is no shame in accessing these resources. We know there are more people out there that could use the food assistance. This is a big step to reach out for help."
As Tom reviewed the list of available foods, Jake confirmed if the items were something he wanted and was given choices and options based upon the size of his household. "I was really surprised by the variety, and even in mid-winter, the Food Bank had root vegetables and fresh fruit," said Jake. Kicking into chef-mode, Jake was planning the various meals that he could prepare with the foods available.
Jake is a father of four and understands first-hand the challenges that many families have when trying to feed a family. "I know how much folks struggle in our communities, some people working a couple jobs, and then you have to come home, cook something everyone will eat, and have it ready in 30 minutes or less, yeah, right," he chuckled. "Then you might be cooking on a single hot plate, or you're living in your car. How are you going to cook something, let alone a healthy meal? This is eye-opening."
The shopping list is completed and the "packing team" takes over – each volunteer has an area assignment, and then volunteer Sue Wilson calls out, "Who's being Imie?" An honor granted to another volunteer, in memory of long-time Food Bank volunteer and board member Imie Camelli, who passed away last year. Her job was to call out the items on the list for the packers, so that the other team members can quickly and accurately pack several boxes with a variety of foods.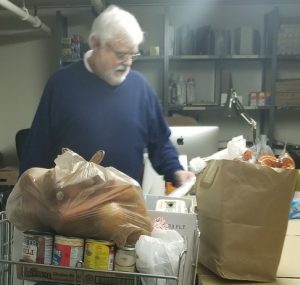 There are staples – flour, eggs, milk, oatmeal, cereal, canned goods, boxed foods, meats, canned and fresh fruits and vegetables, spaghetti and ramen noodles, tuna and a special treat for North County Food Bank locally-sourced canned salmon from the Smiley Brothers Salmon project. As Jake reviews the variety, he can see how families could just open and eat many of these foods, but there are some creative, easy ways to take these simple, everyday ingredients and "kick it up a notch."
With the ramen noodles, the canned vegetables and the Smiley Brothers canned salmon, we head to Rockaway Beach and Jake's kitchen at Offshore Grill – and the remainder of the food was returned to the Food Bank shelves to go to a those who need it.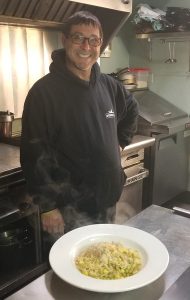 Salmon & Veggie Ramen Noodles
Ramen style noodles are a staple in most households and by adding canned vegetables, a few fresh veggies (onion and carrots) and the canned salmon – ta-da! An Asian-inspired, one-pan meal for a family of four in less than 20 minutes.
Ingredients:
 2-3 carrots – shredded
 1 medium onion – minced
 2 – 3 cans of vegetables; drained and rinsed
 1 – 8 oz. can of salmon; drained
 3 packages of ramen style noodles
Directions:
 In large saucepan, cook ramen noodles according to package directions;
-do not add seasoning packet*
 Add carrot and onion, stir. Cook additional 10 minutes.
 Add canned vegetables and salmon, stir. Heat another 5 minutes.
 Serve!
Really, that's it.
Additional Notes:
Try substituting canned salmon with canned tuna.
 consider using more than 1 can of canned salmon or tuna, as for four people, one 8 oz can is only 2 oz of salmon per serving.
oSee Myplate for more information on recommended serving sizes.
For added protein consider whisking up 1-2 eggs and adding those to the hot soup near the end of the cooking.
*If wanting to add more flavor, try adding 1 or 2 of the seasoning packets from the ramen noodles as directed on the package.
Click here for a video of Jake preparing this recipe.

As Jake wrapped up the cooking, he mentioned a Cooking Matters session he did several years ago with OSU Extension. "We need to teach people how to cook again," he said. "I really enjoyed those classes and sharing my love for cooking with the community. Our society needs to get back into the kitchen. There is nothing more satisfying than providing nutritious food to your family and friends. It's one of the most basic nurturing things we can do, but we've lost touch with that."
Offshore Grill is located at 122 N. Hwy. 101 in Rockaway Beach, seasonal menu that features fresh local ingredients.
North County Food Bank is at 278 Rowe St. in Wheeler and is open on Tuesdays from noon to 3 pm.
For more local health and wellness information, visit tillamookcountyhealthmatters.org or follow Tillamook County Wellness on Facebook, Instagram and Twitter.