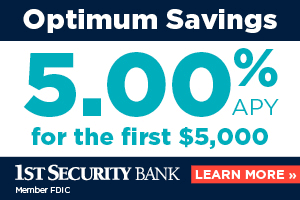 A high score is usually a good thing but not when it comes to the number of adverse childhood experiences, or ACEs, a person has. According to research, a person's ACE score directly corresponds with their risk for obesity, type 2 diabetes, heart disease, and even cancer. It makes sense that factors like divorce, death of a caregiver, verbal or sexual abuse and other traumatic exposure affect a person's emotional and mental well-being. What we now know, however, is that this exposure can also impact an individual's physical health over the course of their lifetime. And, that risk can be passed on to future generations through a process called epigenetics.
There is some good news, however. Protective factors like healthy relationships, school success, a spiritual practice and other positive social supports can offset some of these early challenges. The best news is that your ACE score isn't your whole story — you can write your own happy ending.
Mariah Decker, or Mrs. Decker, as her students referred to her during her eight years as an educator, did just that. Despite starting out life with a very high ACE score, Mariah has been able to build a life of joy, fulfillment, and better health.
From age 14 into her early-twenties Mariah struggled with crippling depression and anxiety. Aside from going to work or school, she was unable to leave the house. "A lot of people didn't know because I didn't talk about it. I was terrified to go to the doctor; I didn't want to be put on medication, be put on someone's caseload, and forgotten about."
Sick and tired of being sick and tired, Mariah gradually began a process to take control of her own life. She began to see the connection between those early childhood experiences and her mental and physical condition. "I wasn't healthy and I wasn't happy with myself. I weighed 80 pounds more than I do today and was so big that, even though I am only five feet tall, I was wearing my husband's clothing. I avoided mirrors and didn't like having my picture taken." Well intended people gave her advice, encouraging her to start exercising. "People would tell me I just needed to move more and I would think, 'Why would I want to move all of this?' I didn't feel comfortable enough in my body to want to move it that way."
To get past the frustrations over her physical and mental health challenges, Mariah, began to focus on being grateful for the things she did have. She understood that her strong work ethic and early academic success gave her resilience but she also realized how much her early trauma was keeping her from living the kind of life she desired.
At the age of 20, Mariah began working for the Tillamook School District (TSD9). Acknowledging the fact that early childhood exposure to trauma also impacts learning, TSD9 had brought ACEs training to their district staff and teachers. Mariah was fortunate enough to take part in that training, which led to a better understanding of her own journey.
As a computer teacher, Mariah had a unique opportunity to work with every student at South Prairie Elementary School. Her heightened awareness around ACEs allowed her to recognize individual student's needs. This helped her create meaningful connections with each student and be a positive support in their lives. "If even one kid in my classroom felt loved, then I considered that a success."
In addition to ACEs training, TSD9's staff development included setting annual professional goals with the option to include personal goals as well. The goal setting system provided a good opportunity for Mariah to tackle her personal challenges. Rather than setting weight loss goals, Mariah decided to take a different approach. "I decided to get my brain in order first," she says. Looking up one inspirational quote each day, she found a saying that resonated: You can't pour from an empty cup. Mariah decided it was time to fill her cup.
This was only the beginning of Mariah's story. Read next week's article to learn how taking one small step opened the door to profound personal transformation.
Photo Credit: Andrea Rieger of Golden Hour Images
For more local health and wellness information, go to www.tillamookcountywellness.org follow Tillamook County Wellness on Facebook, Instagram and Twitter.