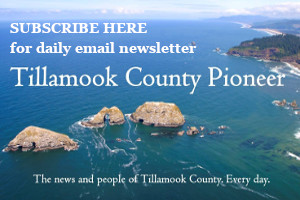 The following is a press release from Tillamook County Sheriff's Office:
The Tillamook County Sheriff's Office will be participating in a nationwide traffic Safety campaign to emphasize the importance of safety belt use and not allowing minors to ride in the open bed of a pickup. The campaign will begin on May 15 and continue until May 28.
Tillamook County Sheriff's Office deputies will be focusing on enforcement at various times and days during the two weeks. This effort is made possible through dedicated federal funding to carry out the program. Deputies will be watching for seat belt compliance, texting and talking on cell phones, minors riding in the open bed of pickups and speeding.
Tillamook County Sheriff's office strives to strengthen the safety of residents and visitors through enforcement and education.
The following are general descriptions of Oregon's safety belt and child restraint laws. Specific wording of statutory requirements can be found at ORS 811.210 – 811.225. (Note: You will have to scroll down to the appropriate statute number to locate the actual full text).
ADULT BELT LAW
Oregon law requires that all motor vehicle operators and passengers be properly secured with a safety belt or safety harness, unless all safety-belt equipped seating positions are occupied by other persons. This applies to passenger cars, pick up trucks, motorhomes, and fee-based people transport carrying fifteen or fewer persons. Limited exemptions are allowed under ORS 811.215. Vehicle owners are required to maintain belt systems in working order.
CHILD RESTRAINT LAW
Child passengers must be restrained in child safety seats until they weigh forty pounds or reach the upper weight limit for the car seat in use. Infants must ride rear-facing until they reach both one year of age and 20 pounds.
BOOSTER SEAT LAW
Children more than 40 pounds or who have reached the upper weight limit for their forward-facing car seat must use boosters to 4'9″ tall or age eight and the adult belt fits correctly.