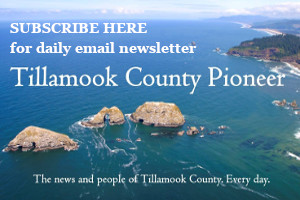 It's National FFA (Future Farmers of America) and did you that Tillamook has the LARGEST FFA Chapter in the state in 2021? This year was a record breaking year for membership — Tillamook FFA Chapter is made up of 624 FFA members in grades 7-12.
National FFA Week kicks off today To celebrate we have some events planned for the week of February 22-26.
⭐️ Monday- Staff Appreciation: Tillamook High School staff will be receiving a special treat!
⭐️ Tuesday – FFA Meeting at 7 PM in the Tillamook High School Auto Shop
⭐️ Wednesday – A-L students wear your chapter t-shirt/program swag. Contact Mr. or Mrs. Bush if you need a t-shirt!
⭐️ Thursday – M-Z students wear your chapter t-short/program swag. Contact Mr. or Mrs. Bush if you need a t-shirt!
⭐️ Friday – Pass the Goat Fundraiser around the Tillamook Community
⭐️ Ongoing Events – FFA Jacket Giving Fundraiser See Less
We are excited to host a Pass the Goat Event in honor of National FFA Week! 🐐 Tillamook FFA Members will be bringing a baby goat around the Tillamook community on February 26th between 9:00 AM and 1:00 PM. Donate $20 or more, and we will pass the goat to another business of your choice.
According to Tillamook FFA Advisor Brooklyn Bush, "We will start at the District Office for TSD9 and will go around town, depending on where each business sends us. We just want to get the word out so people aren't surprised if we get sent to their business, and show up with a goat!"
If we get sent to a business, they just make a donation (suggest $20+) and then we will go to a business of their choice.
For more information or to make requests, contact Brooklyn Bush at bushb@tillamook.k12.or.us.