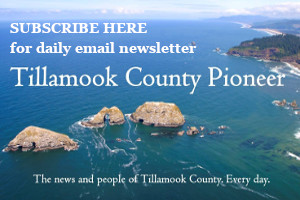 By Mallory Gruben
Photos by Don Backman
Tillamook Habitat for Humanity's latest housing project fulfills a number of firsts for the organization and its partner families.
The build in Hebo is Habitat's first project in South County; its first four-bedroom, two-story house; and its first with an "affordable housing covenant" title, which will ensure the home remains under ownership of a low-income family should it ever sell. It's launch also marks the first time the local Habitat branch has ever managed five housing projects at once.
But the most significant first may well belong to the Lyman-Kelekolio family, which will move into the home once its finished. For them, the project marks the first time they've seriously considered home ownership a possibility.
"We are a one-income family, so we don't have the money to rent a home because prices here are so high. … I guess I just didn't see it being in our immediate future of having the money to go out and put a down payment on a home," said mother Andrea Lyman. "So partnering with Habitat was really our only option for home ownership."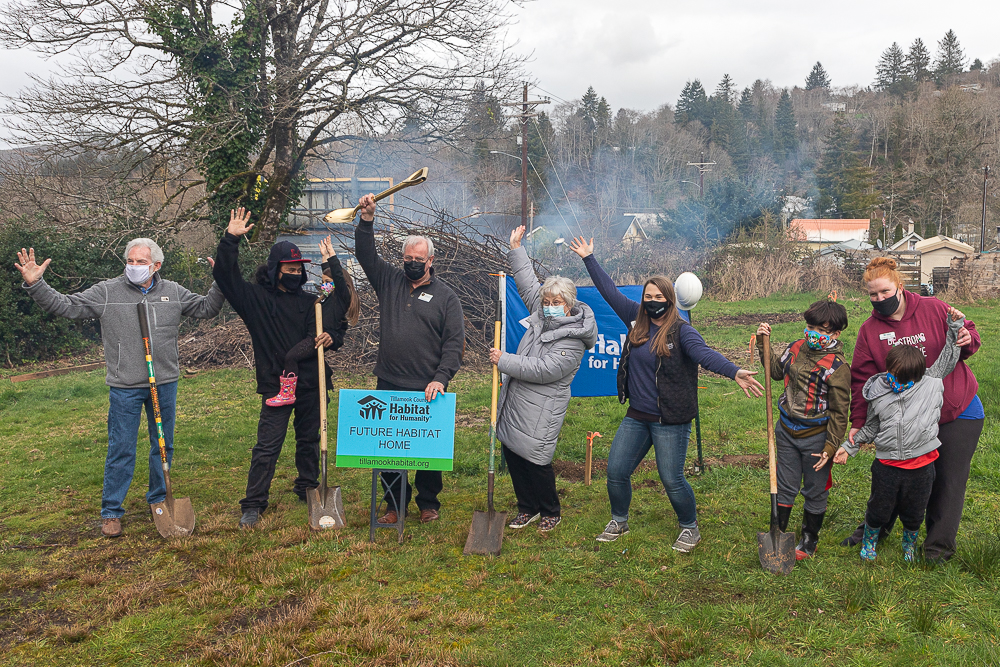 The family and Habitat officials kicked off the project last Saturday March 6th at a socially distanced groundbreaking ceremony on the property — the first in-person groundbreaking since the COVID-19 pandemic began.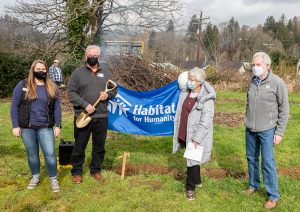 "It was just amazing to see all the people we did know and all of the people we didn't know," Lyman said of the groundbreaking. "It was nice to see even if they didn't know us personally they still came to support and launch off the journey of building the house."
Habitat has owned the property across from 31350 Hwy. 101 S., in Hebo since 2007, when it was donated to the organization through the county. The immediate plan was to build a home within the next few years — until the 2008/2009 Recession upset those plans, said Cami Aufdermauer, Tillamook Habitat Executive Director.
The nonprofit switched gears to focus on projects in Bay City, where Habitat raised 14 homes on a large plot of donated land. The group also began builds and renovation projects in Tillamook. Finally this year timing and finances finally allowed it to return its attention to Hebo, Aufdermauer said.
"It feels like we are fulfilling a promise. That community really was excited back in 2007. We are reigniting that hope," said Aufdermauer, who expects to complete construction in 2022.
Habitat Volunteer Coordinator Julie Giel said the project is "an entirely new community we are roping in," and she looks forward to building relationships with new volunteers and partner businesses in the area. Already the nonprofit has established partnerships with Hebo Christian Center Church, which lended its parking lot for vehicles during the groundbreaking.
"I like to say for the first time we can really call ourselves the Tillamook County Habitat," Aufdermauer said.
Once built, the home will belong to Lyman, her partner Loto Kelekolio and their three children. Currently the family lives in a three-bedroom apartment.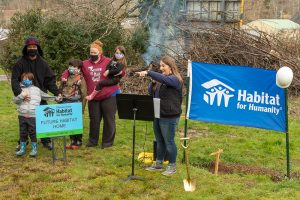 "They are very excited," Lyman said of her children, 8-year-old Keegan, 6-year-old Kalepo and 4-year-old Leilani. "We saw the plans on Saturday and the whole upstairs (of the new house) is theirs."
Each child will get their own room in the new house. Lyman said that's especially important for Kalepo, who has a sensory special needs that makes it challenging to share a room with his older brother, as is the current situation.
"This house is really important because he will finally have a space that he can go to when he is overwhelmed or overstimulated," Lyman said. "I'm so thankful for Cami. She somehow made it work to do four bedrooms."
Typically Tillamook Habitat builds three-bedroom homes, and usually the houses are single-story. But Aufdermauer worked with the family and local contractor Tony Troyer of HIS Construction to make accommodations.
"We like to say 'yes' where we can," Aufdermauer said with a smile.
As a partner family, Lyman and Kelekolio must complete 500 hours of "sweat equity," or volunteer labor on their home and other Habitat projects. So far they've completed half of those hours — including some hours contributed by their eldest son.
"He has actually come out a couple of times to help clear out the property that we will be on," his mother said. "He puts his gloves on and moves the branches."
Because construction on their house hasn't started yet, those work hours came primarily from assisting with the four other projects currently underway. In total, five families are partnering with Habitat this year — a record number for the local agency.
Aufdermauer and Giel said the five families have "become a close unit."
"And that's on them," Giel said. "We don't force them to be friends, but really these five (families) support each other and learn from each other."
In yet another first, the title for the Hebo property will include an affordable housing covenant that limits future sale to low-income families making 80% of the local median household income or less (currently an annual income of roughly $40,000 or less, according to U.S. Census data). That ensures the house will have "long-term, permanent affordability," Aufdermauer said.
Homes built by other Habitat branches traditionally became housing trusts. But Aufdermauer said she prefers the affordable housing covenant because it not only fulfills Habitat's mission, but also it creates housing equity for the homeowner and establishes future affordable housing stock in the community.
Aufdermauer expects the affordable housing covenant model to become standard for projects in Tillamook County. Likewise, she plans to continue finding ways to grow up the county's affordable housing stock, serve families in need and celebrate even more firsts for Habitat.
"We want to build this momentum and continue pushing forward," Aufdermauer said.