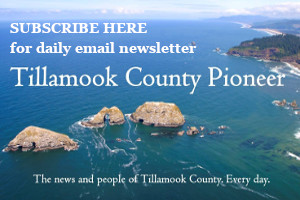 By Matt Maizel
The ribbon-cutting ceremony for Tillamook High School's newly renovated turf facilities took place last Friday night, October 29th before the Cheesemakers (5-0 Cowapa League, 7-2 overall) took the field for their final regular season matchup against Milwaukie/Milwaukie Acad. of the Arts (2-3 Cowapa League, 5-4 overall).
The Mooks would take care of the Mustangs 56-6 in a one sided affair, as Tillamook completed the sweep of interleague opponents this season to secure a 4A first round home playoff spot this Friday, November 4th.
Senior running back Judah Werner got the fireworks going early with a touchdown up the gut in the redzone to put Tillamook ahead 7-0. A few moments later, senior defensive back Tyler Moncrief picked off a pass in the flat and knew what to do with it, as he found the end zone to put the Mooks up 14-0 early. On the other side of the ball, Werner would get his number called again and found the end zone on a huge 62 yard touchdown rush for his second of the half to put the Mooks up 20-0 after the missed PAT. Werner continued to make big plays in the first half, this time on special teams, blocking the Mustangs' punt attempt to give Tillamook the ball near the goal line. Junior quarterback Seth Wehinger would eventually punch it in from 4 yards out on a quarterback power play. The two-point conversion was good on a nifty reverse from Moncrief and the lead swelled to 28 in favor of the Mooks. Wehinger would get his second rushing touchdown of the first half, as well, on a long QB designed run play to make the score 35-0.
Senior running back Gilbert Whitlatch would join the party with a reservation for six – a 32 yard rush as Tillamook really began to punish Milwaukie's defense, and just like that, it was 42-0.
Moncrief would get another rushing touchdown on a reverse to pile more points on the deficit 49-0 before halftime. After one more score in the second half for both teams, the final was 56-6.
The 4A Oregon State Playoff picture is now set, the #11 Woodburn Bulldogs will travel to the #6 Tillamook Cheesemakers this Friday, November 4th @ 7:00 p.m. to face off for the second time this season; Tillamook won the previous preseason matchup 28-7.