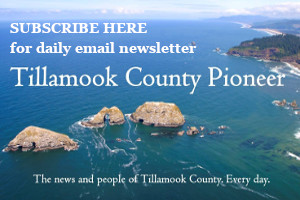 By Matt Maizel
Coach Chelsea Miller attributes her Tillamook High School Softball squad's 2-0 start not only to their stacked batting lineup, but her players' cohesiveness. The Lady Mooks have earned 27 runs in their two games at home so far, overwhelming Banks and Warrenton by scores of 16-10 and 11-1, respectively. Opposing pitchers have had a hard time finding Tillamook's weak spots offensively, and The Cheesemakers have been capitalizing.
With 2 Seniors, 7 Juniors, 2 Sophomores and 1 Freshman, many of whom have been playing together through high school and the youth softball league Red Fury for years, The Mooks feel like they have many of the right pieces to make a push into the playoffs. "This bond they have is
very unique, they already know how to play together, so it most definitely makes my job easier".
Tillamook's JV Softball team is also very talented, and they're excited to have two new teams to gain experience against in the Cowapa League, St. Helens & Scappoose, who also carry JV teams.
The Varsity team is looking forward to their new Cowapa League competitors, as well. "These will be challenging games but we feel good about what we have to offer this year," Coach noted that a big focus this year will be on maximizing the girls' mental game, while executing the little things. "If we execute the little things well, the big things will come together for us."
Check Tillamook's OSAA softball page for any schedule updates here: https://www.osaa.org/teams/49945.
The Lady Mooks' are playing in the "Battle at the Beach" during Spring Braek, a Non-League Tournament, and will play on Monday 3/27/23 at 11am against Phoenix at Yaquina View Elementary School.