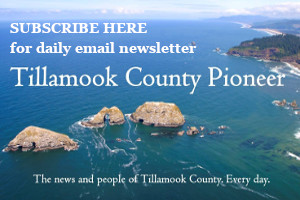 By Claire Thomas, STEM Advisor
Tillamook High School students win big at the Central Western Oregon Science Exposition held at Willamette University on Saturday, March 2, 2019. Five students advanced from the regional to the state competition at Portland State on April 12.
All students received various awards:
Silas Waxter: Creation of a Device for Improving Range of Motion
US Air Force – Certificate of Achievement for Outstanding Engineering Project; Office of Naval Research – Oustanding Science Award ($50); Biophysical Society – Outstanding Project in Biophysics Award ($100); OSU general scholarship for $2000
Celeste Stout: Channel Morphology and Fish Use in the Southern Flow Corridor
NASA – Earth Systems Science Award; Oregon Environmental Health Association – Award for Excellence in Scientific Research in Environmental Health ($60)
Dillan Pierce: The Use of Magnets to Capture Invasive Green Crab in Netarts Bay
NOAA – Taking the Pulse of the Planet Award
Sam Hooley: Historical Spatial Arrangement of Coastal Forests and Implications for Reducing the Risk of Wildfire and Disease
Outstanding Project
Malachi Thorne: Using Drone with Near Infra-Red Capabilities to Locate Populations of Native Olympic Oysters in Netarts Bay and Determine Cluster Density
American Meteorological Society – Certificate of Outstanding Achievement
Dillan Pierce and Malachi Thorne were both presented with the Oregon Coast Aquarium's "Sage Award" and were asked to present at the Oceans Exhibition in Portland on May 19.
Silas Waxter, Sam Hooley, Malachi Thorne, Dillon Pierce, Celeste Stout