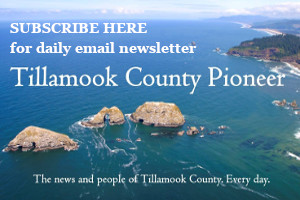 By Matt Maizel
After three matches on the road to start the season, The Lady Cheesemakers (3-0 in league play, 3-1 overall) varsity volleyball team were finally given the opportunity to showcase their talents for the home crowd Thursday evening against the Seaside Lady Seagulls (0-2 in league play, 1-4 overall) – and they did not disappoint.
The student section packed the stands and created an electric atmosphere and strongmhome-court advantage as Tillamook quickly jumped ahead 5-0 to start the first set. The Lady Cheesemakers continued to feed off that energy for the rest of the set, with a 25-16 win to take the early 1-0 lead in the match.


Junior right side hitter Madi Dixon was looking sharp, as she chimed in with a momentum shifting kill in the second set. Despite big play from her and junior outside hitter Annika Norberg, the Lady Seagulls bounced back in the second set winning that one 20-25.
Junior middle blocker Kate Klobas' dominance was foreshadowed early, but she really began to take control of the match in the third set with multiple destructive aces and kills. Joining the party, Junior outside hitter McKenna Haertel also had an effective kill to help win the third set 25-15.
The Lady Seagulls continued to make things interesting, withstanding powerful serving from Junior setter Dannika Goss. Seaside had some good servers of their own, and just won the fourth set 21-25.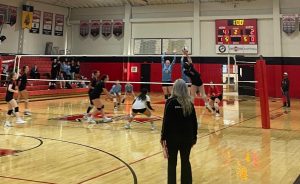 With the series tied, Tillamook headed into the fifth set with confidence, winning the match 3-2. Coach LaVonne Rawe added how "We still need to work on our rotations", while substitutions have "been something we have been figuring out as we go." Coach Rawe also mentioned how big of a role the crowd played Thursday night.
The Lady Cheesemakers are taking on Scappoose tonight September 13th. Watch for more THS Sports coverage in the Pioneer.