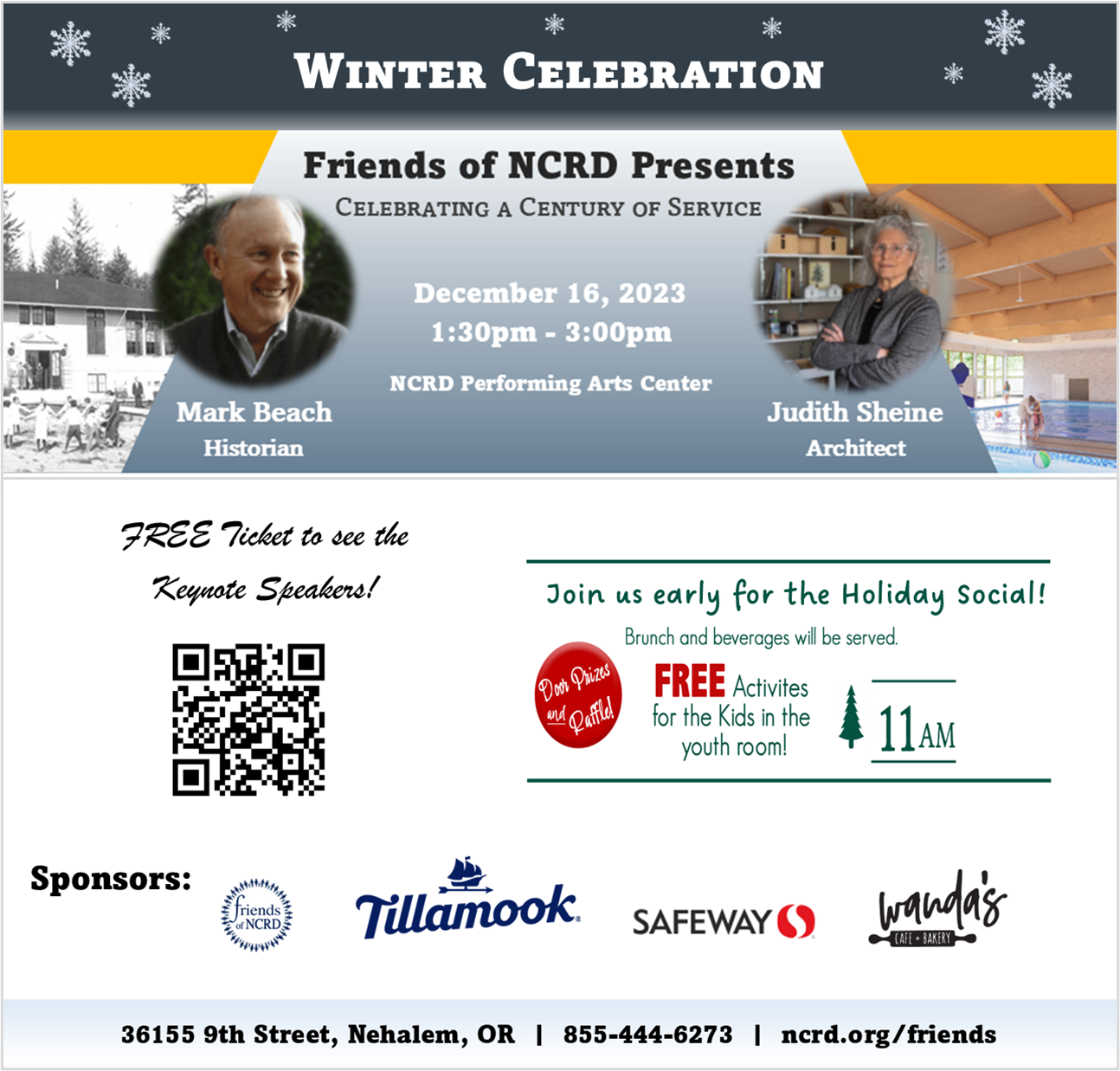 This Week at Tillamook Kiwanis September 27, 2023
The Kiwanis Club of Tillamook held one of their favorite annual meetings on Wednesday, September 27 at Tillamook Bay Community College. Community Giving is an annual September event to support nonprofit organizations in Tillamook County that support children. The Kiwanis motto is Serving the Children of the World, and the Tillamook motto is Serving the Children of Tillamook County. Grant applications were distributed in August, reviewed by the Giving Committee in September and a total of $10,000 — in $500 to $1,000 amounts — was distributed on September 27 to 13 organizations.
Bill Hatton led the pledge of allegiance and Ron Rush gave the invocation. Other club business was suspended for the day to provide plenty of time for our guests. As each organization was called forward to receive their check, they had an opportunity to tell the gathering about their organization and the use of the provided funds.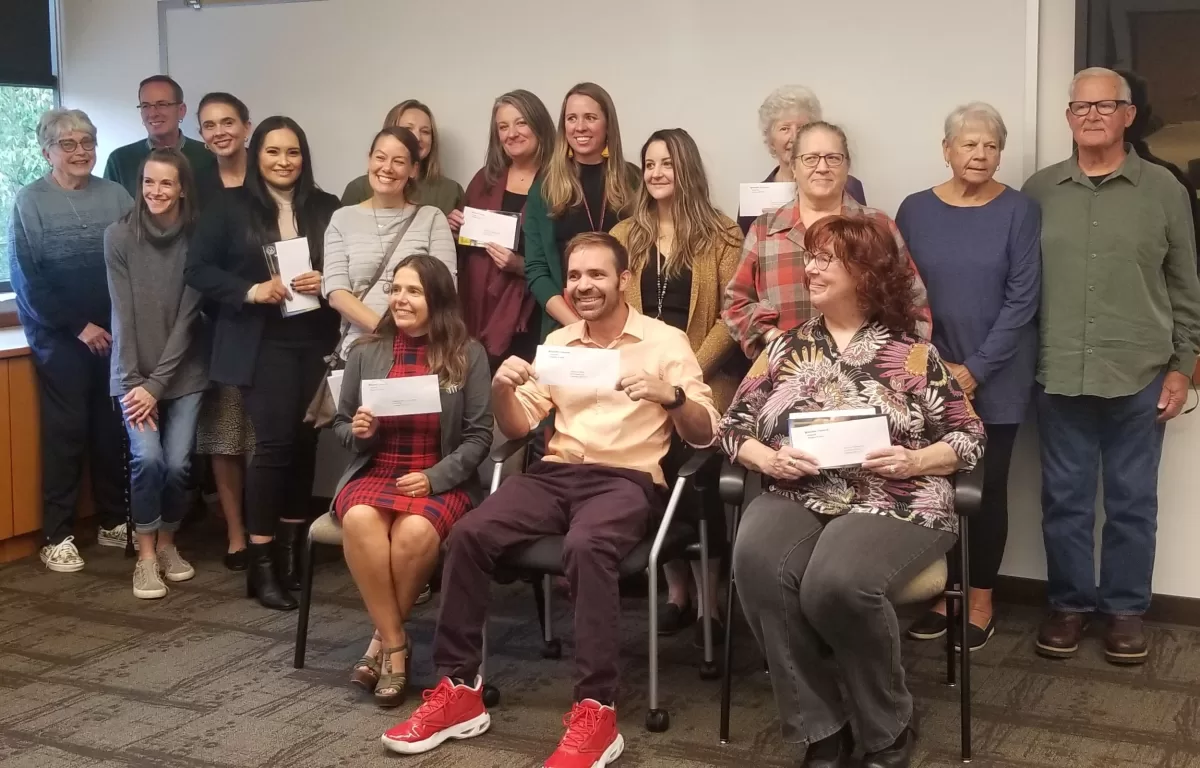 Bay City Arts Center – Leeauna Perry told us the Bay City Arts Center will be purchasing supplies for after school art programs that will serve 150 to 225 students.
The Bay City Boosters was represented by Gloria Wiechmann and 3 board members. They contribute to a fund that pays overdue water bills in Bay City to prevent shutoffs. Half of the households supported are single mothers and the other half are senior citizens.
CARE Inc. has a Sowing Impact fundraiser underway to build a transitional village. Jeff Blackford, their new Executive Director, explained that homelessness and substance abuse are not being adequately addressed in Tillamook County and expects 50 to 100 youth to be served by this project.
Vanessa Genens accepted a check for CASA (Court Appointed Special Advocates). Much training is required for those adults supporting and advocating for youth who find themselves in court due to unstable home situations.
Vicki Chase, of Sammy's Place and the Oregon COAAST Network, seek to provide a full life experience for special needs individuals on the North Oregon Coast. Inclusion in the community of their choice is achieved by special events, support, and the development of a living community.
Briar Smith, the director of Habitat for Humanity in Tillamook County, thanked Kiwanis for the support of children in their Habitat homes. That support has involved fencing, child-friendly painting and decorating as well as repairs on existing homes.
A representative was not available today from the Oregon Food Bank. Their check will help support the Culturally Familiar Food program and youth facing the need for food assistance.
Tides of Change, our domestic violence support agency, would like to develop a teen friendly space at their emergency shelter. Norma Obrist explained that adults and smaller children are well supported, but often the teens they encounter do not fit into either group.
Tillamook County Wellness supports healthy choices in our community. During the summer they provide ideas for family outdoor activities and would like to provide prizes like a summer reading programs.
Tillamook Junior High Football limits the number of students able to participate if there is not enough safe equipment available. Each year sees new requirements to keep the students safe and that means new equipment. This fund also supports students who cannot afford the participation fees and travel costs.
Wilson River School, the alternative high school, has a needy students fund. A large portion of their students are home and food insecure. Basic human needs are often not being provided for these youth and the school attempts to step in and support their efforts to obtain an education.
Tillamook Early Learning Center, represented by Jamie Rhodes and Vanessa Cham, is proving childcare in the midst of huge gaps in available childcare for our county. During our rainy winter months, the children have less opportunity to get outside for gross motor skill development. TELC will be purchasing movable, indoor equipment to keep those toddlers moving.
T
he Tillamook Family YMCA is in the process of developing the Tillamook Bowling Alley into a space for afterschool activities near the Junior High and East Elementary. Renovations and daily support will be costly, and a fundraising effort is under way. The Kiwanis Club of Tillamook will continue to support the YMCA in their efforts for our youth.
Ron Rush, who worked in the nonprofit sector for 40 years, thanked all those present for their work and collaboration. The cooperation among groups results in the best outcomes for the community.
Tillamook Kiwanis meets every Wednesday at noon at TBCC.