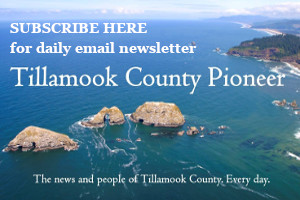 Tillamook, OR – On Sunday, June 6, 2020 at approximately 2 PM, the Tillamook Narcotics Team (TNT) served a search warrant at 1415 9th St in Tillamook in relation to the investigation of a burglary to a local business and a local residence in which multiple firearms were stolen.
Robert Jon Gilliam, 50, of Tillamook was arrested and charged with multiple counts of Theft I, multiple counts of Felon in Possession of a firearm, Burglary I, Burglary II, Unlawful possession of methamphetamine and heroin, frequenting a place where drugs are used, kept or sold, as well as an outstanding arrest warrant for Theft II.
Also arrested was Gilliam's live-in girlfriend, Tannith McNeel, 40, of Tillamook, on charges of unlawful possession of heroin and unlawful possession of methamphetamine and frequenting a place where drugs are used, kept, or sold.
Both Gilliam and McNeel were lodged at the Tillamook County Jail. The investigation is ongoing and no further information will be released at this time.
Sheriff Horton said, "Even during the COVID pandemic, our Office and our local law enforcement
partners continue to serve their communities and seek to apprehend those that would prey upon our
citizens. Our positive working relationships with our partner agencies is vital in these efforts." The Tillamook County Narcotics Team is comprised of detectives from the Tillamook County Sheriff's Office and the Tillamook City Police Department.
The Tillamook Narcotics Team tip line is 503-815-3319.