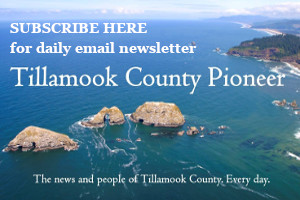 On May 1, 2021, Tillamook Narcotics Team (TNT) member, Tillamook Police Department's Detective Chris Barnett was working as a Field Training Officer (FTO) for Officer Tim Sadler. TCSO TNT Detective Chase Ross advised Det. Barnett that he had received information that Corey Lynn Parker, 37, of Tillamook, was dealing and trafficking large amounts of narcotics and where he was currently located.
Ofc. Sadler and Det. Barnett observed Parker driving a green 1998 VW Jetta. Det. Barnett knew that Parker's driver's license was suspended and that it was illegal for him to be driving. Regular readers of this page will recall that Corey Lynn Parker was involved in a high-speed pursuit a couple of months ago that ended with his tires being spiked and Parker being arrested.
TPD Ofc. Sadler attempted a traffic stop on Parker's vehicle, but Parker refused to stop and continued driving northbound onto Kilchis River Rd, then onto KIlchis Forest Rd. TCSO Deputy Evan Wallace responded to the area to assist as Parker continued onto Sam Downs Road where he blew out his rear right tire. Parker continued driving on the flat tire and turned up Kilchis Lookout Rd. at which point he was stopped by a downed tree blocking the roadway. Parker was taken into custody.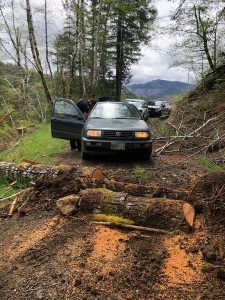 Detective Barnett continued his investigation which resulted in the seizure of a significant amount of illegal narcotics and paraphernalia. "We seized approximately 229 grams (8+ ounces) of heroin, 54.3 grams (almost 2 ounces) of methamphetamine, 50 grams (1.7 ounces) of suspected Fentanyl and Methadone, Oxycontin, Xanax and Ritalin pills," said Detective Barnett. "We also found packaging material, electronic scales and evidence of drug transactions including named customer records."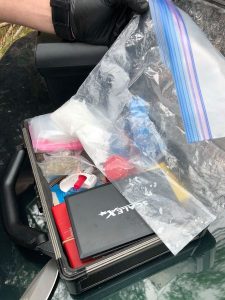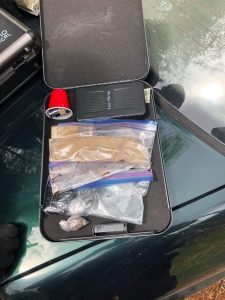 According to Det. Barnett, on May 12, 2021, Corey Lynn Parker was indicted by a Grand Jury for Unlawful delivery of heroin (in excess of 100grams), the Unlawful possession of heroin, the Unlawful possession of methamphetamine (in excess of 8grams), the Unlawful delivery of fentanyl (schedule 2 substance), Attempting to elude a police officer, and Reckless Driving.
The Tillamook Narcotics Team (TNT) is comprised of members of Tillamook County Sheriff's Office and Tillamook City Police. We are very lucky here in Tillamook County to have such great working relationships with our partner law enforcement agencies – local police departments, Oregon State Police and Federal agencies. This is not as common as you might think, even elsewhere within the state of Oregon. This story, and others we feature, illustrate how these partnerships successfully work here in Tillamook County every day.