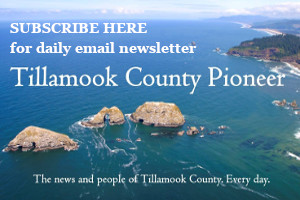 By Chief Ray Rau
On 3/17/23 at approximately 1140 hours Officers from your Tillamook Police Department responded to the entrance of Fred Meyer for a report of a white BMW with only three tires that had gotten stuck on the median and was blocking traffic.
Witnesses on scene described a female driver and only occupant walking into the store from the crash.
When officers attempted to make contact with the driver (46 year old Shylla Walsh of Sandy Oregon), she immediately attacked them, tried to pull the Taser from one of the officer's holster and started punching him.
Officers were able to take her into custody and she was transported to the Tillamook County Jail and lodged on recommend charges of assaulting a public safety officer, and resisting arrest.
We would like to thank the alert community members who called this in and helped us locate her so quickly, along with the family member of the suspect who helped calm her down as she was in the backseat of the patrol car.