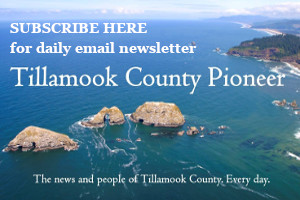 Power has been restored to the area. A big THANK YOU to the customers and community for your patience and support as crews worked to restore power to over 16,000 customers that were without power in the area during this time. We appreciate you all!
The Tillamook County Pioneer had been in contact with TPUD on a daily basis checking on the status of the power outage. Today they reported, "We have completed restoration work in the area; we at one point had 17,000 customers without power. There was extensive damage from this storm in some areas, Hobsonville point, Wilson River HWY, and the Blaine area were a few of the areas that sustained significant damage. The customers and community were awesome during the event, lots of support and kind words. We are so grateful for this community!"
And we are so grateful to TPUD and all the first responders and community members that helped clear roads and take care of our community.
Here are some images from TPUD and a video of the storm from Don Backman.
Watch for more information about how we all should be better prepared for extended power outages.