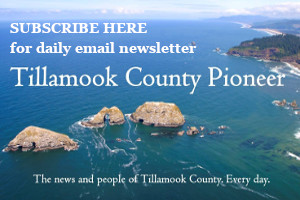 TILLAMOOK, OR – March 28, 2022 – Tillamook PUD is pleased to announce the local organizations selected to receive funding through the Community Support Grant Program in 2022.
A total of 28 applications requesting a combined amount of over $199,000 in funding were received this year.
With so many outstanding community projects submitted and limited funds budgeted towards the program, the selection decision was very challenging for the Board of Directors.
Upon an extensive review process, the following not-for-profit organizations were awarded funds for their
community projects:
• Bay City Arts Center – for the track lighting project in the main gallery.
• Heart of Cartm – for materials, supplies, and equipment at the Heart of Cartm Reuse and Repair Workshop.
• Nedonna Beach Neighborhood Association – for lighting costs associated with the South Jetty Parking Area project.
• Nehalem Bay United Methodist Church – for the installation of a ductless heat pump system.
• Nehalem Bay United Methodist Church Food Pantry – for refrigeration/freezer units.
• Nehalem Bay United Methodist Church Senior Lunches – for equipment purchases.
• North County Recreation District – for baseball/softball field lighting and security.
• Pine Grove Community House – for upgrades to the audio-visual system at the community hall.
• Sandlake Grange #546 – for electrical upgrades at the Grange.
• Tillamook Beekeepers Association – for the 2022 Tillamook Beekeepers Tree Project.
• Tillamook County Family YMCA – for the installation of automatic doors at the YMCA facility.
• Tillamook County Habitat for Humanity – for electrical work at the Hebo Home Build site.
• Tillamook County Outdoor School – for equipment at Outdoor School.
• Tillamook K9 Rescue – for upgrades to the facility.
• Tillamook Swiss Society – for building repairs.
• Wheeler Enhancement Team – to replace the bollards in downtown Wheeler.
• White Clover Grange – for the electrical work needed to support a backup generator at the Grange.
The Community Support Grant Program was developed over 20 years ago to assist local not-forprofit organizations in funding projects that promote economic growth and enhance community livability in Tillamook County. The Board of Directors budgets funds for the program annually, the amount budgeted for the program in 2022 was $90,000.
Tillamook PUD is excited about these valuable projects and looks forward to the positive impact each will have within the community.