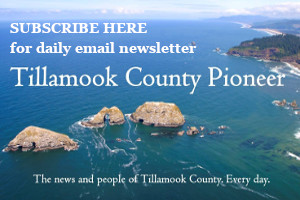 By Andrea Goss
Tillamook School District #9 board met last night January 10, 2020. There were four board members present, two masked, two unmasked (in spite of the sign on the door asking all to please wear masks.) It was School Board Recognition Month, so a proclamation was passed thanking the board members for the volunteer work they have been doing.
Fourteen community members spoke up during the Comments From the Audience portion of the meeting. There was a much more balanced response from the community than there has been in the past. There was some jeering and rudeness from the audience, but the Board chair, Matt Petty, did a good job of trying to put an end to that. There were comments regarding wearing masks, respect, mandates vs. rules vs. laws, local control and what that may mean, modeling rudeness. I believe that every person in that room wants to see kids and families be healthy, we all just listen to different "experts" and have different ideas of what that means. Each person who spoke with such passion believes what they believe about masks and vaccinations and a healthy environment.
During the Action Items portion of the agenda, the Board moved the discussion about the Resolution for Local Control* (see link below for more information about the local control resolution) to February so that all board members could be part of the discussion.
They discussed Public Comments at Board Meetings: OSB has suggested that community members who want to speak should sign up ahead of time; the Board voted to strike that recommendation, expressing that they believe the public wants to hear the public's thoughts.
They discussed the Education Equity policy* (see link below to TSD#9 policy): Some Board members thought it should be eliminated altogether, as it is an optional policy, some thought it needed significant edits; Superintendent Shelley suggested tabling a vote until February so that legal counsel can look at it.
The next Action Item was regarding weapons in schools: Right now only law enforcement officials are permitted to carry weapons on the school building campuses; it was suggested that all staff over the age of 21 be allowed to have concealed weapons permits, after training; training should be done annually; Superintendent Shelley shared an experience regarding weapons at schools that he had in a previous district and he said that he would share contact information with the Board of districts that have adopted policies allowing weapons in schools as well as districts that have considered such a move and have decided not to adopt such a policy; he recommended no revision at this time (only law enforcement permitted to carry weapons) and it was approved by the Board.
The next TSD9 School Board meeting will be Monday, February 14, 2022 at 5:30. Meetings must now be accessible both in-person and virtually. Go to the Tillamook School District website for details about how to attend meetings virtually. The link for the school board meetings is posted on the home page under "NEWS" – http://www.tillamook.k12.or.us/home.html
Local Control Resolution – https://www.tillamookcountypioneer.net/wp-content/uploads/2022/01/TSD9Resolution-2022-02-Resolution-for-Local-Control.pdf
Educational Equity Policy – TSD9EducationEquityPolicy