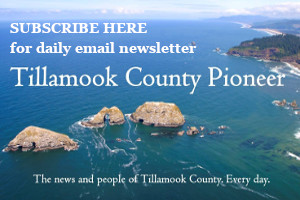 A brand-new internship opportunity for high school and college students is helping local businesses meet short- and long-term workforce needs and giving students hands-on work experience.
Tillamook Works is a career readiness program that connects high school and college students in Tillamook County to local businesses, organizations, and professionals, through internships and career exploration activities.
"What the program aims to do is help our area employers create pipelines of potential and future workforce while creating opportunities for career exploration and job skills for students," said Shelby Owsley, the Tillamook Works Program Coordinator. "My job is to connect them early on, help them build that relationship with the intern and hopefully down the road they'll be able to hire some of these students."
Owsley said employers often can't find qualified workers for entry-level positions because applicants for that specific job aren't meeting certain criteria. "But they can partner with Tillamook Works," she explained, "and we can help bridge that gap to figure out what employers are looking for and how we can help fill it with a quality intern."
For its pilot run at the TCCA Farm Store, store manager Caleb Oaks said they got involved for a little bit of both reasons.
"We have interns at the creamery," he said, "and it's a very competitive program but we were looking for something more specific to helping a resident of Tillamook gain on-the-job skills and some real-life work experience in the community."
Oaks enrolled the TCCA Farm Store as a business partner for Tillamook Works and was matched with Jayden Spence, 15, of Tillamook High School. Spence is working with Oaks to re-shelve the store with a focus on marketing.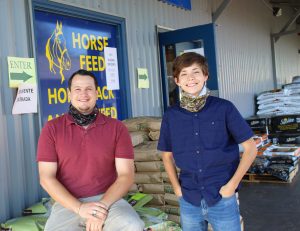 "The main thing he is learning is project management, operations and increasing his business acumen," Oaks said.
"Good help can be hard to come by," he added. Having worked in retail for the majority of his career, Oaks said he knows firsthand that it can be incredibly hard to find and keep good people.
"Through an internship opportunity like Tillamook Works, it gives you the opportunity to build relationships and train a younger workforce that you will feel confident to hire later."
It's also more than just a business partnership, though; it's about being involved in a student's narrative. "Here is an opportunity to help a student make sound decisions in their career and their future," Oaks said.
Spence said that he applied for the internship after learning that the Creamery wasn't hiring seasonal employees this year. "I wanted a chance to learn a lot more than I did working seasonally," he said. He added that the internship will look good on his resume going forward. After high school, Spence wants to enroll at a trade school or study business.
Getting involved is simple: Potential partners can visit the Tillamook Works website, TillamookWorks.org and fill out a simple online Works Partner application form to get the process started.
There's also more than one way to get involved other than hosting an intern. "After speaking with school staff, we determined students would benefit from employer-sponsored activities like informational interviews, career spotlight presentations, job shadows or becoming a host site for students looking to earn course credit or certification in a particular field of study," Owsley said.
"I think, right now especially, students really need opportunities for safe, hands-on learning to help prepare them for life after graduation," she added. "Students have a lot on their plate and big decisions to make: college or trade school? What degree to pursue? Will my degree earn me a livable wage? Will my degree be worth the cost?
"If local industry professionals here in Tillamook County would be willing to partner with Tillamook Works and create these invaluable career exposure opportunities, I think we can help students feel more confident in the decision they have to make."
Owsley hopes that through partnering with the program, employers can begin tapping into the resource that is Tillamook County's future workforce: talented, eager, and up-and-coming students currently going through the education system.
"If businesses begin weaving themselves into becoming part of the educational process, educators and students will have a better understanding of not only basic professionalism skills but technical skills employers are desperately needing in their entry level employees," she said.



The Tillamook Works program is supported by Tillamook Bay Community College, Neah-Kah-Nie School District, Nestucca Valley School District, Tillamook School District, and the Northwest STEM Hub.
To learn more, visit tillamookworks.org or reach out to Shelby Owsley directly at shelbyowsley@tillamookbaycc.edu or by calling (503) 842-8222 ext. 1090.