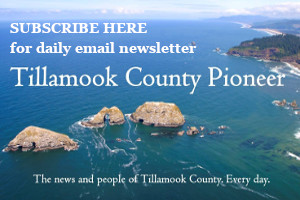 by Laura Swanson, editor
North Tillamook County residents in the Bayside Gardens area are being proactive about protecting their neighborhood. Over recent months, there have been multiple thefts that has the neighborhood on high alert, spurred the formation of a "neighborhood watch" and communication system. By working together, they are making a statement to the criminals: Not in our neighborhood. And Tillamook County sheriffs and police departments would appreciate it if ALL Tillamook County neighborhoods and rural areas heed this advice as well.
"The thing that I am very enthused about, is how the north county residents are taking an active role in making their community safer," said Tillamook County Sheriff Detective Sergeant Matt Kelly. "When I looked at the past calls it confirmed what I suspected; not all of these crimes are committed by one person or a single group of people. So making your home and property more secure should be encouraged which can create less of a target to criminals."
There are simple things to help make your house less attractive to criminals:
Lock houses and vehicles.
Cut back bushes and hedges so that bad guys can't hide behind them
Lights!!! Motion lights and timers on indoor lights. Lights can illuminate areas where bad guys can hide and indoor timers give the appearance someone is home.
Get to know your neighbors. Look out for each other.
Use locking mailboxes or post office boxes to prevent mail and ID theft
Security systems and cameras. These will either scare burglars away or provide evidence for criminal cases. Deputy Kelly has started a voluntary program asking Tillamook County residents and businesses that HAVE security cameras to let the Sheriff's office know their location. "Then when an incident occurs in a particular area, I can go to my map of cameras to see if maybe we have some footage," said Kelly.
Be careful about posting on social media. If you post when you are on vacation, thieves know when your home is more than likely empty.
Keep an updated a list of serial numbers of your belonging and keep that list in a safe place.
"Burglary and theft is a crime of opportunity," said Deputy Kelly. "Making your home, businesses and neighborhood less attractive to criminals makes it less likely that you will become a victim."
The next Neighborhood Watch meeting for the Bayside Gardens area will be Saturday April 14th at 4 pm at the Nehalem Bay Fire & Rescue Station at 36375 Highway 101 North. For more information about the voluntary registration of security cameras or if your neighborhood is interested in setting up a "neighborhood watch" meeting, contact Deputy Kelly at the Sheriff's Office, 503-842-2561. For information about the Bayside Gardens Neighborhood watch, contact Steve VanDyke at 503-368-5387.