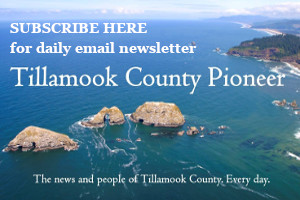 By Dan Haag
Oregon's tourism is an economic boon. Revenue generated from the state's tourism industry hit $11.8 billion in 2017.
But what are the challenges associated with that number?
Ask any dozen North Coast residents what their concerns are about the growth of tourism and you'll get a dozen different responses: affordable housing, overcrowding, traffic, and loss of community identity might be on the list.
In an attempt to tackle such issues, over 100 area tourism and community leaders gathered on Tuesday, September 25 at the Old Mill in Garibaldi for the North Coast Tourism Summit.
Part of Travel Oregon's rural tourism studio program, the summit was the kick-off for a series of workshops and discussion groups set along the North Coast, from Astoria to Pacific City.
"This will help you shape your future vision of tourism," Kristin Dahl, Travel Oregon's vice president of destination development, told the crowd.
Set in motion almost a year ago by a steering committee with members from Clatsop and Tillamook Counties, the North Coast studio identified a number of challenges and goals, including encouraging visitors to participate in stewardship of parks, beaches and other natural spaces,
"Our main objective is to review and make recommendations that will protect our environment and natural resources," said Nan Devlin, steering committee member and tourism director at Visit Tillamook Coast.
Having this discussion comes not a moment too soon: more than 100 million people are projected to move to urban areas around the world by 2050.
"They are going to want their recreation space, and you are on their list," said research consultant and summit presenter David Beurle of Future iQ. "With your proximity to Portland and Seattle, you are in the 'blast zone.'"
Examples of other areas that tackled similar challenges were discussed at length. Communities along the Columbia River Gorge established a collaborative approach to tourism marketing through their tourism studio.
Case studies from abroad were also presented: New Zealand has created a program that links its various trailheads through a series of shuttles, thus alleviating the footprint of automobiles.
"It's a whole new approach to congestion and traffic," Dahl said.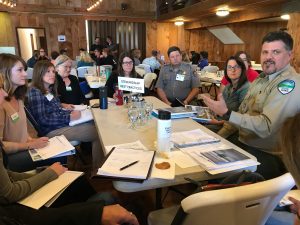 Attendees got a chance to break into smaller groups and discuss focused topics before sharing them.
Dream scenarios where the North Coast achieved zero waste in ten years were offered.
There was also a "doom and gloom" scenario, where tourism grew to a point where local roads, city governments and natural resources could no longer handle it.
"If we don't take a proactive stance now, we run the risk of losing the very things guests and locals love about the North Coast," Devlin said.
The work doesn't end with the summit. Workshops are being organized in the area that will direct a laser focus on each issue. For more information about the North Coast Tourism Studio Workshops, go to www.industry.TravelOregon.com/NorthCoast.
When the studio concludes, Travel Oregon offers a grant to be utilized on a specific project identified from the process.
It's a big job with a lot of moving parts, and while the work doesn't end with the summit, the event offered a glimpse of a unified front.
"The summit was a mile marker in Oregon's visitor industry, demonstrating that both coastal and statewide leaders will work to proactively address challenges," said Marcus Hinz, director of Oregon Coast Visitor's Association. "The strong and diverse attendance showed the eagerness of leaders to explore and implement solutions that work for everyone. After all, it's the Oregon way."