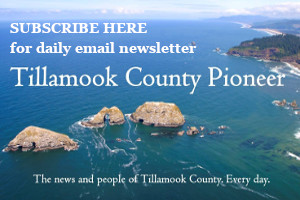 Story & Photos by Don Backman
There's a grouse nest right there," Jon Hansen, BHA member from Bend, pointed out, gesturing toward the trees next to the trail. "There was a little grouse poking its head out."
"Where?"
"Right in this tree by the trail. Mom flushed when we walked up so she's waiting around for us to leave."
"D'Oh! There it is, right in front of me."
Up the trail a ways from Hansen, members of Trail Keepers of Oregon (TKO) and Backcountry Hunters & Anglers (BHA) worked together brushing out a trail. On Saturday, June 9th, 2022, they were clearing the trail running from the Octopus tree out to the highway at Cape Meares State Scenic Viewpoint, better known to locals as the Cape Meares Lighthouse. A section of the Oregon Coast Trail, this trail was becoming overgrown by the ever-present brush found along the coast. A first of its kind in this area, the partnership was the idea of Sara McClendon, the Northwest Region Director for the Oregon Chapter of Backcountry Hunters & Anglers and a lifelong Tillamook County resident.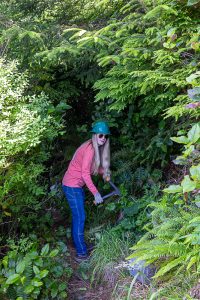 "I saw the post (on Facebook) and thought it would be cool to partner with another like-minded non-profit. So I contacted Emily (Akdedian) and we are here." The two leaders, McClendon and Akdedian, North Coast Stewardship Coordinator for Trailkeepers of Oregon, chatted while they worked side by side using hand tools to cut brush overgrowing the trail and tossing it off the trail. "We all love the outdoors and care about many of the same things."
Born in 2004 around a campfire near Eagle Point, Oregon, "Backcountry Hunters & Anglers seeks to ensure North America's outdoor heritage of hunting and fishing in a natural setting, through education and work on behalf of wild public lands, waters, and wildlife." The website at backcountryhunters.org contains a great deal of information about the now nationwide organization. "Our freedom to hunt and fish depends on habitat," it goes on the explain. "While many of us enjoy hunting and fishing on a range of landscapes, including farm fields and reservoirs, there is something special – even magical – about hunting deep in the backcountry or fishing on a remote river."
Jon Hansen, a member of BHA from Bend, Oregon took up the rear as the group cleared along the trail. "I saw what was happening and that I was going to be on the coast this weekend," he explained, answering a question about what brought him to the trail crew. "So I thought I'd do it." Hansen explained that the outdoors is important and that he has had an opportunity to get outside with his daughter and introduce her to the out of doors. "When COVID hit I was out of work so I volunteered with ODFW doing grouse surveys. My daughter was able to go with me some of the times."
Trailkeepers of Oregon was started in 2007 by a group of concerned hikers who understood that "…almost all of today's hiking trails were built more than 80 years ago. Almost all of them are currently maintained by volunteers." TKO maintains a website at TrailkeepersofOregon.org which goes into detail about the organization. "Explosive trail use and a lack of funding for trail maintenance is a real threat to our favorite trails." TKO's "…work takes the form of trail maintenance projects and advocacy work to restore proper funding to a resource so beneficial and beloved by Oregonians."
TKO volunteer Ingrid Henickson stopped cutting through some salal for a few moments to answer questions. "It (volunteering) is fun, she said. "I've been volunteering since 2020. It gives me great pleasure to prepare the trail for people."
The day's work started with a meeting around the back of Akdedian's car. She provided hard hats to all who needed them including a visiting reporter and went through topics such as safety and land stewardship concerns. Roger Travis, from Oregon State Parks, stopped by and thanked the participants and stated how much Oregon State Parks appreciates their work. Akdedian handed out hand tools and discussed their safe use, then the group headed up the trail.
Up at the front, McClendon was working just behind Akdedian. "We are talking about doing something every month," she explained, taking time to pause after tossing brush well off the trail. "We (BHA) want to have events for the members. We recently held a virtual pint night where an ODFW representative discussed Chronic Wasting Disease (CWD). She explained that the Oregon BHA chapter volunteers had removed an extremely large amount of garbage along a local road a year ago.
Akdedian was in the lead just up the trail. "The eagle's nest is right there," she announced matter of factly.
"Where?"
"In that tree right there."
"D' Oh!" Fortunately, the "Tree right in front of you," went unsaid. Sure enough, an eagle's nest, large enough to be hard to miss, was located just downslope from one of the older trees along the trail. It was empty as the youngsters had already left the nest.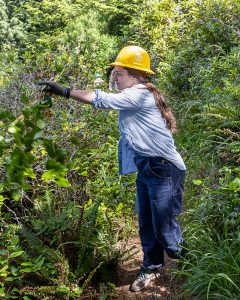 Emily Akdedian refers to TKO as "A volunteer stewardship organization." The TKO website explains, "Backed by the generosity of hundreds of donors and volunteers, Trailkeepers of Oregon is committed to making sure everyone has access to Oregon's most special places for years to come."
"Our volunteer base has grown," Coordinator Akdedian explained, commenting about how the organization has expanded. "We are extending the Wilson River Trail in Idiot Creek. We are constructing a new educational trail at Camp Westwind." She went on to talk about more upcoming projects. "We have a three-day project out at Cape Falcon. The Nature Conservancy is working with us at Cascade Head where we will have one day of kayaking on the Salmon River and three days of trail work. We have projects out at Anderson Hill."
Grouse nests, eagle nests, clearing brush, and having fun while being safe were all in a day's work for these volunteers. For more information on Backcountry Hunters & Anglers go to their website at https://www.backcountryhunters.org/ . For more information about Trail Keepers of Oregon, you can find their website at https://www.trailkeepersoforegon.org/ and also their volunteer activities calendar.