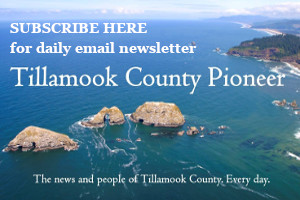 By Michael Randall
Taking time to notice little things gives one both pleasure and pain. Near my home, I watch through a thin tangle of newly budding willows as the sun sets orange and purple over the sea. A rowdy band of buffleheads skids happily to a landing on the mirrored waters of Netarts Bay. They paddle furiously in a zigzag, racing each other across the water, duck under to look for a snack of invertebrates, then pop up, fan their wings, settle down and serenely swim off together, trailing a series of "Vs" that reflect the sunset sky .
Walking the beach on a recent morning, I witnessed one more of the world's small battles for dominance and procreation, a tussle between two bufflehead males over the affections of a female.
A bufflehead pair swam blithely along in the bay a short distance from me, but then a lone male bufflehead splashed to a landing not far from them. For the next ten minutes or so I stood and watched as the male defender tried to drive off the intruder, who in turn tried every maneuver to outwit and exhaust his rival.
The female merely dawdled about nearby, and I sensed she was hardly even curious to see who would win the competition for she rarely turned and looked in their direction. The defender swam at the intruder who paddled rapidly away just out of reach, and when the defender was drawn far enough away from the female, the intruder lifted off the water, curved around and landed with a plop beside the female.
The defender dove underwater, disappeared for long seconds, then popped from below and nipped the intruder on his underside. The intruder jumped and fluttered away, but undeterred he came back again until chased away again, then again, then again. This contest continued in undiminished intensity until I became bored and turned away from this instance of the universal battle for sexual satisfaction.
After the bufflehead skirmish, I tromped further along the beach to Fall Creek. Its fresh water attracts various types of gulls to bathe. Glaucous-winged, Californians, Westerners, Kittiwakes: each arrives singly or in small groups. Perhaps thirty at a time will declare a truce from their relentless battle for food long enough to clean themselves at the creek mouth, just above the place where fresh water meets the salty bay. Submerging their buoyant bodies as best they can, they flap wings, shower themselves with creek water, thrash around, shake themselves, stand and gaze about, shake and flap again. Only then, rested and refreshed, do they find it congenial to squabble, the more dominant among them strutting aggressively toward those lower on the pecking order, making them give way. Just like the most belligerent humans among us.
Years ago, while visiting the island of Kauai in Hawaii, my wife and I were amazed to see so many feral chickens everywhere we stopped. They came from all directions to plead for handouts. Then, at one stop, we were reminded of how many humans do not think, or think cruelly and delight in inflicting pain on others, including all other known species of animals. One hen in a gaggle that descended on us had a small blow-dart imbedded in its skull. Some dim human congratulated himself on a solid head hit, but the bird did not die. A great disappointment, no doubt, to the giggling, blow-dart knuckle dragger. Instead, the bird ran around with a bad headache, a flopping dart stuck in its skull, and a slow but premature death approaching.
I drove into town the other day. On a straight stretch ahead of me in the middle of the road, a batch of eight or ten sparrows had gathered. As I drew closer, they scattered into a tree on the left side of the road. Then I saw what had caused them to alight in the road: one of their own lay feebly flapping and dying, apparently having been struck in midflight by another car moments earlier. After passing the dying bird, I looked into my rearview mirror and saw the small swarm return to the middle of the road around their dying friend. I looked back a couple more times; they stayed with him as I zipped away into town on some now forgotten errand.
Amid the casual cruelties, indifference and random tragedies of life, I greatly admire the four-legged, the feathered and the belly crawlers. They live freely, and much of the time they actually survive our aggressions.